Well, this is a pseudo intellectual thought that I have been harboring for a few years now.
A lack of poverty in India does not augur well for business. As we have seen with the NREGA that when the poor get paid to not work, their incentive to participate in the millions of unskilled jobs in big cities- as construction workers, sweepers, rickshaw pullers- reduces significantly. This drives up the cost of business in the cities- which in the absence of a robust farm/ manufacturing sector are the country's only growth engines.
With agricultural growth defunct and incremental manufacturing capacity kept in check by poor infrastructure (think power cuts), red tape, inability to free up land for setting up hubs, perpetual policy paralysis, etc., all the poor could do earlier was become slaves to city dwellers: drivers, maids, security guards.
But when NREGA gives them an option to stay in their villages and earn money for sitting at home, the cost of labor in our cities goes up- which means the cost of business goes up. It also means that millions of people now have the purchasing power to upgrade their diet beyond basic foodgrain and this ramps up inflation for all of us which makes our central bank raise rates, which in turn makes our growth nose dive.
If India needs to grow the way it is growing right now (with negligible farm and manufacturing growth), it needs its poor to stay poor. Maybe grow poorer.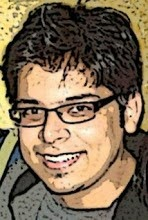 Vaibhav Anand is a 2008 passout from Delhi College of Engineering and a 2010 MBA passout from FMS, Delhi. He is currently working for a Multinational Bank in Delhi. Vaibhav is also the author of the bestselling "If God Went To B-School". You can reach out to him through Twitter at his handle @vaibrainmaker.