10 Things that make S.C.M.H.R.D. special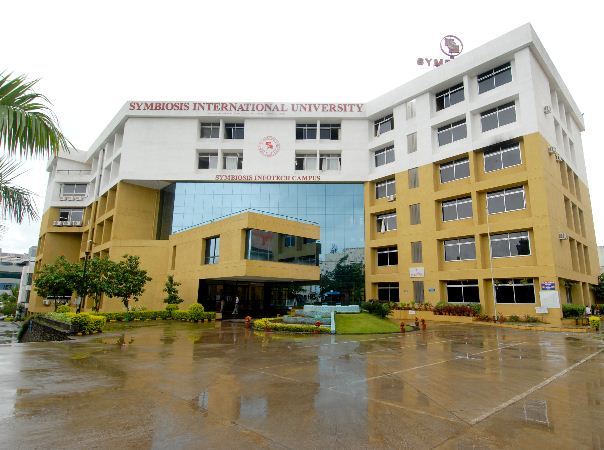 From the verdant green campus to the amazing Night canteen , the SCMHRD experience is one of a kind amongst the   B Schools of the country . Set up in 1993, the youngest B School amongst the Top 20 B-schools of the country has come a long way from being a dream destination for those aspiring for a career in HR to achieving new milestones of success in all major Specializations and also coming up with niche courses focused on Infrastructure management and Business Analytics to meet the industry demands.
Campus Life
Situated in the heart of Hinjewadi , Pune – SCMHRD has an ultra-modern administrative and academic campus of its own. The campus has dedicated spacious classrooms, conference halls, discussion rooms and auditorium. The campus has facilities like swimming pool, Basket ball & Volley ball courts and a Gymnasium with most modern equipments. The yoga centre helps students de-stress and unwind them from the academic pressure.  The Night canteen – Balas serves lip smacking dishes even at night to keep the students going for their late night study sessions . And if you are wondering where the music is playing every evening then well braces yourselves, it's the Zumba classes where the students are dancing as well as burning a few extra calories!
NEEV – Eat. Sleep. Neev. Repeat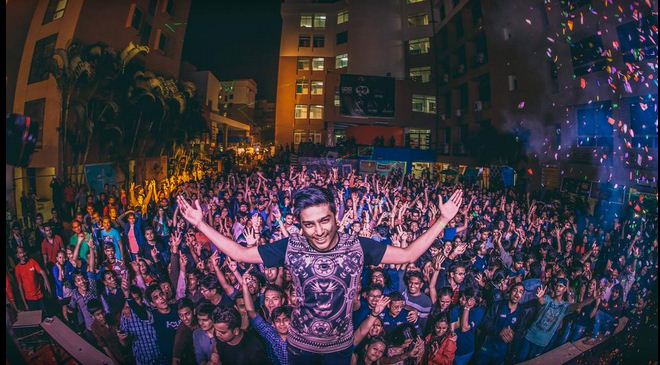 NEEV 2014 selfie 
NEEV is the Annual B-School festival of SCMHRD, Pune. Counted amongst the crème de la crème of business school fests, NEEV offers the much needed respite from the academic pressure that abounds the student life.The flagship case study event Augustus offers cash prize of 2 lakh which is the largest prize money for a single event across B-Schools. . With collaborations with SUNBURN Goa , MTV India and VH1 Supersonic, the celebrity night has seen performances by artists such as Kanika Kapoor, KK, Agnee, Indian Ocean, Parikrama, and Raghu Dixit. The much revered Talk show – ATLANTIS has featured guests of honour such as Mr.Kumar Mangalam Birla, Mr. Aditya Ghosh (CEO of Indigo Airlines), Mr. Rajiv Bajaj , Mr. Harsha Bhogle and Ms. Mandira Bedi. To know more about : Neev 2015
Alumni Network
Our esteemed alumni have flourished in the industry and have brought laurels to both the college as well as their organizations displaying enthusiasm, commitment and ethos. Others have built on the training and values instilled in them at S.C.M.H.R.D. , to initiate their own ventures in varied fields .
Some of the famous alumni include.

Clubs and Committees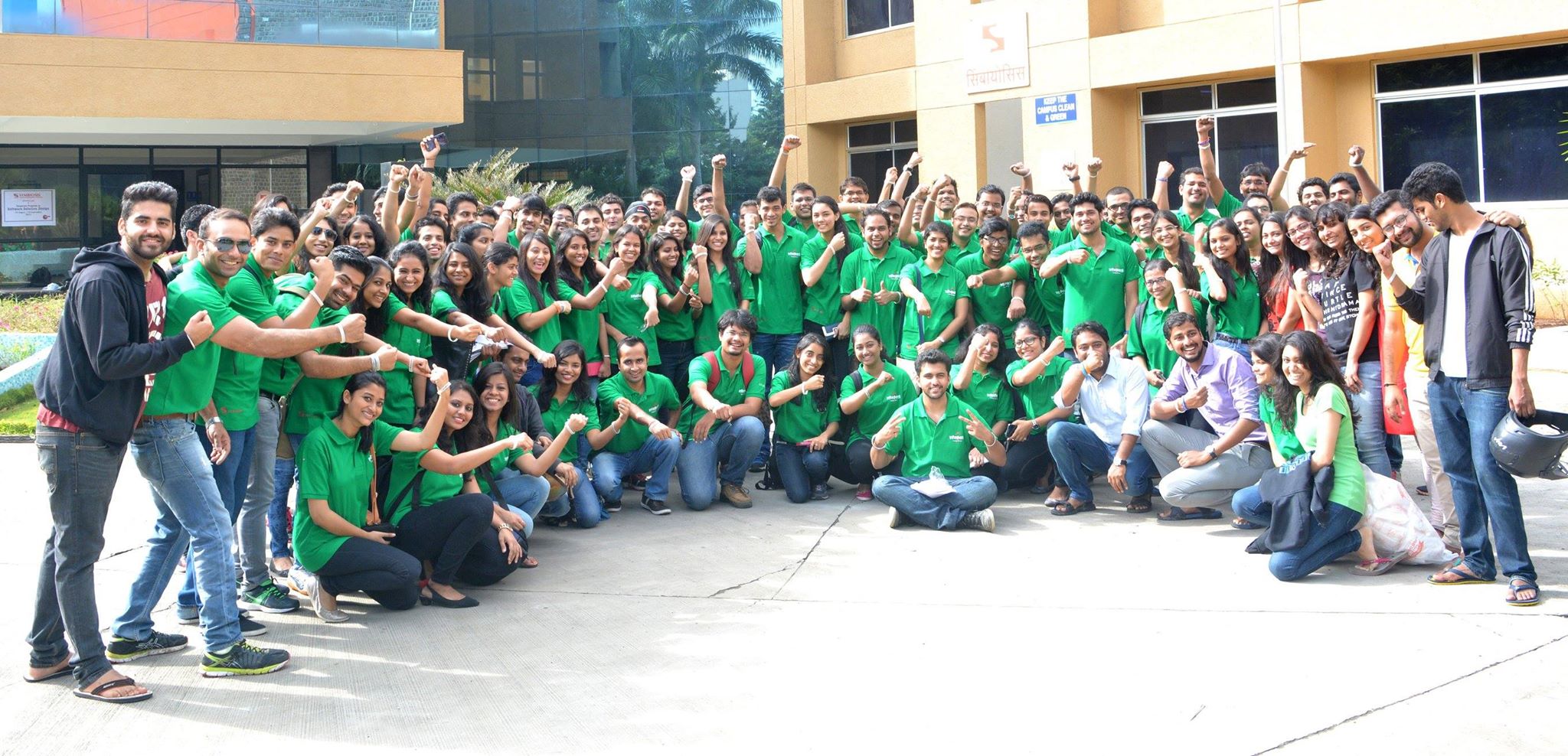 Clubs and Committees form the heart of the B School experience at SCMHRD. Being a student driven college, the exposure that students get by being a part of these clubs and committees enables them to handle pressure, conduct events, interact with corporates and to meet deadlines promptly.  Some of the major clubs include: – Corporate Relations Team which plans and executes Finals Placements and Summer internship with the guidance of the Faculty in charge, Admissions and PR Team which attracts the best students in the country to this institute and act as an interface with all its stakeholders i.e. aspirants, students, corporate world amongst others. The team also handles the entire admissions process at SCMHRD. Alumni Relations Team which handles the Alumni initiatives such as Homecoming and City meets. The Cultural fest committee  which conducts the Cultural fest -NEEV . The CSR committee – S.H.A.P.A.T.H. which conducts drives such as E.A.R.N. and works towards rehabilitation of victims of Human Trafficking.
Amazing Placements
One of the key parameters to gauge the Industry reputation of SCMHRD is the number of companies that have increased their presence in the placement season. Brands such as Mahindra & Mahindra, P & G, HUL, ITC, Vodafone, Dabur, L'oreal, Marico, Philips, GSK CH,  Castrol, Colgate Palmolive, Reliance Industries Limited, Cisco, Pidilite reposed their faith by visiting the campus to welcome SCMHRDians for Summer and Final Placements . Detailed Report can be read here :-Placement Report
Regular Industry Interaction and Guest Lectures

Regular workshops and guest lectures by stalwarts from the industry are conducted throughout the year like FIN Talk Lecture series by Finance Club , Marketing Sessions by Marketing Club , Guest lectures arranged by the Guest Lecture Team and Alum talks by Alumni Team to give the students a clear perspective about how the industry works and learn from the valuable experiences of such professionals to be better managers of tomorrow .
Our students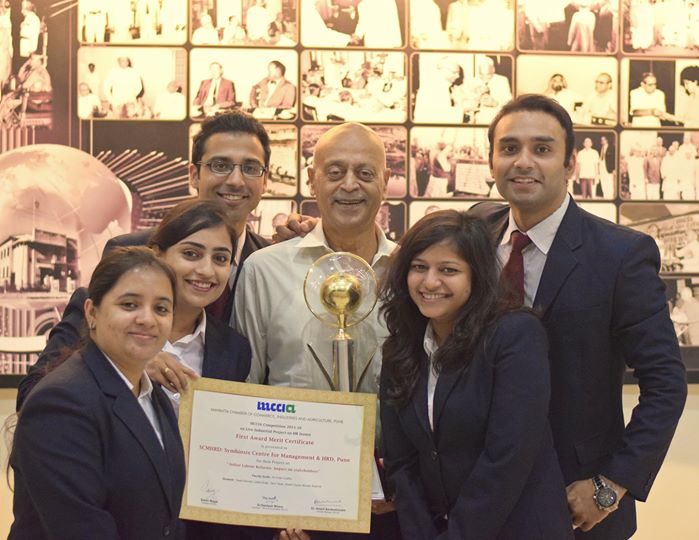 At SCMHRD, we are encouraged to think about solving real business problems . The hallmark of the caliber of students and the pedadgogy of S.C.M.H.R.D. is reflected in the laurels they have achieved across the various B School and corporate competitions. Detailed information available here
Festivities 

SCMHRD's campus offers a rare blend of cultural mix of students right from all corners of the country. Almost every state is represented on campus and each of them add their own colour and fervor to it. Festivals like Onam, Navratri (Garba and Bengali Puja ) are celebrated with vigour and vibrance.
Exchange Program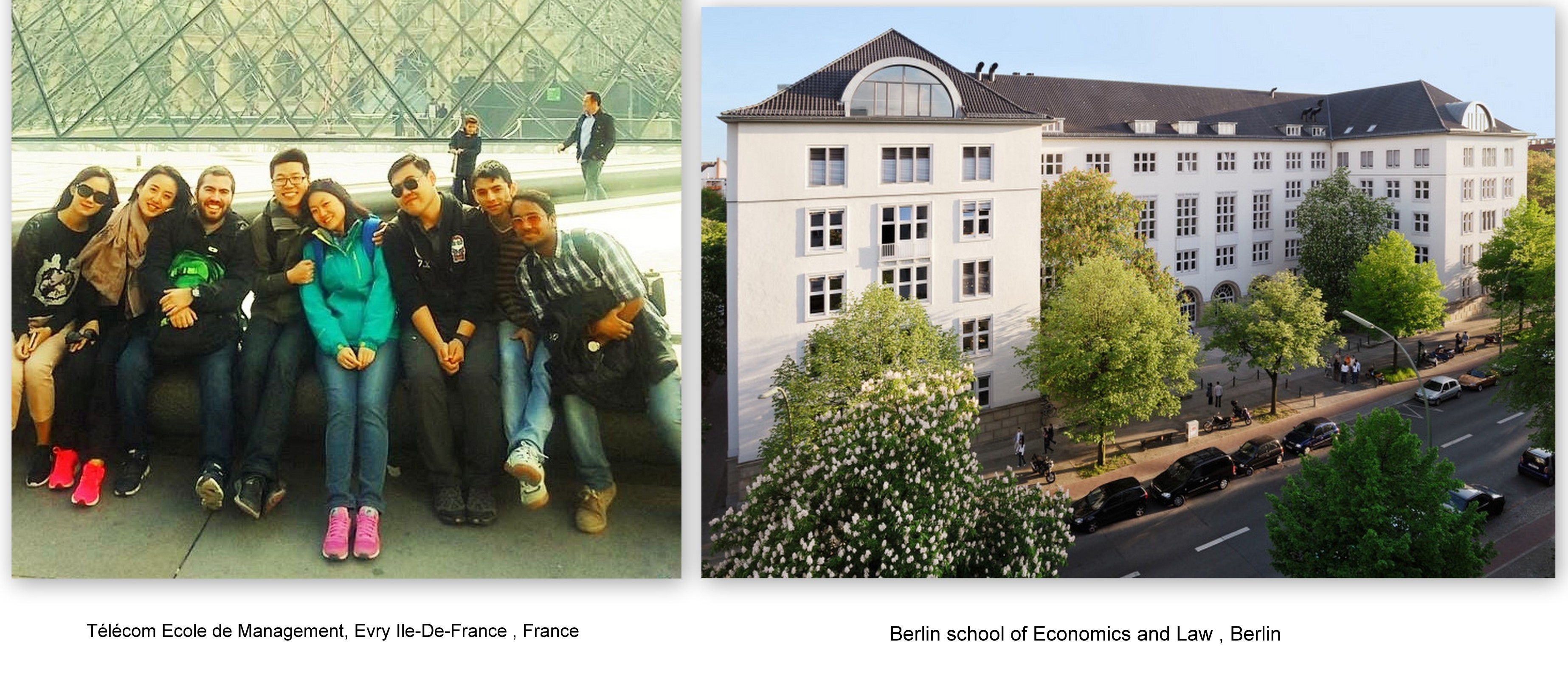 SCMHRD also offers International Exchange programs courtesy the Berlin School of Economics and Law and Télécom Ecole de Management.
S.H.A.P.A.T.H. Wall & Neev Circle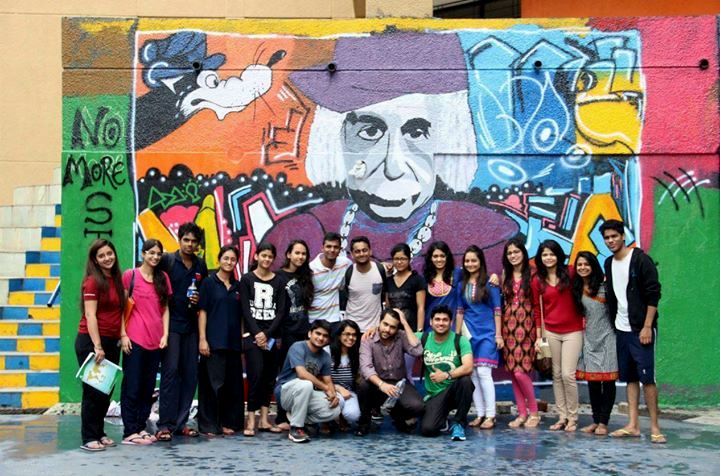 Don't know what's happening in the college? Well, this wall and the circle will tell-it-all to you. The wall is the unofficial newsletter wherein students paint the wall afresh for each mega event that happens on the campus. Be it 'NEEV' or the S.H.A.P.A.T.H.'s (CSR Committee) EARN campaign to create Social awareness, the wall dons a new garb each time. The wall serves the dual purpose of giving students a chance to unleash their creativity as well as add new colours to the campus.
Read stories by S.C.M.H.R.D. Admissions & PR Committee here
Our Facebook page : here
You can also follow us on Twitter : @SCMHRDian
The S.C.M.H.R.D. Official Blog here
We are also on Youtube !