It all started with a mad dash from CST station to the iconic red brick building of JBIMS! I met my fellow students while fulfilling the formalities of admission. The students are a mélange! We come from various disciplines, varied work experiences and bring with us our own brand of brilliance. But we all have one thing in common, our passion for JB or Bajaj as we fondly call it!
Our college life started with interactions with some of the who's who of the Indian industry and we were an enraptured audience while they reminisced about their days at JBIMS. The day started out with us addressing the professors respectfully in class and ended up with sharing Chai with them in our canteen! We are always in college, sharing ideas, discussing things, having philosophical discussions on life and intense discussions about the business model of the Idliwala just around the corner. We were taught to mingle with and learn from our classmates right from day one. As a result of this encouragement, now I know all of my classmates on a first name basis.
In a short span of 12 months, we have become a close-knit family of ambitious, driven individuals. Our classes start from any time around 7 AM onwards but we are enthusiastic to go even at dawn. JBIMS has a culture of fostering opinions and encouraging individuality. This culture has been brought about by professors who are CEOs and who want us to engage with them without holding back. It is always a two-way street at JBIMS, open to communication for one and all. In a very informal, yet professional setting, we have met our idols and been inspired. To be faced with real life challenges and case studies from day one of our course was intimidating. But it was a journey of self-discovery and elegant solutions. Coming from academia focused backgrounds, it was refreshing to be dunked in practical realities. We are in a trance like state after listening to concepts made simple by our professors. I went from a state of trepid curiosity to disbelief to being a child entranced by the simplest of toys!
There is so much to do at JBIMS! We have committees and clubs for everything from Lecture scheduling to Infrastructure. They give us a platform to develop our soft skills and work as a team. Managing submissions and activities by the clubs; competitions to be fought fiercely and conferences at 5 star Hotels have all become a way of life. Being in the business hub of India, we can always go to markets and businesses to see in action the theories we learn. We have visited the bazaars of old Mumbai and Malls in most upscale of areas in search of answers for assignments. Watching movies at the behest of professors and contacting consulates for individual projects has shaped us.
In my first year, our support system and go to guides were our mentors from the second year. JBIMS has a tradition of assigning mentors from the senior batch based on profiles. We, as juniors, learnt the ropes from these mentors. JBIMS is all about friendships and bonding. Recently, a 30 year old batch of 10 alumni met us. It was endearing to see how they have been in touch through the years.
I have made friends for life in this institute. They are one of the many things JBIMS has given me. JBIMS is an institution which gives a treasure trove of knowledge and people. Ours has been a fortunate batch. We are the Golden Jubilee batch of JBIMS. We have seen the full force of JBIMS and its glory at work during the year-long celebrations. Ours being the first autonomous batch, we had the privilege of helping revamp our curriculum. Having a say in almost any part of college system, be it the curriculum or professors we want or when to have the lectures; has made us self-assured and self-sufficient.
I cannot believe that an entire year has passed by already! It has been a journey of laughs, giggles, whoopees and delighted squeals all around. The JBIMS anthem speaks of 'Humara Bajaj'. Bonhomie intermingled with competitive spirit is our trademark. And then, there is Marine Drive, a stone's throw away. The end of academic year should signify a passage of time. But in Bajaj, it signifies a rite, we have all been tested by fire and have come out stronger than ever.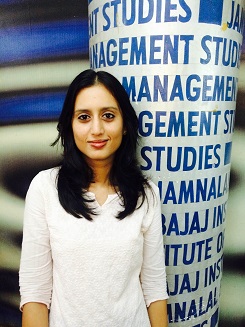 (Asmita Zunjurwad is a MMS- II student (Batch of 2014-16) at JBIMS, Mumbai specialising in Marketing. Connect with her here)