Grace is no one's private property or entitlement. It is not inherited nor passed on. It does not come by design or power. It just comes to a person when he finds that equilibrium between peace and confidence. It's not limited to expensive ballroom parties and exotic beach escapades. It is not monopolised by the long-legged, the well-heeled and the well-trained. And finding grace is a matter of chance. If you are seeking it, you may as well find it in a non-descript sailors' bar by the sea front, among old men, drunk at 10am, doing the samba to a Konkani number. You can't help but feel jealous of how well they do it. More importantly, how much joy they find in it. Here are fat, old men, in their dirty tshirts and soiled shorts, without a dancing partner, doing the samba that would have shamed most yuppie kids trying to learn the dance at expensive dance studios in Bombay and Delhi. They try to teach grace here in Goa as well - at the gymkhanas and schools and colleges - and while anyone can dance, not everyone can do it gracefully and give as much pleasure to the watcher as to the doer.
(For earlier posts on Kashmir, Amritsar, Mcleodgunj, Mussoorie, Delhi-Gurgaon, Mughal Sarai – Varanasi, Bangalore,Pondicherry, Hyderabad, Puri, Dantewada, Kanha click here : Baazigar Series)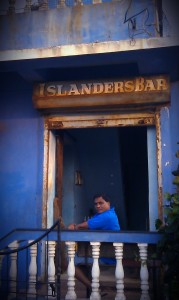 Pic 1 - The Islander's Bar and one of those awesome dancers
And yet, grace goes beyond a dancer's domain. It presents itself even when a skilful player dribbles his way through to a goal, hoodwinking several defenders in his wake. In a state where the normal way to dress is in a football jersey - heck there are people here who wear Figo and Morientes jerseys even today - football is an obsessively adhered to routine ritual, akin to Sunday church. It is no wonder then, that I was travelling with a bunch of kids from Konkan Maharashtra going to Panjim to challenge a local team there. If they returned victorious, all the past losses to local teams in their own state will be forgiven and forgotten. The ramshackle Vasco stadium has recently received a new lease of life and is currently undergoing refurbishing to be reopened for the July 2013 season. In the meantime, every open field in Goa has two vertical poles and one horizontal pole erected at both ends, ready to become the gateway to joy and camaraderie for kids and adults alike. While the IPL struggles to create club loyalties, stories of Salgaocar, Churchill Brothers and Dempo are passed on to every child in the shacks, the fishing villages and the paddy fields.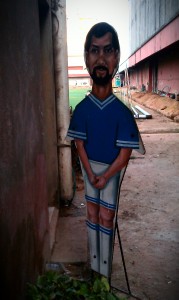 Pic 2 - The rather ironic mascot at the Vasco Stadium
Heck, grace isn't even limited to performance. It can be seen in an activity as simple as walking. And it doesn't just have to be the tanned Israeli girl, emerging in her two piece bikini all drenched from the sea, a la Ursula Andress, at Palolem. It could simply be the fisherwoman balancing the basket on top of her head and walking towards the fish market next to the Vasco bus stand, her perfect hips swinging from one side to another, in that green saree- bringing the otherwise bustling city centre to a momentary halt.
Goa has one overwhelming image in our eyes and there is no escaping that every time we go there. But that is the Goa created for the tourist. The cheap replica of Florida where people head for the constant dosage of sex, drugs and EDM by the beaches. But just as you know a person best when you see what he does when no one's looking, if your pursuit stems from curiosity and not from desire to revel, look beyond these window dressed glimpses of Goan life. While there are more bars than restaurants here and you will find people rolling a joint anywhere from a garden opposite the railway station to a religious gathering next to the bus stand, there is the old Goa beyond the beaches- an amalgamation of Portuguese, Italian and Konkani influences in it's architecture and lifestyle- and beyond it is the forest where a spirited war is being waged with corporates like Sesa Goa by the locals for conservation against illegal mining.
Pic 3 - The famed Palolem beach
When one travels to every major beach in the state in a single day, from sunrise to sunset, one realises every beach has it's unique charm and the temptation to just stay there and get high on beer and music for 5 days is quite overpowering, but then when one crosses the cliffs and the winding coastal roads and comes upon awkward little towns like Vasco and Madgaon, one knows one will have to dig deeper to find inspiration. But the towns are charming too. Wonderfully painted houses in hues of yellow and pink and orange and green, dot the streets. The boulevards are excellent to walk on evenings lit up by antique street lights. Goan music of the brass and benjo bands blares out of random street corners and cafes and bars, inviting you in. The breads are consistently fresh and soft. The fish, too, I'm told, is top class.
Pic 4 - Sunset at one of the beaches
The lifestyle is Susegad. The Konkani word for slow and leisurely. No one works on Sundays. The city looks like a ghost town on God's day. On weekdays, people open shops at 11,then take a break in the afternoon for lunch and a nice long siesta, by 8pm everything except the bars and restaurants is shut. No one is in any hurry in bus ticket queues and restaurant tables. People here live as if the journey were more important than the destination. No wonder, then, that Bombay escapes to Goa every time the mad rush gets onto it's nerves.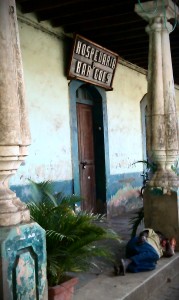 Pic 5 - The bar is shut for the afternoon as the bartender takes a nap
My story marries some of the place's prime passions with our world today with it's fickleness and fundamentalism.
I now move to Ahmedabad to attend the Vibrant Gujarat Summit. I look forward to watching the Pied Piper of Gujarat weave his magic on shrewd businessmen of the world. I want to see the new additions to his considerably large bag of tricks. Whats more, my visit to Gujarat co-incides with Makar Sankranti, the kite flying festival so dear to the state. Post that I will be going to some very quirky cities in Kutch. Gujarat promises to be very very interesting.
(Kunj Sanghvi will be writing about his experiences in each new city every week on InsideIIM.com. At various junctures on this trip, he'll be found working over cups of coffee in coffee shops across the country. He'd love to meet, talk, discuss with anyone who'd care to meet him; just to know the city and its people better. Follow him on twitter here – @kunjsanghvi. He blogs here.
About Kunj – Kunj Sanghvi is a B.Com graduate from Narsee Monjee College of Commerce and Economics and MBA from Mudra Institute of Communications, Ahmedabad (MICA). Prior to plunging into this adventure he was a Senior Manager at Hindustan Times. He has also worked with whatsonIndia.com in the past. )
You may be interested in :
Results of the InsideIIM Recruitment Survey 2012