Budget 2019 Summary & Analysis | B-School GD-PI-WAT Perspective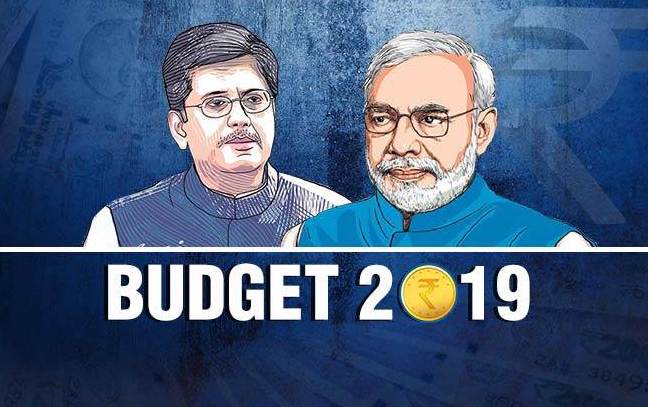 The interim finance minister Piyush Goyal presented the Budget 2019 in absence of union finance minister Arun Jaitley, who unexpectedly left for the US for medical reasons. With the interview-season being around the corner, it is pertinent to expect a good number of questions from the budget. We have tried to keep our analysis interview centric. Here are the major highlights of the Budget 2019:
Budget 2019 – For farmers
The small and marginal farmers have been assured Rs 6,000/year income
Three equal instalments of Rs 6,000 per year to be given to farmers having up to 2 hectares of lands.
Interest subvention for farm loan takers: Farmers affected by natural calamities to get 2% interest subvention and additional 3% interest subvention upon timely repayment.
2% interest subvention to farmers who pursue animal husbandry, fisheries jobs through Kisaan credit cards.
Budget 2019 – Animal husbandry
Kamdhenu Scheme– While presenting the Interim Budget 2019 in the Lok Sabha, Piyush Goyal said: "The government will do whatever is necessary for the honour and protection of cows". He also announced 2 per cent interest subvention for farmers involved in animal husbandry and fishery.
Budget 2019 – Income Tax reliefs
People with taxable income less than Rs 5 lakh, have been exempted from paying any tax.
An increase in standard deduction to Rs 50,000 from Rs 40,000 for salaried class.
Tax exemptions on investments:
Individuals who make investments in provident funds and prescribed equities don't need to pay any tax if their gross income up to 6.5 lakh rupees.
An increase of TDS threshold for home rent from Rs 1.8 lakh to 2.4 lakh
Income tax relief on notional rent from unsold houses extended to 2 years from 1 year.
Some other tax-related reliefs:
Faster Income Tax returns: Proposed to be processed within 24 hours and to be paid immediately.
All assessment and verification of IT returns to be done electronically by an anonymised tax system within nearly 2 years.
Budget 2019 – GST
Direct tax collections increased to almost Rs 12 lakh crore from Rs 6.38 lakh crore in 2013-14.
The tax base is up from Rs 3.79 crore to 6.85 crore
Provision of filing quarterly returns for businesses with less than Rs 5 crore annual turnover, comprising over 90% of GST payers.
Budget 2019 – Rural allocations
Rs 60,000 crore for MNREGA.
Gram Sadak Yojana: Rs 19,000 allocated for construction of rural roads.
Budget 2019 – Defence Budget
Govt increases defence budget to over Rs 3 lakh crore.
Budget 2019 – Railways
Today there is not a single unmanned railway crossing on the broad gauge in India.
Railway's operating ratio seen 96.2% in FY19 Vs 95% FY20.
Railway capex for FY20 set at record Rs 1.6 lakh crore
Budget 2019 – A single window clearance for filmmakers
A single window clearance will be made available to filmmakers, anti-camcording provision to also to be introduced in Cinematography Act to fight piracy
Budget 2019 – Sops for workers
The unorganised sector workers to receive Rs 3,000/year pension.
New gratuity limit for workers-Rs 30 lakh.
New Pradhan Mantri Shram Yogi Maandhan Yojana for unorganised sector workers with income up to Rs 15,000 per month. Beneficiaries will get Rs 3,000 per month pension with a contribution of Rs 100 per month after retirement. Govt allocates Rs 500 crore for the scheme.
Nine priority sectors for the Government of India:
(1) To build a Digital India that reaches every citizen;
(2) Clean and Green India;
(3) Expanding rural industrialization using modern industrial technologies;
(4) Clean Rivers – with safe drinking water to all Indians;
(5) Oceans and coastlines;
(6) India becoming launchpad of the world;
(7) Self-sufficiency in food and improving agricultural productivity with an emphasis on organic food;
(8) Healthy India;
(9) Minimum Government Maximum Governance, with proactive, responsible and friendly bureaucracy
Budget 2019 – Social schemes
Target of building 1 lakh digital villages
For the welfare of farmers and for doubling their income, the historic decision was taken to increase MSP by 1.5 times the production cost for all 22 crops.
Budget 2019 – Some other points to remember
India is poised to become a $5 trillion economy in the next 5 years, $10-trillion economy in the next eight years. 
What is Ayushman Bharat?
Ayushman Bharat, the world's largest healthcare programme, was launched to provide medical care to almost 50 crore people, resulting in Rs 3,000 crore savings by poor families
What is the Status Quo of Indian GDP? 
Indian GDP: Growth in the last 5 years has been higher than that by any other govt. Spent Rs 2.6 lakh crore in a recap of PSU Bank. Average inflation in the UPA government was 10% and we have brought that down to 4 per cent. Inflation in December 2018 was 2.1%. If we had not controlled inflation our families would have been spending 35-40 per cent more on daily use items
Monthly mobile data consumption has increased 50 times in the last 5 years; the cost of data and voice calls in India is possibly the lowest in the world.
Over 90 per cent of the country is covered under sanitation coverage. More than 5.45 lakh villages have been declared Open Defecation Free.

References:
Economic Times
Times of India
Times Now
Zee Biz
Have questions or opinions about Budget 2019? Start a discussion here.
Pratik Ranjan
Pratik is an MBA candidate at IIM Lucknow. He is an ardent aspiring marketing strategist. His passion for marketing multiplied multifold post his internship with Unilever, where he was conferred with a PPO. Bitten by the entrepreneurial bug & seized by afflatus to read, write & explore, this twenty-something believes in the power of dreaming with his eyes open. He is a columnist in various newsletters and is up for any discussion that involves the nuances of marketing and strategy. P.S: He's charged by the fuel of caffeine.