BUILD. BREAK. INNOVATE | A field visit to the Start Up Village

We landed at what appeared to be a work in progress construction project. Once we moved through the gate we saw a green building towards which we headed. The first thing that caught our sight on approaching was a huge wall from which electronic gadgets appeared to peel off. The line under the logo of Startup Village read "Build. Break. Innovate".  This reminded me of a quote by Keri Smith "To create is to destroy" which felt quite true. Innovation is a constant process of breaking thought processes which you have built and challenge yourself to do one better. I felt there is something different about this place for its extravagant thinking.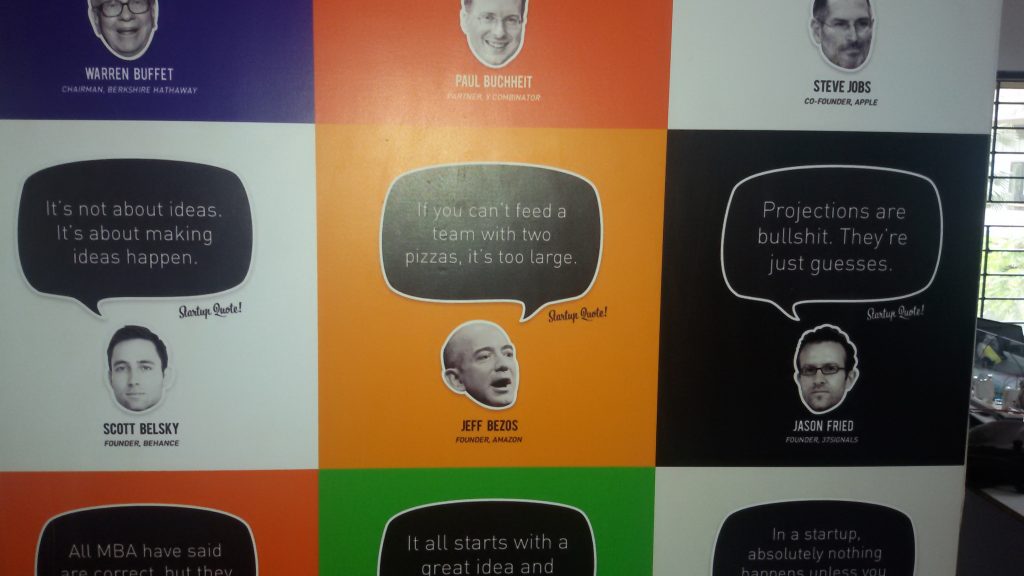 (Walls of Start up village adorned with inspiring quotes by entrepreneurs)
As we entered the building, we were sceptical about the number of start-ups the building could host.  We entered the ground floor to have water and were surprised to see whole bunch of teams having their own cubicles and working intensely unmindful of our intrusion. Some were working with printed circuit boards while some others were glued to their screens. We approached the first floor to meet our point of contact Rohan. His cabin was simple with a book shelf tilted at an angle and I couldn't help but notice a Freakonomics edition. He walked us through the kind of support and facilities offered to start-ups here. Supported by DS&T India Startup village is the 1st PPP based IT incubator which was setup with a milestone of incubating 500 startups which they have managed to over the past 3 years. Some successful startups are WowMakers, SmartQube, MindHelix etc.
While Rohan was away to find us a person to help us we started noticing the pillars and walls of the common space occupied by startups, they had filled it with quotes by entrepreneurs. Though miniscule, but many in numbered it appeared like gospels of wisdom speaking to the entrepreneurs to keep going should they think of resting.
After bidding adieu to Rohan, Kiran pointed us to a far-off building where other startups were hosted. When we were puzzled as to whom to approach, his response was "anyone – just knock and enter".
The first one of many we saw was WowMakers, a Digital Media Studio – we introduced ourselves and they offered us their seats. Jayadev showed some fine pieces of video making and while doing so narrated us the story behind how WowMakers coming into being. As he puts it "a video is complete – it gets across what you feel with a great amount of creativity". If there is one thing that we could use to describe them – this is a company highly focused on quality video making of international standards. Imagine, they had a process of filtering their clients instead of the other way round. There was no space for the slightest error and they were confident of beating the giants of the video making industry in the next 5 years. They had a wall filled with commendations and testimonials from representatives of the likes of Google, Facebook & LinkedIn. We could see a team of 11 working on their MACs in the adjoining studio which had bean bags and music was on. A person on joining the team might be an expert at one way of creative work, but in a period of 3 months they learn other arts of the trade and end up teaching their own. On being questioned if they had any regrets about being incubated in Kochi instead of Bangalore or elsewhere – a unanimous reply across all startups was that they had become best friends who could openly criticize each other and obtain genuine feedback – something difficult to find and they share knowledge across like a closely-knit community. The concept videos of many startups were made by WowMakers and they were "complete" indeed. On our return, we requested a gentleman to click our photograph with the logo of Startup Village and were pleasantly surprised again to know that it was designed by WowMakers. A common response across all startups to promote entrepreneurship was to open such incubators across India and network them, for they believe in growing by sharing. If you are interested in joining any of them. All they look in you is a unique talent from which the entire community can grow as a whole and can in return aid your growth.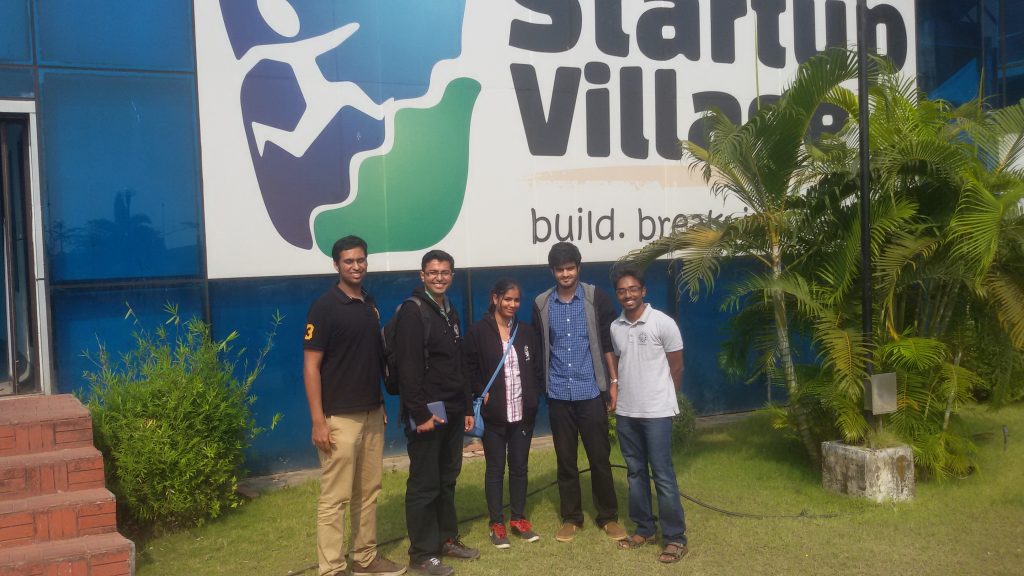 We were amazed a lot by the future and the possibilities: the 150 crore building under construction for new startups. We strongly believe that the city of Kochi holds great promise and Startup Village is to benefit a lot and spurt the growth of such communities not just across India but the world.
If you haven't visit Startup Village yet, what are you waiting for?
This article was written by –
Ganesh Pitchiah
Anubhav Kunnel
(IIM Kozhikode)