The 2014 Supply Chain and Operations Conclave, Trade Winds at IIFT aims to understand the growing need of the industry to move towards a leaner, greener and sustainable supply chains.
This year the main theme of the conclave is Building a Sustainable Supply Chain: The Transition from Reactive to Proactive. Most companies now recognize that a sustainable supply chain is no longer just an optional nice-to-have—it's a business imperative, critical to the success of the organization as a whole. The competitive environment is not restricted to the battles on the revenue and cost front, but has permeated to much deeper levels where the winner is not one who just delivers at a competitive price but the one who creates 'proactive' supply chains to ensure sustainable growth. This has resulted in business entities moving toward sustainability as a driver of competitive advantage and higher performance.
In continuation with the above 2 streams have been chosen for this year's edition
1) Integrating Supply Chain and Sustainability for Value Creation and Profitability.
The implementation of sustainability is a twofold problem. On one hand is the creation and implementation of policies related to sustainability, and on the other, our challenges pertain to the constraints of the market to quantify and capture the business value of sustainability. The need of the hour is to deliver results using business fundamentals together with greater scale, speed and impact at the macro and micro level.
2) The Shift from Supply Chain to 'Demand Chain': The Push towards "Pull"
Changing market dynamics, particularly globalization of manufacturing and sourcing, are impacting the types of value-added services customers want from third-party logistics providers. The order penetration point or the Customer Order Decoupling Point (CODP) which represents a point which separates the part of the value- stream which is customer-order-driven from the part which is forecast-driven is a concept which is highly cited and talked-about in Logistics and Supply Chain. The changing business environments and volatile economic situations have forced companies to shift from aligning the operations more from the actual consumption perspective, rather than from the supply-side constraints alone.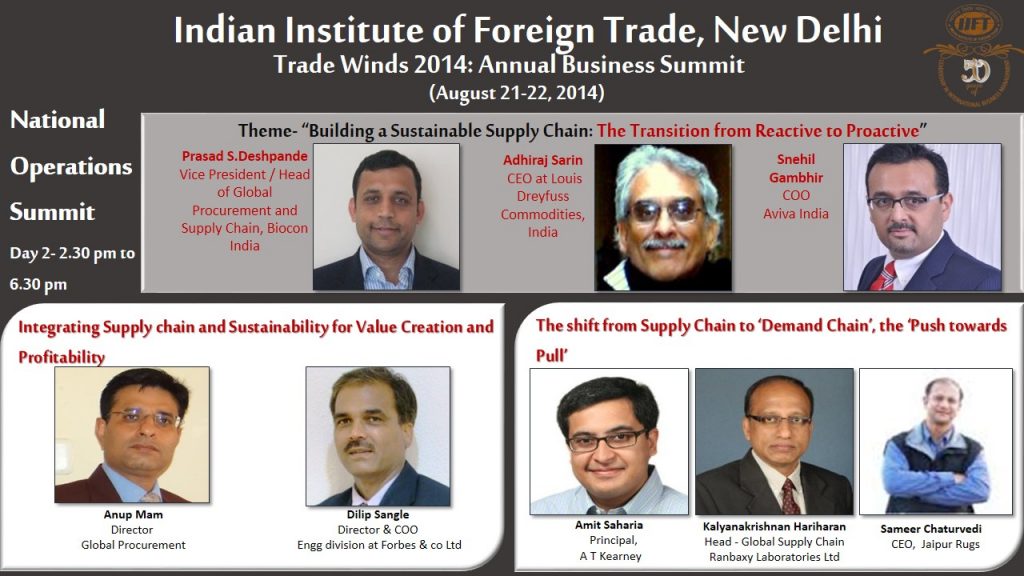 The two streams of 2014 Supply Chain and Operations Conclave attempt to bring together the viewpoint of the industry on how businesses are building competitiveness and sustainability in their operations. This Conclave is an effort by SCOPE (Supply Chain, Operations and Energy) Club and the student's fraternity of IIFT Delhi to bring together business leaders to share their thoughts and experiences on the best-in-class practices adopted in their industry for achieving business excellence.
For more updates, follow IIFT here