About Our Campus – Amarjeet Singh, IIM Udaipur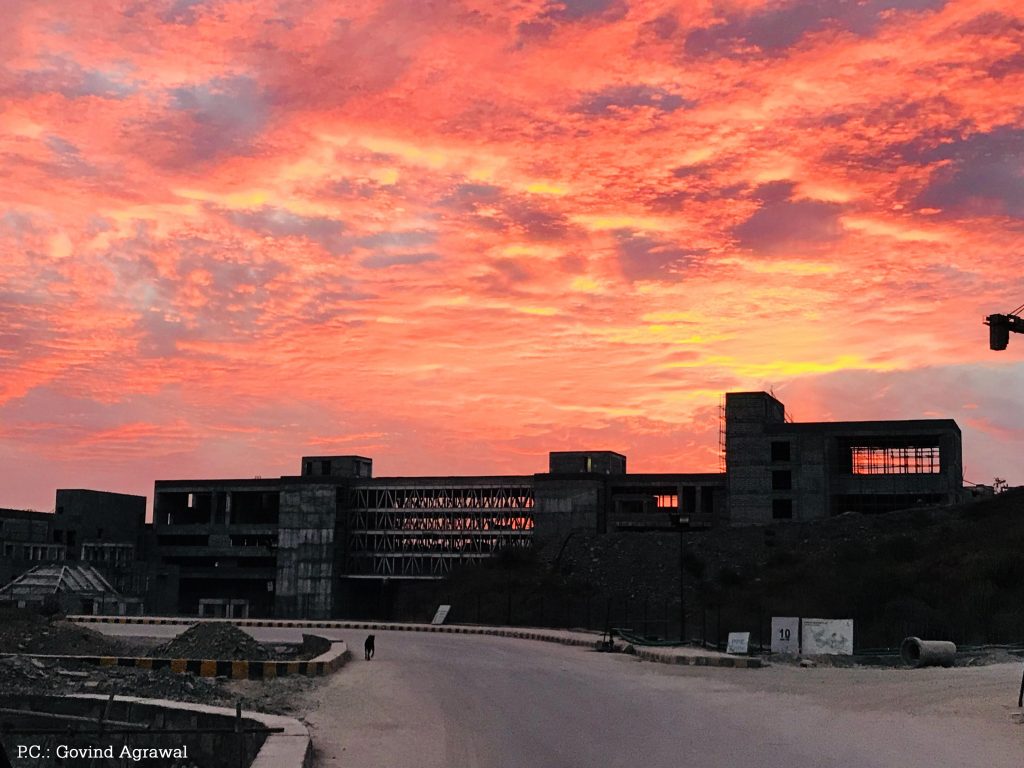 IIM Udaipur's 300-acre campus is located in Balicha about 8 km from the old city. The campus has been awarded GRIHA's (Green Rating for Integrated Habitat Assessment) 5 Star LD rating, which is the highest level of rating for large developments.
Our campus is surrounded by the Aravali Range, which makes it a treat for nature lovers. The campus provides beautiful views to its inhabitants throughout the year. One could never stop appreciating the beauty of the surroundings of our campus.
Sharp slopes and deep valleys characterize our campus site. As a result, different systems are put in place for water conservation. A system of check dams is being put in place at strategic locations within the campus to create several interlinked lakes.
Our campus is a green campus, and therefore no vehicles are allowed inside the campus. Students bringing their vehicles are supposed to park their vehicles at the entrance of the institute. But one can always use environment-friendly Pedal cycle sharing service within the campus.
The campus is fully wifi enabled. One can use wifi in any part of the campus. The speed of the internet connection is 1 Gbps with a backup connection of 100 Mbps. There is a dedicated IT team on the campus which looks after various issues that student faces with related to their laptops.
A dedicated Bloomberg terminal is also there to help students keep abreast of all the latest happenings in the finance world. And also all the students are provided with access to various databases and magazines from around the world.
The institute has state of the art built classrooms.,  The classrooms are fully air-conditioned along with all the other facilities to provide the best learning experience.
The hostels are located within walking distance of the academic block. Hostels are provided with all the necessities like fridge, microwave and induction. The mess is located adjacent to the student residences. The high quality of food is served in the mess.
Various sports and recreation facilities like gym, music room, basketball court, football ground, cricket ground are available in the campus. Equipment is also available for cricket, football, badminton, carrom, table tennis, volleyball and basketball among other options.
Udaipur and the surrounding hills offer many options to the travel enthusiasts. Many other tourists destinations are also there within a few hours drive from our campus. Overall our campus provides a perfect learning environment.
Which ABG company would he/she wants to work for and why?
I am inclined towards finance, and therefore I would like to work for Aditya Birla Capital Limited which is one of the major financial players in India. And also since the Aditya Birla Capital Limited has a strong presence across the various sectors, it provides perfect opportunity to learn about the various sectors. And therefore I think the Aditya Birla Capital Limited is the perfect place in which to work.