Collecting Money/Friends/Skill? – Harsha Donepudi, IIM Udaipur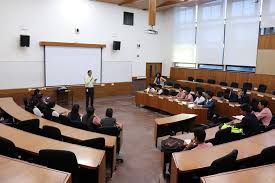 When I got the offer letter from IIMU, I left a lucrative job which pays handsomely to join IIMU. After I joined many of my friends were still questioning my judgement whether it was right or not. The first week I came here, even I wasn't sure if it was a right decision and still was not able to make up my mind whether to continue or leave. But, as classes started, my reasons for joining IIMU, i.e increase my domain skills in operations and finance, developing new managerial skills got reaffirmed. But somewhere in the back of my mind I still had this insecurity of 'what if I don't get enough pay as my old one, my friends will be moving forward in there while I will be left behind.'
But, the session of MOC by Prof.Rakesh Godwani, where he said 'Your whole life, whether we know it or not, we will always be collecting. We will be collecting friends. We will be connecting money. We will be collecting connections and networks. But the most important of all is collecting skills. Do not worry about the titles, degrees and grades. The things that will help you till the end are the skills that you learn.' Now, many people in my life have said the same concept in several different ways. But, none of them sticks to me and was as effective as this. Just shows to prove the effectiveness of words if said in the right context and way. I am glad that I joined IIMU and made this step forward. Looking forward to the next phase of my life.
Which ABG company would I want to work for and why?
It has always been a dream of mine to work in stocks and securities as it is not only about you earning money but also increasing the assets of others as well. During my tenure in IIM, I will learn more financial techniques to assess the market and would like to develop the ML and neural models to predict the stocks. And I think Aditya Birla Capital will provide me with the perfect platform to do that in India, as it is one of the leading business with asset management of over Rs. 2,813 billion.