CONVOCATED! Batch of 2016 does it in style – XIM Bhubaneshwar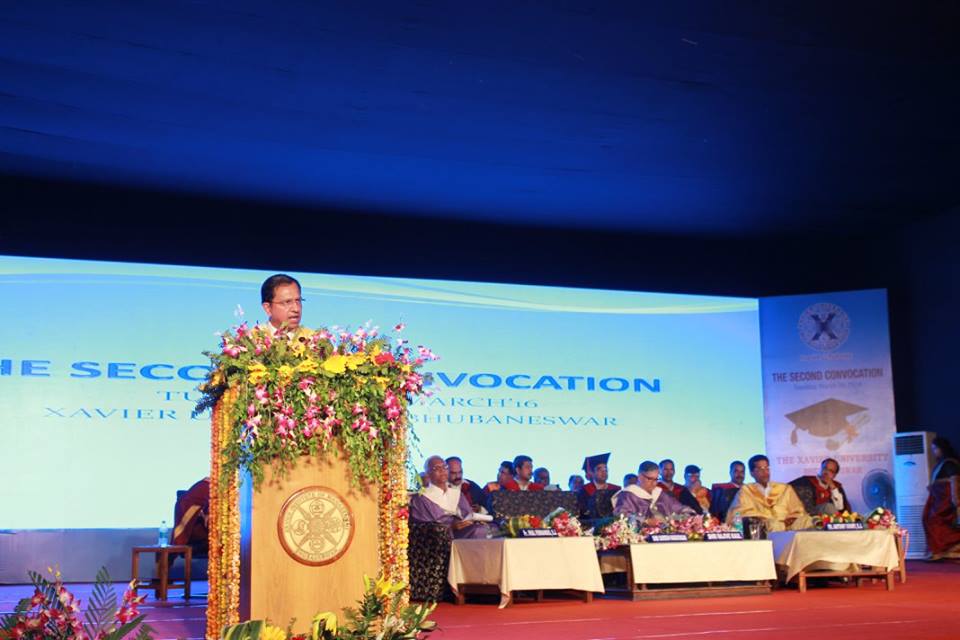 Xavier Institute of Management, Bhubaneswar and Xavier University, Bhubaneswar(XUB), celebrated the 2nd Convocation of XUB on 29th March 2016. For the past 29 years XIMB has set a benchmark in the field of management education and has helped build the nation by educating young minds.
A batch of 578 students belonging to programs like Doctoral-level Fellow program in Management, Business Management, Human Resource Management, Rural Management, graduated this year.
The occasion was graced by Shri Suresh Narayanan, Chairman and Managing Director, Nestle India Limited. He presided over the event as the Chief Guest for the evening. Amongst the distinguished personalities present were Mr. Rajive Kaul, Chairman NICCO Corporation Limited, Kolkata & Chairman of the XIMB Board of Governors, Fr. Paul Fernandes, S.J., Vice-Chancellor, Fr. Antony Uvary, S.J., Registrar.
The top ten rank holders were presented with awards and accolades. In addition to this, medals were also handed out for outstanding performance.
The convocation ceremony began with a welcome note by Fr. Antony Uvary, S.J., followed by the Vice chancellor's report by Fr. Paul Fernandes S.J. and a Chairman's address by Mr. Rajive Kaul. The meritorious students were presented with medals by Shri Suresh Narayanan followed by the presentation of Graduates of various courses by the Deans.
In his address, Father Paul, the director, congratulated the graduating students. He urged them to keep the belief in hard work, excellence and sincerity and always rekindle the core values imparted to them even in trying times. In his speech Father Paul highlighted the achievements of the institute, faculty and students in the year 2015-2016 which made XIMB proud. "Go forth and make a mark; lead an extraordinary life", he told the students.
The director Mr. Rajive Kaul spoke about the economic scenario of the world. Showing his faith in the youth of the nation, he said "India has a young population and a rapidly growing middle class and I am sure all of you will be deeply involved as an integral part of this growth story of future India."
The Chief Guest, Shri Suresh Narayanan inspired the students with his motivational talk. "Know who you are and what you want to be. Do not leave values behind, because when everything is gone values stay", he said. He also told the 10 C's that according to him are essential in life: Clarity, Competence, Credibility, Courage, Concentration, Creativity, Constraints, Compassion, Continuous Learning and Contentment.
The event concluded with students taking pictures with their parents and friends. There were pleasantries exchanged. That was the moment when they realized that their MBA life was over and be prepared for the corporate world.
Xavier Institute of Management Bhubaneswar
Xavier Institute of Management, Bhubhaneswar is one of the most coveted B-schools in India. Established in the year 1987, XIMB is known for quality education in the field of Management and creation of future entrepreneurs. XIMB offers to its students three prestigious programmes; Business Management, Global MBA and Executive-MBA. 30 years and still going strong, XIMB strives to achieve its mission of making managers with a human face.