A memorable classroom experience at IIM Trichy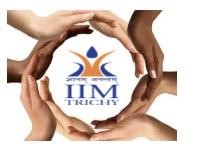 Classrooms, apart from being 'rooms' where we discuss academics only, are an experience in itself and when it comes to the aura of IIM Trichy classrooms, I think justice would be denied if I try to use a single adjective for an experience of a lifetime. The strength of my section is 64. And we have diversity in every sense i.e. geographical, educational backgrounds, culture, thought process etc.
That one incident that I think was the one to cherish was the first day of our official academic session. The professors were not going too deep into academia. Just an overview of the course, a brief background of themselves and then we mostly indulged
in general discussions. Out of 29 states in our country, my class has people from more or less 21 states. So, the discussion somehow was channelised towards the weather, language, culture and thereby staple food or preferred food of various states.
Interestingly enough, no two people from different states had similar or nearly similar staple food ie. the food they have on a regular basis. Apart from that, the taste and preferences were by and large quite distinct. India is known for its diversity but people from roughly each and every state sitting in a single classroom having entirely different perspective of what qualifies for scrumptious food is exquisite. No other country I think has a change in language, clothes and food with every boundary they cross. We are one great example of Unity in Diversity. It was as if each state of India has sent its delegate here to introduce people from other states to their own culture and food. It was enlightening to know a few delicacies which we thought otherwise did not exist like the Red Ant Chutney from Chhattisgarh, Rice Panki from Gujarat, Phagshapa from Sikkim, Bhapa Ilis from West Bengal to name a few.
The bubble of a lot of myths and stereotypical views about various states was burst that day. It was a beautiful experience and people were actually extremely enthusiastic to let others know about the heritage of their state. We have all been studying about diversity since middle school but to actually have people from around the nation talking about their culture, food, language is something very rare and it seldom happens so. First hand information is indeed much more satisfying. That's the beauty of IIM Trichy. More than anything else, I feel blessed in every sense for the fact that I get to be a part of such a diverse culture, contributing equally on my part as well.
That particular session turned more into state meet of delegates from across the nation to promote harmony and a sense of kinship than it being an academically intensive class.
WHICH ABG COMPANY WOULD YOU WANT TO WORK FOR AND WHY?
Given a chance to work for ABG, I would want to work with ABG textile business since it has made its presence felt in the textile industry. It is indeed one of the leading textile manufacturers in India since they have been using latest technologies since a long time now. It has a very robust set of people handling these sectors and I would love to be a part of it and to be a helping hand on their way to even more excellent achievements in the future.