An Emotion That We Name XIMB!
It was after two years in the automation industry that I decided to move a step forward and enter the corridors of management. Call it luck or destiny; I landed up at Xavier Institute of Management Bhubaneswar, a place I was not a novice to. Many of my friends had graduated from XIMB, and they had anything but praises for their alma mater whenever we used to meet. So basically I was somewhat aware of the life at XIMB. The night canteen, the consuming classes, the parties, the birthday celebrations, the apprehension when they set foot on their very first days, the sleepless nights that followed, the smiles that defied the draining schedules, the stories of pre and post internship days, apprehension of placements, jubilations upon conversions and the tears of departure. With all this in the back of my mind, I never thought anything would ever surprise me. Little did I know, the surprise awaiting me would blow me off my feet. The innate aura that this place called XIMB resonates, the smiles of the staff serving food, the ginger cat "Simba" who is the love of every cat lover, the rush of immediacy for classes, the late night jokes while sipping Bournvita, the fights over fries. Yes, I had heard of these, but never had I imagined I would enjoy them as equally as someone who was new to it. Without even realizing how, I have already spent over two weeks here, and with every passing day, the roads, the buildings, the walls, the people; the air of XIMB is blending into my existence. So, when I have to say what is unique about XIMB, it is something inexplicable because it is something you experience. XIMB doesn't hit you like a strong wind; it grows on you like a breeze. XIMB is not an institution, it is an emotion, and I live it every day. The night is never dark and the days can never be brighter inside these boundaries. XIMB is like a fine wine, growing better as it is growing older. Perhaps that is what makes it unique.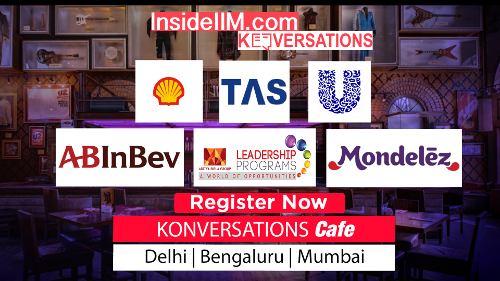 Which ABG company I would like to work for and why?
If I had the opportunity to work with the prestigious Aditya Birla Group ever, I would like to work for Hindalco Industries Limited. The reason is pretty derivative. I spent over two years working as an Automation Engineer under the banner of Russula Automation travelling overseas, designing and implementing automation for steel giants like the Nucor Group in the USA and the CSN group in Brazil. Although I am yet to know a lot about the ladders that management at XIMB will provide, I would like to see myself as a successful Supply Chain manager of the future who is competent enough to contribute to the corporate and the society.
– Sunil Kumar Patnaik (BM, 1st Year, XIMB)