An Experience Worth Sharing At IIM Trichy

A memorable classroom experience at IIM Trichy
What you learn will definitely help you, but you never know when and how. It was 26th of June, my fourth day at IIM Trichy and second day of our inauguration and orientation program. I am in PGPM 2018-20 batch at IIM Trichy. The program was for six days where there were various activities planned for us, which included Lectures from leaders in the corporate world, simulation sessions, outbound activities, stress management, first aid and many more. We could feel the rigor of the life ahead here. We were having a session on General Health and First Aid awareness. While the session was going on, we could see a man in his 30s with long black hair, a prominent moustache, a thick red tilaka of vermillion on the forehead entering the hall barefooted. He was fair complexioned, bit overweight, wore a black kurta and very much confident about the way he looked. I wondered who this strange looking person is. To be honest, I judged him. I thought he was a goon but could not relate why a goon will attend this lecture in such a premier institute. Then, as the lecture ended, the host announced his name.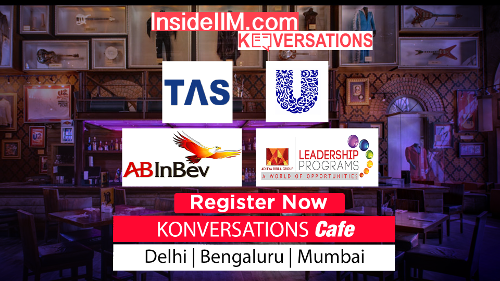 He was Swapnil Tewari, Sociopreneur- Livemad Foundation and Ambassador- UNESCO SDG Inclusive Education 2017-18. I was shocked to hear all these achievements. Then, when he took the mic, he made fun of his achievements. He ignored all of those praises and made a funny face. He told us not to be impressed with those titles as it was his life that made him do certain things. He just walked on the aisles between the seats and made everyone feel his presence. This was something very different from the lectures we had until that day, in fact all the lectures I had in my life. After that, he asked us to close our eyes and shout after him. We shouted and it felt good. Then he begun with a line, which I will never forget, "what you learn will definitely help you, but you never know when and how". This man could connect with us in a unique way. We all in the room became very attentive.
He shared with us his experience right from his childhood. The very first thing he taught us was acceptance. He was dyslexic by birth and had other motor disorders where he could not walk straight if he is in stress. Others made fun of him for his oversized body. He lost his father at a very young age. All these triggered suicidal tendencies in him. When he was about to kill himself, he found that all his senses forced him to die but his heart was still beating. He felt as if his heart was giving him hope to live. That was when he accepted himself as he was and that kid went on to become the MADMAN as the world knows him today. He is the founder of Livemad Foundation, an organization that helps the troubled communities across 35 regions across under developed economies of the world. He rescued people from various extremist groups. He is also a recipient of the bravery award for rescuing 75 women from human trafficking. He is one of those unsung heroes of our country who actually make a difference. What he shared with us is somewhat which is difficult to convey through words. That session had a profound impact on me and I will forever grateful to my institute, IIM Trichy. I could never forget an experience as that.
Which ABG company would you want to work for and why?
I am one of those many who dream to be a part of ABG and If I ever get to be a part of The Aditya Birla Group. I would like to be in textiles. I am kind of being selfish here. I love this industry for the love I have for textiles and looking to travel abroad as it has wide reach. I expect myself to prove to be an asset to ABG if I ever get the chance. Other than that, I would develop my skills at IIM Trichy with the best investment of these two years ahead of me. I am really looking forward for this life changing opportunity.