Starting today, InsideIIM will be bringing you a new section called MBA grad of the month. In this section, we will publish interviews of young B school graduates with really unique profiles who are blazing a trail in their chosen profession. We start with Prasid Sreeprakash of IIM Indore, Batch of 2011.
Prasid hasn't nearly entered a profession as much as he's followed a passion, an inner voice, a greater calling. He sat out of placements to join the Teach For India foundation on a two-year stint. At present, he teaches kids in 3rd standard at an MCGM (Municipal Corporation of Greater Mumbai) school in Hiranandani, Mumbai. The following is the text of the interview.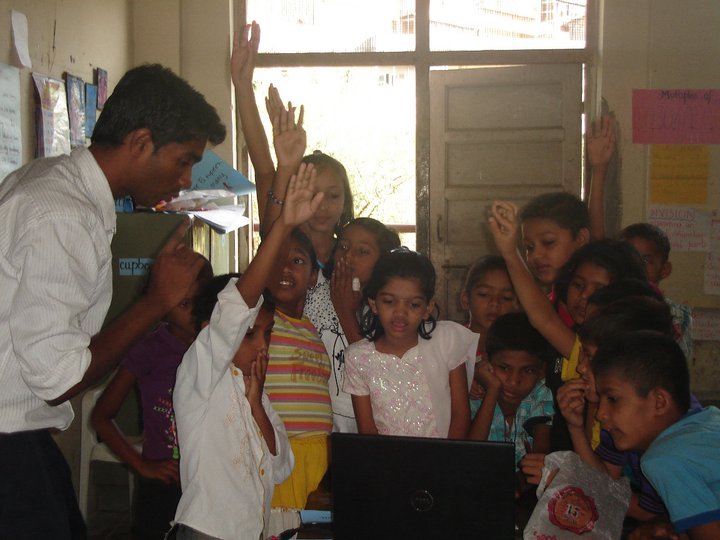 InsideIIM
: It must have taken a lot of courage and passion to choose Teach For India over regular placements. As per figures released by IIM Indore, on an average every colleague of yours is earning upwards of Rs.14 lacs. What made you give that away? How difficult was the decision?
Prasid: Teaching children was something that had been on my mind for a few years but I had many concerns about choosing to do something like this. (For instance, the monetary aspects, the support that I would get and the lack of a clear pathway). When TFI came to our campus a few months before the placement season kicked off, their vision and goals matched to what I had in mind and more importantly the structures and processes they had in place answered all the concerns that I had about taking up teaching in schools. This rekindled the desire in me to plunge into something so drastic, especially after an MBA. Once I got to talking to people within TFI and getting to know the organization in depth, it really was not a difficult decision to take after that.
InsideIIM: What do you wish to achieve in these 2 years at Teach For India?
Prasid: My primary goals in my class are to create a conducive learning environment for my kids to learn in and to facilitate the process of education. This involves not just teaching academics but also exposing them to different form of arts, experimentations and also making them more socially aware.
Apart from the classroom, I hope to contribute to building the movement that is Teach For India. We aim to bridge the appalling inequity that exists in the education system by reaching out to as many children as possible within as short a time frame as possible.
InsideIIM: Tell us more about your experience so far in the last 6 months...What have been the highlights for you?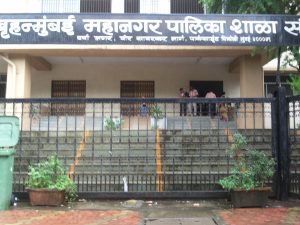 Prasid:
At the moment, I teach 34 lovely kids who are in 3
rd
standard at an MCGM school near Hiranandani, Mumbai. The school being run by the government, has many major issues including a lack of water supply and cleaning staff.
But despite all the difficulties, there has not been a single day of teaching that I did not want to see my kids. I have developed such deep bonds with so many of them that it is just a pleasure to be around them and have the power to influence their lives so much with my work. It is really scary to think just how much impact my actions have on their entire lives.
I have had many emotional low points in the last few months. Most of them involve getting to know the lives of individual kids and what they have to go through just to get by. Abusive parents, dingy houses, lack of money, are just some of them. But it is amazing how true happiness overlooks all this. There is not a day in which my kids do not smile in class. Even if one head drops, I make sure I am with her/him to get them back to being happy.
What gives me the most pleasure is to see my kids' imagination expand every single day, even if it only by a tiny fraction. This I believe is due to the freedom they get to express themselves with me which used to be lacking severely with their previous teachers.
InsideIIM: How is the usual day at work? How do you deal with communication, language and logistical issues?
Prasid: The fellowship experience is pretty much a 24x7 job for me. There is hardly a minute where I do not teach/plan for/talk about/ think about my kids. Although school timings are only for 5 hours (7.30am – 12:30 pm), I spend time with my kids till 4pm with extra classes, visiting their houses taking them out to nearby places, etc.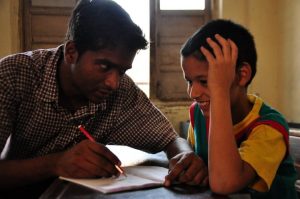 Planning is the key word for any good teacher. Almost every single day, I modify/create plans for teaching my kids. Long Term Plans, Unit Plans, Monthly Plans, Weekly Plans, Daily Plans and lastly minute by minute plans are all done in detail, usually written down on paper, or on my excel. This might seem daunting but I have gotten quite efficient at it not by choice but purely because of the paucity of time I have in my life right now.
The kids are so raw, especially in language that in the beginning, I had to speak in whatever broken Hindi that I knew. One of the most fulfilling things that is happening in class is that the amount of conversations happening in English has gone up many notches in the last 3 months. I am sure my kids can converse with any person in English by the time I move on from them as at teacher in two years' time.
InsideIIM: Do you also interact with families of these kids?
Prasid: I believe that true impact cannot be made with anything unless you get to deeply understand the crux of the problem. My kids spend only 5 hours a day with me and the rest of the time are spent either with parents/tuitions/friends/community members. So unless I deeply invest myself in understanding this equation I believe I cannot make the maximum impact on my kids within the time frame I have in mind.
This is the reason that I interact with the parents of my kids on a daily basis to get to know how the kids are outside class and also to let the parents know why someone like me has come out of the blue to teach their kids. Once the families get invested in me and my process of education, it makes my job of facilitating the education so much easier in those 5 hours in class.