Final Placements : IIM Indore UAE – Class of 2013
The final placement report of the first batch of IIM Indore UAE is here. This batch has graduated in the 2nd half of 2013.
We have already covered the summer placements for the Class of 2014 which consists of about 38 students here.
We continue to maintain that our knowledge about this programme is not up to the mark. So whether it is recruiters or prospective students who are reading this, please also do your own research. What we do know now is that the location has shifted from RAK to Dubai. So apart from BITS, IMT and SP Jain we also have an IIM in Dubai now.
The first batch had 13 students. Enrollment increased to 38 in 2012. In 2013, the enrollment was around 49 (last we checked).
Highlights sent to us by the Placement Team at IIM Indore UAE
– Batch Strength : 13 and 70% of the batch placed in UAE
– Highest Salary offered – INR 28,56,000 (AED 1,68,000 per annum)
– Minimum Salary offered – INR 12,00,000
– Category Head and Head of e-commerce division profile offered by Videocon UAE
Given below are the details of all the 13 Roles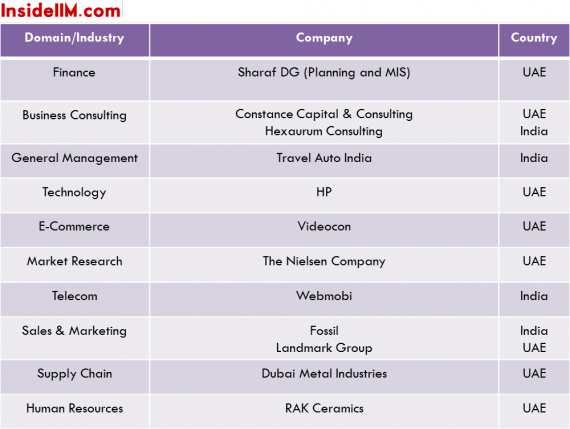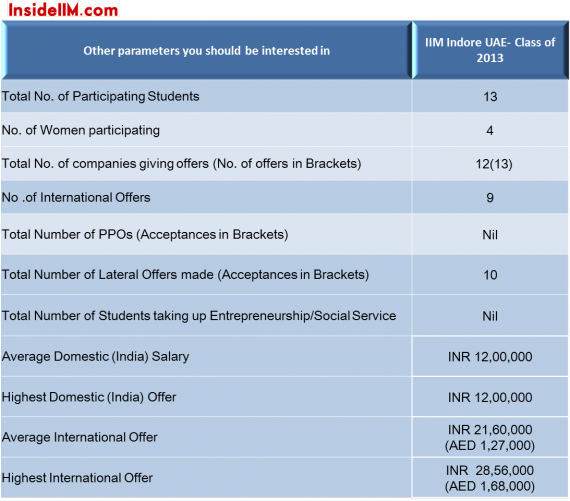 One very odd thing can be noticed above. Four Companies have made four offers in India. Highest and Average salaries are the same. How likely is it that all four of them paid exactly INR 12,00,000?
In case you wish to point out any anomalies in the report, do write in to us at editor(at)insideiim(dot)com. We will try to clarify it with the placement committee. Anonymity will be ensured.
Other placement reports of the last season:
Final Placements : IIM Bangalore – Class of 2013
Final Placements : IIM Indore – Class of 2013
Final Placements : FMS Delhi – Class of 2013
Final Placements : XLRI Jamshedpur – Class of 2013
Final Placements : IIM Kozhikode – Class of 2013
Final Placements : SPJIMR Mumbai – Class of 2013 (Unverified Report)
Final Placements : JBIMS Mumbai – Class of 2013 (Unverified Report)
Reports for the Final Placement Season 2012