IIM Rohtak Hosts Its Maiden Film Summit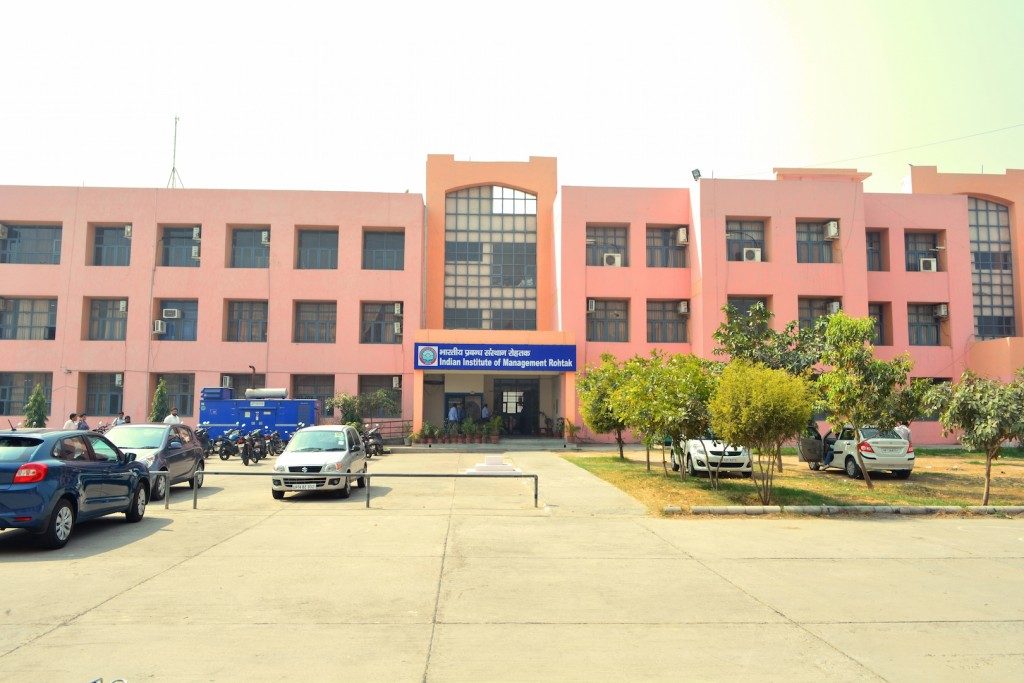 Continuing with its tradition of foraying into uncharted territories, IIM Rohtak organized its maiden edition of Film Summit, a first-of-its-kind conclave conducted by any B-school in India. Industry experts from Bollywood shared their insights about the technicalities involved in the process of film-making. Keeping in mind the exponential growth that the Indian Entertainment business has enjoyed over the past few years, the summit was organized to realize a growing need of creative and business professionals in the entertainment business. The theme for the summit was 'Making India a Global Entertainment Superpower'.
The event was flagged off by Director Prof. Atanu Rakshit, who highlighted the importance of scalable and sustainable development. He also mentioned how managers can play a pivotal role in the evolvement of Film Industry. Several stalwarts from the film Industry shared their views with a jam packed audience. "Cinema Business is facing competition from sports, TV soaps and web series for viewers' attention", said Mr. Rahul Puri, MD at Mukta Arts. Mr. Saiwyn Quadras, Story and Screenplay Writer of blockbusters like Neerja and Mary Kom, mentioned, "When you write, you have the power, and a lot of people work to bring to life, what you wrote".
Director and Screenplay Writer, Ms. Megha Ramaswamy, screened her documentary 'NewBorns' which focused on the acid attack survivors. The moving documentary left the audience dumbstruck, further emphasizing the power films have in bringing a change to the society. She said that films and documentaries can be used to bring social injustices into light. Increasing digitization has led to a democracy of content, everyone, everywhere can shoot a pertinent social issue and that can be followed up with a healthy debate.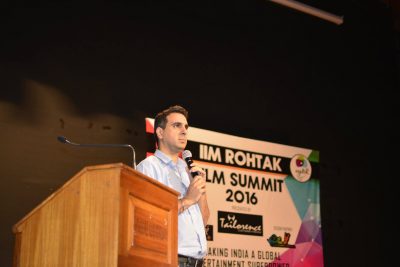 Vishal Kaushik, a second year student at IIM Rohtak, a perennial movie buff and the event coordinator, said, "The emergence of regional film industries, global television renaissance, rising ticket prices, an ever increasing screen count and entry of international studios have generated tremendous opportunities for business professionals. It is high time that MBA students identify the underlying opportunities and brainstorm to generate business models out of them".
Dr. Suresh Jakhar, faculty in-charge of the event, observed, "Given the pace with which Indian film industry is growing, the time is ripe for students of IIM Rohtak to contribute to the film industry. Film Summit is a great step towards creating awareness about the business aspect of film industry among the students."
The interactive and insightful addresses by the speakers had the audience listening with rapt attention. The students also pitched in with a lot of questions to further understand the intricacies of the business. With a mixture of passionate and business centric discussions circling around the revered film industry, the first edition of Film Summit was a resounding success and set a benchmark for more such events to come. The unique event was a testimony to the vision that IIMR has set for itself – 'to become a global center for learning and knowledge creation.'