IIM Trichy – Celebration Of Learning

Holding a NIRF rank of 13 among B-Schools in 2017, IIM Trichy stands ahead of all the 14 new IIMs. The ranking is based on different parameters that include Teaching, Learning and Resource, Graduation Outcome, Outreach and inclusivity, Research and Practices and Perception. IIM Trichy has been consistently improving itself in all these parameters and is counted among one of the premium B-Schools at very young age. The quality of students is getting better each year with the cut-offs rocketing sky high. Few reasons why IIM Trichy is on its way to being the best B-School: –
Focus on knowledge: "Knowledge is endless" is the motto governing IIIM Trichy family. The pedagogy in IIM Trichy strongly believes that value creation lies on the path of continuous learning.
High on personal connect: IIM Trichy has maintained a fascinating student to faculty ratio at 9.72 including both the academic batch. The lower is the ratio; the more effective is the personal interaction and mentoring from professors holding rich experience in diverse backgrounds.
 Mentored by facilitators: The professors call themselves as facilitators in IIM Trichy. They act as a moderator in knowledge-rich discussions to pitch-in their ideas and let students do brainstorming to reach a particular conclusion, during lectures. This pedagogy not only helps students to be active in class and get trained in group thinking but also help professors to take away new insights from the discussion.
The state-of-the-art campus: IIM Trichy with its new state-of-the-art campus is now featured as one among the few B-Schools in India having most of the facilities that include single sharing luxury hostels, well-designed classroom, state of the art knowledge centre, indoor and outdoor sports facilities and gym.
Location advantage: Trichy is one of the cleanest city in India and home to some of the premier institutes like NIT Trichy, IIM Trichy, IIIT Trichy etc. The city is located within 350 km radius from metro cities like Chennai and Bengaluru, which are the two major IT hubs in India. IIM Trichy campus is in proximity to Trichy airport that is well connected to important locations from not only India but abroad like Singapore, Kuala Lumpur, Colombo and Dubai.
Social Responsibility:– A quote "We make a living by what we get, but we make a life by what we give" is inculcated to the students of IIM Trichy. It is mandatory for PGP students to complete a MAD (make a difference) project in due course of their engagement with the institute. The project requires on-ground activity performed by each student to bring some quantifiable change in the life of people living nearby. The change can be as small as cleanliness to big issues related to social acceptance.
These factors make IIM Trichy one of its kind institute, which brims with huge potential and aspires to be the best.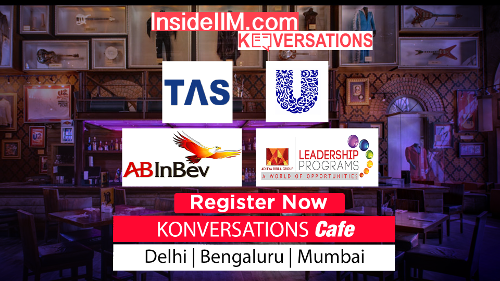 Aditya Birla Fashion and Retail Ltd.
I aspire to work with one of the leading "House of Brands" in India that is Aditya Birla Fashion and Retail Ltd. I truly admire the way the company has managed to develop separate positioning of each of its brand and customers have different perceptions for each of them. Every brand the company had launched is a market leader in some sense, which is an amazing way to capture the market share. Interestingly, most of the brands cater to professional apparel segment, but none of them is cannibalising each other, an example of excellent segmentation.
This article is written by Prabhu Ranjan Sengupta – Class of 2019