A Newspaper Which Is A Mosquito Repellent – Strategy With RS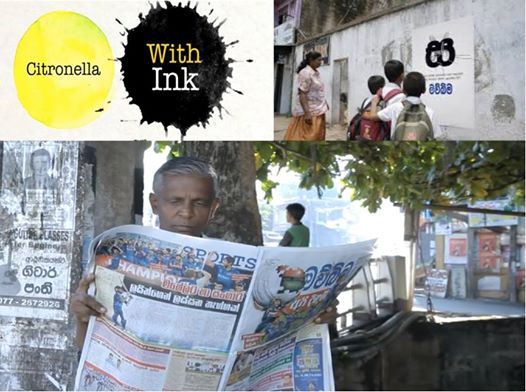 Dengue is a killer disease and invariably proves fatal for people infected with it.
A national newspaper in Sri Lanka, Mawbima, wanted to contribute to successfully control this dreaded disease.
Let me share the strategy shared executed by 'Mawbima'.
Research done by Mawbima newspaper indicated that
It was most read during the morning and evening time. This timing coincided with the time when dengue mosquitos were the most active and potent.
Citronella essence is a natural repellant. Its presence ensures that mosquitos were driven away from its vicinity!
Therefore it decided to mix 'Citronella' with ink & used this formulation for printing the newspaper.
Result: Every letter of the word started repelling the mosquito.
First, posters were printed, with ink containing with citronella, which gave tips to people how to protect themselves from dengue were put up in bus stops!
Result: people were educated on how to protect themselves from dengue by reading the message in the poster, as they waited for the bus; the ink mixed with citronella ensured that mosquitoes were kept at bay at the bus stop.
Next they created mosquito 'prevention patch' – a small patch containing printed text, printed with from ink containing citronella essence.
This patch was distributed to schoolchildren who put it on, therefore ensured that mosquitoes were kept at bay.
Finally, on culmination of National Dengue Week that coincided with World Health Day, the entire newspaper was printed with ink containing citronella. Every letter of the word was keeping the mosquitoes at bay. Since the newspaper was most read during morning / evening times, when the mosquito were most active – hence they were kept at bay!
Result: This innovative scheme of Mawbima resulted in 30% increase in sales while its readership increased multiple times!
Friends, what do you think of this innovation? Do you think this concept will work in India?
—–
In this series, Rajesh Srivastava, Business Strategist and Visiting Faculty at IIM Indore gives you a regular dose of strategy case studies to help you think and keep you one step ahead as a professional as compared to your peers. Rajesh is an alumnus of IIM Bangalore and IIT Kanpur and has over 2 decades of experience in the FMCG industry. All previous Strategy with RS posts can be found here.