Internship Diaries – How I Learnt A Lot During My 'Miller Time' – Swati From IIFT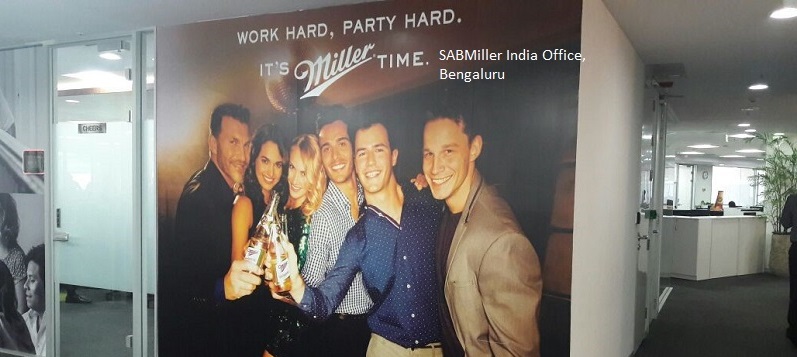 Before delving into my internship experience, let me first give a brief about how I landed in one of the coolest companies I could have ever dreamed to work for.
SABMiller India organizes a Corporate Case-Study Competition for first year students called 'Brew-A-Career' every year, where top B-Schools across the country compete. They also use this competition as a platform for giving out Pre-Placement Summer Internship Interviews (in some cases, direct offers) to a selected few. Fortunately, even though we could not win the Finals, I got an offer early on, thus saving me from what I call 'The Great Indian B-School Ruckus' and securing a role in the difficult, yet interesting, beer market.
Bangalore, or Bengaluru, by which it is now known, became my home for the two months of my stint. The 'Hub' (lingo for the Head Office) is located in Manyata Tech Park in the heart of this beautiful city. Interestingly, I have never lived anywhere in South India before, making it challenging for me to work in Consumer Insights department. On top of it, being the only fresher among nine interns dented a bit of my confidence. But one thing this internship taught me well was that a lot of problems are solved simply by changing your perspective. Instead of being bogged down, I looked at this as an opportunity to learn. Learn as much I can. Learn as much as my mentors could teach me. Learn. Learn. LEARN.
I had two projects, with one being very different from the other, giving me twice the exposure. One revolved around my work desk and the other put me on field, right among the consumers giving me a 360° exposure.
Beer, unlike other FMCG companies, is what constitutes a 'dark market'. That implies a lot of constraints for the Marketing team and a lot of laws for the company. Needless to say, it is a very challenging job and at the same time, gives you a very different kind of learning altogether.  It is a whole new world in itself, where none of the marketing techniques learnt in classes, applies.
SABMiller India is a flat organization, with an effective open-door policy. This helped me in getting a lot of guidance, making new connections, and most important of all, getting over my initial fear of surviving in the Corporate World. You could literally knock anyone's door and they would guide you, gladly. In fact, one of my most memorable times were the few occasions when the whole team, including the Director, would go out for lunch.
Apart from learning, the other thing I will treasure, is the friends I made here. Being the only one from my B-school there, I did not know anyone unlike a lot of my classmates in other companies who had that advantage. But, luckily for me, I got the coolest gang of interns to work (read: party hard) with and an equally cool set of mentors, who helped me along my journey. I guess the saying is true: Beer unites people in a way like nothing else does!
PS – YES. We had an in-house bar rather than a cafeteria.
PPS – NO. Interns were not allowed to drink there.
———
This article has been authored by Swati Singh, student of MBA (IB) 2015-17 batch at Indian Institute of Foreign Trade (I.I.F.T.), Delhi.
Read more stories on Internship Diaries here.
Read more about IIFT here.