"The starting point is a high performance sports car, but the long term vision is to build cars of all kinds, including low cost family vehicles"
-Elon Musk
Is Tesla the new Apple? Is Elon Musk the Steve jobs of Automotive Industry? Is Tesla the new disruptor brand automotive industry ever faced? Given the hairy audacious goal Tesla has, what it means to the future of automotive industry? What Tesla has done or doing that is going to disrupt the way the automobile game is being played today?
In my view, there are two things Tesla has done really well to build a strong brand in a short time with limited marketing spend
Tesla dared to do different things and do it differently
How? Let's decode brand Tesla.
Breaking Conventions: For the uninitiated, Tesla radically departed from the conventional way of selling cars by having showrooms in shopping malls along the line of other retailers. Why You Should Copy Tesla's Way of Marketing. There are no dealers per se. All the showrooms are self-owned and located in high traffic mall locations.
Just imagine the footfalls and the interest it can generate simply by having showrooms in a shopping mall. By challenging the status quo, Tesla has achieved
- High Brand Salience (Though not many who visits the showroom are potential customers for Tesla given the price tag it has)
- An opportunity to engage customers with the brand. Even though the brand is inaccessible to many now, given the vision Tesla has, this would definitely give Tesla an opportunity to educate the consumers about EVs and the brand.
- Creating a buzz (Imagine customers sharing their experience in social networks about their experience with the brand)
A remarkable product: Jonah Berger in his book, "Why Things Catch On", shares some interesting insights on why certain things go viral, much talked about or even shared. One thing that stands out and appears more relevant in the case of Tesla is "Being Remarkable".
Being remarkable is about being novel, surprising, unusual, extraordinary or worthy of attention. Remarkable things provide social currency for people to talk about them making it even more remarkable. Wharton Professors Raghu Iyengar and Jonah Berger in their study on how much word of mouth different brands get online found that remarkable products or experiences are shared twice as often as less remarkable brands.
Why Tesla products are so remarkable? Simple. Tesla's products makes a difference by being meaningfully different.
Tesla's product design and technology addressed key pain points buyers face in an electric car such as range, performance, safety, space and speed. It has fewer parts, awesome built quality, delivers exhilarating performance and has an unenviable safety record. With the launch of Model S, Tesla has created an aspirational appeal or an aura around its brand. The car has received the highest safety ratings from the US National Highway Traffic Safety Administration (NHSTA). The company claimed that Model S received a record 5.4 stars. Tesla's mission is to accelerate the world's transition to sustainable transport. Model S was named Motor Trend's 2013 Car of the Year and achieved a 5-star safety rating from the U.S. National Highway Traffic Safety Administration.
Have a look at how Tesla Makes the Model S: Tesla Model S Mega Factories.
What I found amazing was the attention to details paid even to door handles to make the car truly aerodynamic. Incredible!
Using the ERRC Grid (Eliminate, Reduce, Raise and Create), one can clearly see Tesla has eliminated or reduced moving parts inside the car, raised standard of EVs and created a new segment virtually from the ground up (Model S, first premium EV with acceleration of a sports car and utility and comfort of a family sedan)
The automotive industry is one of the most competitive industries where the barriers to entry, bargaining power of buyers and intensity of rivalry are high.
How did Tesla make a break through?
While traditional automobile makers were focusing on bringing better products, improving existing products, targeting other markets and achieving operational efficiency, Tesla altered the way the game is played. By creating a truly revolutionary product in the EV segment, Tesla literally has redrawn the battlefield. According to company sources, Model S, the world's first premium electric sedan is built from the ground up to be 100 percent electric. It redefined the very concept of a four-door car. With room for seven passengers and more than 64 cubic feet of storage, Model S provides the comfort and utility of a family sedan while achieving the acceleration of a sports car: 0 to 60 mph in about five seconds.
EV market comprises of Plug-in Hybrid Electric Vehicle, Electric City Car and Full Range Electric Cars. A look at US Passenger Vehicle Sales by technology data clearly shows a growing trend for EVs, Hybrids and Plug-ins.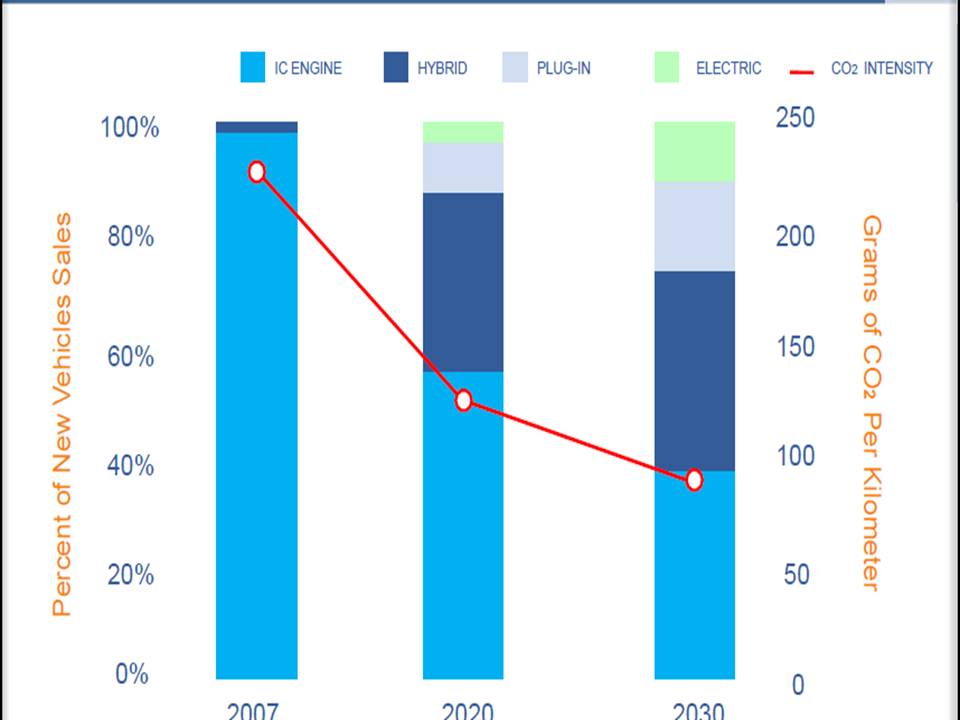 A survey was done by consumer report magazine among 1,578 vehicle owners who were asked to rank brands on attributes like quality, safety, performance, value, fuel economy, design/style, technology and innovation.Tesla Motors Inc. ranks in the top five brands among people surveyed by Consumer Reports. 2014 Car-Brand Perception Survey.
Tesla's remarkable product and unique branding catapulted the brand into the Brand VIBE pole position. Brand VIBE measures brands on four parameters such as Visionary, Inspiring, Bold and Exciting. Brand Vibe: 2014 USA Report
Selling the brand as an experience: A peep in to Tesla's website, sales and branding strategy reveals the secrets of selling the brand as an experience. Tesla's clever use of social platforms to engage the community, Intuitive web experience, content strategy (Blogs, videos and consumer stories) addresses buyer's challenges and concerns across different stages in the buying journey.
Where Elon Musk is heading up to? What it means for Tesla's future? Is Tesla in the mobility business or in the business of sustainable energy solutions?
A look at some of Tesla's current and future offerings gives us a glimpse of what Tesla is up to:
- The Model X crossover is due to arrive in 2016, followed in 2018 by a more attainable compact sedan, named Model 3, targeted to start at about $35,000.
- Tesla Powerwall and Power Pack batteries for residential and industrial energy solutions
- Elon Musk recently said that he is contemplating building a battery factory that is biggest in the world comparable to all lithium-ion battery production in the world. Known as the 'Gigafactory', Tesla is hoping to produce 500,000 lithium-ion batteries annually, making it the biggest battery factory in the world. A glimpse inside world's biggest battery factory
What implications will it have on other automobile manufactures who manufactures EVs or other battery manufacturers? Will Tesla become the largest supplier of Lithium-ion batteries to other automobile manufacturers? Will this create a new revenue model for Tesla? What are the risks involved? IBM is working on Lithium Metal-air batteries that can store 40 times as much energy as today's high performance lithium-ion batteries. What this means to Tesla's ambitious plans?
Speculations apart, what lessons one can learn from Tesla?
Lesson one: Create a compelling and differentiated experience for your customers who in turn champion the brand or at least spread the word for you instead of you trumpeting it. If the word comes directly from customers, it adds more credibility and strength to your brand.
Lesson Two: Define your brand not by what you make but by what you make happen. (In this case, a sustainable mobility solution or Tesla likes to call itself as an energy innovation company). Data points out that brands with strong meaningful difference tend to grow while brands that lacks any meaningful difference tends to shrink. Jim Stengel, Former Global Marketing Officer at P&G in his book "Grow- How Ideals Power Growth and Profit at the World's Greatest Companies" makes a strong case for 'Brand Ideals', a key to corporate success. Brand Ideals clarifies business true reason for being. According to him, truly sustainable business models are linked to fundamental human values — an ideal of improving people's lives. How Well-Defined Is Your Brand's Ideal?
Lesson Three: Focus on customers pain points and work your way up. Build or engage newer technologies/designs to alleviate pain points buyers face across touch points. Pay attention to details and constantly look for improvements.
Lesson Four: Challenge the status quo. Break the conventional mode of thinking that plagues or put breaks on radical innovation. Move from why to why not? Leverage your strengths or build capabilities and capacities to achieve your business and brand goals. Be mindful of trends that shapes or influences/impacts society and the environment.
Lesson Five: Sell your brand as an experience. Understand buyers pain points, concerns and challenges across various stages in their path to purchase and address them proactively.
The way to go forward is to change the rules or alter the game, disrupt before somebody does and be a game changer or a trend setter. How? There are no easy answers but i reckon it begins with a shift in the mindset and the rest follows. Top Management should set the ball rolling by having systems in place that encourages disruptive or radical thinking. Sounds like a lofty idea?
Renowned management thinker and guru Ram Charan in his book 'The Attackers Advantage' describes how corporate can develop perceptual acuity, a psychological process to 'see around corners' and spot potentially significant anomalies, contradictions, and oddities in the external landscape ahead of others". This is one not necessarily the only way to begin.