Logistics 2.0 – Changing Industry Landscape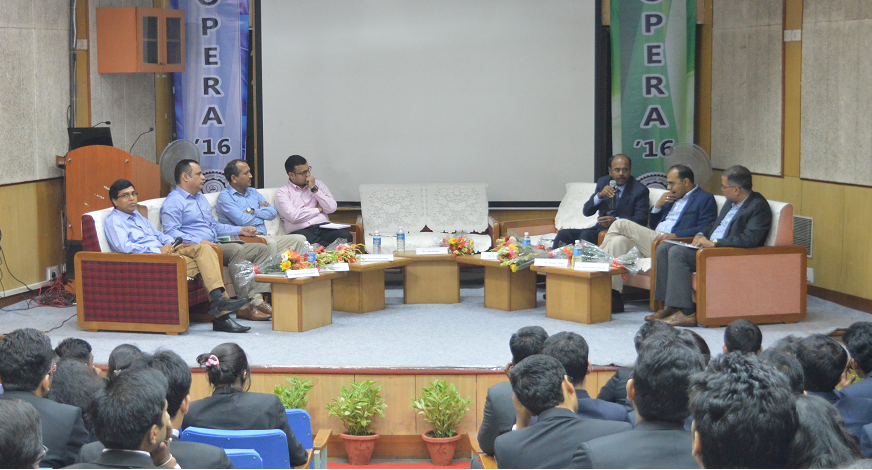 The Department of Management Studies, IIT Delhi successfully organized OP'ERA'16, the Operations Conclave. The session was focused on the theme- "Logistics 2.0". Panel was chaired by Mr. Dharmesh Srivastava, VP Supply Chain, Agro Tech Foods Ltd, and co-chaired by Mr. Soumya Kanth Dwivedy, Head Supply Chain, Becton Dickinson and Company.
Following are the eminent panel members from across the industry, who provided deep insights to our students on the above topic:-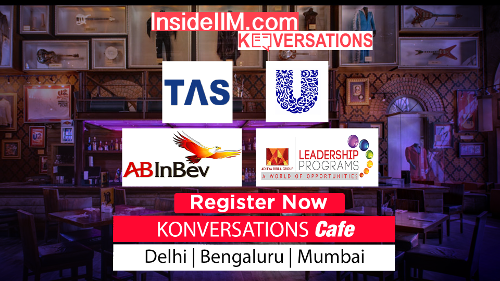 -Mr. Dharmesh Srivastava, VP Supply Chain, Agro Tech Foods Ltd
-Mr. Tridiv Sethi, Director Business Development, DHL Supply Chain India Pvt Ltd
-Mr. Kamal Deep Ahuja, General Manager and National Operations- Logistics, Lava International
-Mr. Amit Kumar, Supply Chain Specialist, Amway
-Mr. K. Jaibhaskar, Regional Operations Manager, Maersk Line
-Mr. Sanjeev Singh, Director, Head of Strategic Sourcing and Procurement, Cushman & Wakefield
-Mr. Soumya Kanth Dwivedy, Head Supply Chain, Becton Dickinson and Company
The panel chair started the discussion by introducing the management students the challenges that organizations face while managing logistics in supply chain.
Mr. Dharmesh Srivastava introduced the topic by discussing about Goods and Services Tax (GST) and its industry impact. He stated that in future, there will be fewer warehouses to improve efficiency in logistics.
Mr. Srivastava also focused on the issues that are pertaining to the supply chain management where there is a need of uniformity in every phase of supply chain. A high level of collaboration is required to enhance customer-supplier relationship. Mr. Srivastava emphasized on the need for right technology for business operations and continuous improvement in infrastructure. He also focused on the impact of reverse logistics on the organizations.
Mr. Tridiv Sethi shared his experience in supply chain logistics in DHL. He emphasized on the impact of GST which is going to create more opportunities in future. GST will help in concentrating towards large robust supply chain and providing value for money. Faster and cheaper transportation along with bigger warehouses will spin the whole Supply-chain industry. Warehouses will be located to take the geographical advantages rather than to meet the tax regulations. Organized players will make the most out of the new changes in the industry. Treating vendors as partners will help in strengthening the relationship. Ensuring safety attire for all the warehouse employees, telematics tracking of trucks etc will bring changes to the industry in different levels.
There is a need for dynamic warehouses for customer satisfaction. Mr. Sethi was optimistic that opportunities for women are increasing in the Supply chain industry. Right technology in business is the need of the hour.
Mr. Kamal Deep Ahuja explained about eco-friendly reverse logistics and how small players are becoming increasingly relevant because of which companies will be consolidating warehouses. He focused on the need of intermediaries in supply chain. Increasing inventory with effective transport system in place and keeping additional stock are going to be the key impacts of GST in supply chain. Mr. Ahuja also focused on the need of green supply chains.
Mr. Amit Kumar highlighted on the fact that transport, inventory and warehouses are important players in logistics framework, whereas truck drivers are an important variable in supply chain sector. He emphasized on the changes that will be brought by GST in the supply chain.
From first line to last line, it is all about valuing customer feedback. With the emerging trends, efficiency will multiply and benefits will be realized. Mr. Kumar also emphasized on the importance of last mile delivery, reverse logistics, waste management, and effective transportation in supply chain. By 2025, five crore deliveries will be happening per day in India. Disruptive technologies are helping us suit up to face the challenges. Citing the example of truck drivers having the option to return to their homes daily rather than after many weeks, Mr. Kumar highlighted the impact of the changes that the disruptive technologies bring.
Mr. K. Jaibhaskar focused on the relaxation of Cabotage law which states that only Indian registered ships were allowed to ply on local routes for carrying cargo. According to the law, Mumbai to Gujarat goods transfer was considered as Indian Territory freight transfer and hence only Indian freight vessels were allowed. Vizhinjam International Seaport would play a strategic role in positioning India in the International   shipping lanes as it will be having relaxations on the Cabotage law.
Due to the non-allowance of foreign vessels and only Indian ships being allowed to ply, overall costs used to be very high. This law is now relaxed which mean seven if 50% performance is met, relaxation is allowed. He explained how dedicated freight couriers, Contingency management and planning with service partners are important factors in supply chain which requires coordinated effort and involves different variable-costs, customers and disruption.
Mr. Sanjeev Singh stated that logistics industry is quite organized but penetration of technology is quite weak. He emphasized on the level of sensitivity in every phase of supply chain. Sustainable practices are required everywhere like Bangalore traffic disaster calls for redefining logistics.
Mr. Singh also focused on clean energy sources as the need of the hour. Quality of the blue collar workers needs to be improved. Reality is that the bottom level workers are unskilled and there is a need for up-skill drivers.
Mr. Soumya Kanth Dwivedy stated that supply chain is a cross functional operation. He explained that currently the sustainability factor is 20% in organized market which is quite less and there is lot of retail sector exponent which needs to be explored. Fortunately, disruption is happening in logistics industry which will refine the logistics.
By 2025,supply chain talent will be scarce. Hence high level of collaboration will be required. Customer-supplier relationship is most crucial along with behavioral aspect.
Mr. Dwivedy also focused on the horizontal collaboration across FMCG companies and growth of telecom industry.
The floor was then opened for questions where students put forth their doubts in front of the panellists on various aspects of logistics in supply chain.
Questions regarding how to decrease delivery cost in reverse logistics, how the warehouse dynamics will change with GST implementation were asked by the budding MBA students.
The panellists, with their expertise and experience in the domain, clarified all the doubts and quenched the thirst for knowledge of the young brains of the management department. The students of DMS, IIT Delhi extend their heartfelt gratitude to the entire panel for taking their time out and sharing their valuable views. We look forward to have more such interactive sessions in near future.
Media Cell DMS, IIT Delhi
The Department of Management Studies is a result of the evolutionary process of growth of an idea floated in 1963. What was then a seed, gradually came to life and in 1974, IIT Delhi set up an internal committee to scrutinize the functioning of the management area in the institute. In 1975, an expert committee was setup to formally examine the possibility of launching this area in a more sustained fashion. The result was an M.Tech programme in "Management Systems" in the School for System Studies, (subsequently renamed School for Systems and Management Studies). The year 1978 saw the setting up of the Management Core Group and the core inputs to a full time Management Education at IIT(D) were reconfirmed by an Advisory Committee constituted by the representatives of the Academia and the industry. Since then, there has been no looking back. The School for Systems and Management Studies became the Centre for Systems and Management Studies. This was subsequently renamed as the Centre for Management Studies. In 1993 the Department was brought into existence by amendment to IIT (D) statutes. Clearly, the Department responds to a felt need of the Indian Industry and derives satisfaction from its heavy field orientation in all its curriculum activity. In response to the feedback from the students, alumni and industry, the Department of Management Studies launched MBA programmes in 1997. The department currently runs a two year full time MBA programme (General and with focus on Telecommunication Systems Management) and a three year part time MBA programme (with focus on Technology Management). MBA program in IIT Delhi is designed keeping in mind the changes in business environment and the need of the industry. Our academic program is comparable to the best that are available in the world class business schools for creating managers to face the new challenges of the ever changing market environment. The entire course aims at creating holistic managers trained by a very eminent faculty, which is also supported by the experienced professionals as external faculty from India and abroad. The students are admitted through a rigorous screening process that includes CAT score, group discussion and interview. IITD MBAs are known to do well.