What Makes IIM Raipur Unique – Maurya Banda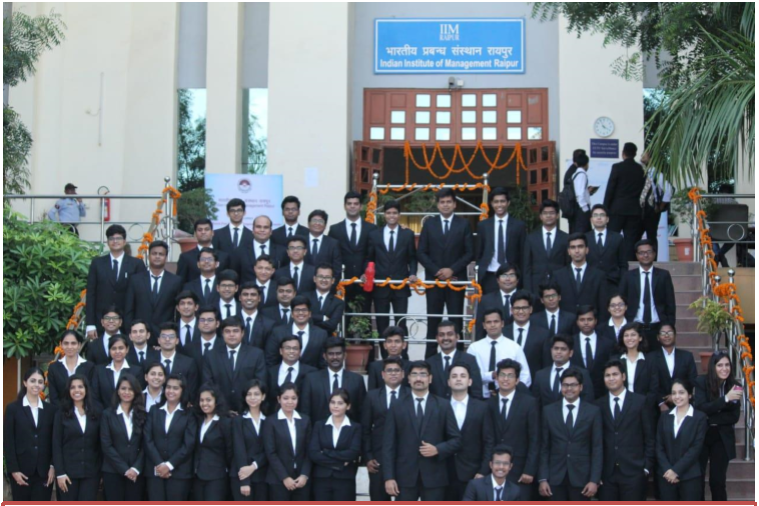 "Oh! Is it just this building?", I thought as I got down the auto-rickshaw I hired to get to the campus. "Enjoy sir!" said the auto-walla trying to wash off his sarcastic smug as I looked at him to hand him his pay. Pondering over his reasons for that smug, I walked towards the on-campus bank to get through my loan formalities. Is it because the campus is so far off? Or is it because there is only one building that is called IIM Raipur? I found myself still thinking about the smug. Swallowing these thoughts into my sub-conscious I finished my loan formalities; I got through the document verification process and was officially an IIM Raipur PGP 2018-20 student.
IIM Raipur is located in Sejbahar on the outskirts of Raipur. Nearly 15kms away from the main city, making it essentially isolated. It seems like a lonely place to a first-timer. However, through my 3rd day into IIM Raipur, I noticed something peculiar about the IIM Raipur culture, its vibrancy. Seniors started pouring in after their summer internships, making the deserted place reverberating with chatter, gossip, fun and various activities. Joggers, sports enthusiasts, and gym enthusiasts started gracing the evenings, PGP 18-20 batchmates started to chit-chat, roam around in groups. Finally, IIM Raipur wore the earnestness of a lively campus. All this helped me reminisce my cherished memories from the past and made me a part of the IIM Raipur fully.
Another prominent thing that makes the vibrant campus culture of IIM Raipur is its student engagement. IIM Raipur is to a large extent a student-run campus. Through its various clubs and committees, IIM Raipur engages its pupil in meaningful activities that find relevance in their studies too. Students here have many avenues to excel in their career through academic competitions, cultural activities, holding Positions of Responsibilities, organizing and managing high-budgeted events. Equinox (The annual fest of IIM Raipur), Prayaas (The marathon of IIM Raipur that garners participation from more than 5000 people) and many other intra and intercollegiate fests and competitions make me even more excited about the 2 years to come.
One unique thing I can say about my campus is our badminton court, the liveliest of all the places is nestled in the heart of the building. It engages many students in some sort of indulgence all through the evening up until early mornings. It is where all the chit-chat happens, it is where all the brainstorming happens. It is privy to all the secrets of students who talk on phone strolling over it for the lack of signals in their rooms. It is integral to the IIM Raipur culture. It will be hard the part ways with it once our new campus is ready to welcome us.
Finally, my only wish now is to meet the auto-walla that I spoke about. I want to know the reason behind his smug. I want to help him understand why he was wrong, I know he wouldn't understand but I really want to give it a try.
Which ABG company would you want to work for and why?
I have always been interested in numbers and the logic they convey. Perhaps, that is why I could crack and get into IIT Madras for my Bachelors and IIM Raipur for my Masters. Going forward with this yearning, I would like to take up my specialization in Finance. Hence, I would like to be part of Aditya Birla Capital Limited. ABCL is a company with wide-ranging service areas and one of those companies that have put India on the global level in the financial services sector. I am particularly interested in areas like asset management, private equity, corporate finance or financial advisory services.
Maurya Banda is a first year student at IIM Raipur.