Memoirs Of The Indian Youth Delegation To South Korea – IIM Trichy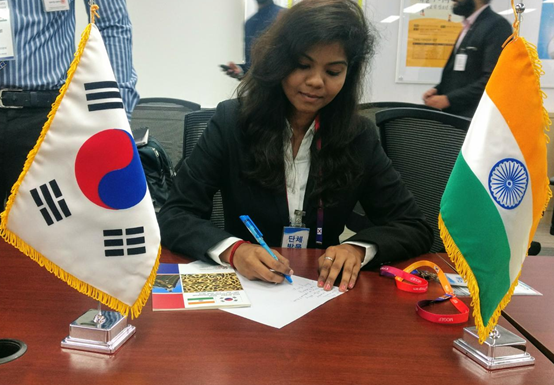 A Tryst With A Vibrant Culture And Technological Marvel
The Indian Youth Delegation in IIMs and other Institutes of National Repute offers the students one of the rarest honour of being an official delegate or "brand ambassador" of India on a Global Platform – it might as well be "once in a lifetime" opportunity. The delegation is conducted by the Ministry of Youth Affairs and Sports. The selected student gets an opportunity to imbibe the knowledge of the best practices, culture and economic advancements of the host country and open the avenues for amicable bilateral relations through increased people to people connect and soft diplomacy.
Therefore, it gives me immense pleasure to introduce you all to Ms. Nandhini N. from IIM Trichy (MBA 2017-2019 batch), who was a Member of the Indian Youth Delegation to South Korea in 2018. She completed her engineering from College of Engineering, Guindy, Anna University. After this, she worked in Accenture as an Analyst for almost three years and did her summer internship in Deloitte as a Consultant.
1.     Congratulations on being selected as a Youth Delegate of India to represent the country in South Korea. I know it is quite an honour. Could you give us a little background about India and South Korea relationship and the inception of the Youth Delegation Program?
India and South Korea relations can be dated back two millennia when the Princess of Ayodhya, Suriratna married a Korean King Suro in the first century CE. Also, there are a lot of commonalities between both the countries. Both India and South Korea were under the rule of imperial powers during a period of time. It is interesting to know that both the countries have the same date of Independence i.e. 15th August. Economic and social progress of South Korea is a unique example to the world. The people of South Korea have proved that if a country is committed to a shared vision and purpose, then seemingly impossible goals can also be achieved. This progress of South Korea is a real inspiration to India and its people. South Korea has some of the world's most successful industries, many of which have already begun investing in India and have become household names, be it cell phones, automobiles, home appliances, or public transport systems like the metro projects in various Indian cities. It is a matter of great happiness that the South Korean companies have not only invested in India but they have also created employment opportunities in India by joining our Make in India mission.
Our present leaders have laid out a shared vision for further development of our critical relationship which is evident from the recent visit of President Moon Jae to India in order to develop a more open partnership, particularly in the economic domain. There are also efforts to impart strategic content to the relationship with both sides looking at defence cooperation. With our continued and persistent efforts, the relations of India and South Korea will further blossom and realize its true potential. India and South Korea are now set to move together, in the spirit of cooperative partnership for peace and prosperity, towards a great future, in this 21st Century.
India – South Korea Exchange Program started in the year 2006. It has been continuing on a yearly basis to strengthen the tie-ups between the two countries. The Youth Delegation program to South Korea, 2018 consisted of 25 members from various institutes of National Repute in India like
Indian Institutes of Management (IIM)
Indian Institutes of Technology (IIT)
All India Institutes of Medical Sciences (AIIMS)
National Service Scheme Volunteers (NSS)
Young Leaders
Youth Awardees
2. Can you elaborate what is this Youth Delegation all about?
The Ministry of Youth Affairs and Sports, Government of India conducts the Youth Delegation Program to promote International Cooperation with other friendly countries. Youth Delegates from across the globe also visit India. They are taken to various cities to showcase the diverse culture and landscapes across the length and breadth of the country and in the process they get a live experience of the country's multi-ethnicity, diverse customs and traditions, exotic cuisines and its vibrant democracy. The Government also arranges an interactive session with the Indian Youth, sharing each other's experiences. Similarly, Indian youth delegates travel to other countries like South Korea, Maldives, Russia, China, Vietnam, Sri Lanka and Bahrain for promoting and exchanging their ideas, values and cultures amongst the youth of other countries. It also provides an avenue to promote peace and understanding between the nations. It overall helps in developing an international perspective among the youth of both countries.
Some of the objectives with which the programme has been designed are to develop a socio-cultural exchange by interacting with each other, understanding the differences in the cultures. Apart from the above, strengthening the bonds between the individuals, thereby indirectly increasing the bond between the countries every year is the main motto.
3. What is the expectation of the Government from a Youth Delegate? In a diverse set of Youth Delegates, each belonging to different backgrounds or educational Institutions like IIM, AIIMS, NIT, IIT, NSS etc, what are the expectations from an IIM student like us?
Yes, for every representative, Government has some expectations. The student should act as a bridge and as an ambassador to promote a relationship of amicability of India with its neighbouring countries. They expect us to understand the cultural differences and try to replicate the goodness in both the countries. Best practices being followed in our society in various fields including social, economic, development etc. could be demonstrated to other countries.
As an MBA student from IIM, we should look for avenues of cooperation between the countries in terms of economic and socio-cultural aspects through the insights gained from the visit. After the Youth delegation program, every representative is expected to submit a report to the Government. We should ensure that the report incorporates the ideas and frameworks learned during the course of the MBA program and apply them judiciously to provide new strategic avenues to increase the cooperation between the two countries. The report could serve to proliferate the existing relations between India and the neighbouring country making both the nations economically well-off, thereby strengthening the relations better than ever.
4. What are the value additions an MBA graduate can expect out of this programme?
It is one of the rarest opportunities anyone could get to represent India and his or her institute in a foreign nation. There would be programs designed to understand business management in the host country. For example, during my visit to South Korea, we got to know more about the Samsung company and its success story through the Samsung Innovation Museum.
Samsung constantly strives to innovate in order to bring happiness and new value to people's lives. Samsung offered a learning/ Experience Program for a more enjoyable exhibition experience. The Academy Learning Program shared details about the electronics industry and Samsung brand philosophy. The Community Invitational Program helps Samsung Electronics and the local communities to communicate with each other. The Mate Participatory Programs helped the visitors experience the museum operation, education and information activities in detail.
I also got the opportunity to visit a Business Management consulting firm in Busan and an Entrepreneurship centre in Ulsan. In order to promote a creative economy and improve innovation on a large scale. Busan has an Innovation Hub to encourage the start-ups. Their motive is to not to provide any financial support but rather guide the young entrepreneurs to commercialize their creative ideas. There are at present 18 centres which are ready to help the young entrepreneurs who have brilliant ideas of business models. They are encouraging more products of real value and promote their businesses to the world class standard.
Apart from the above mentioned, there were also presentations to be made by the representatives that depicts Indian culture and on the theme which was planned for the visit. We had an opportunity to present about the SDGs Goal 8 (Decent Work and Economic Growth in India). In the United Nations Memorial Hall in South Korea, we had a brainstorming session with the Korean youth about the possible 18th sustainable development Goal which is of utmost importance at this point of time.
5.     How did you realize your calling for this programme? Can you illumine us about your preparation strategy, if any?
There was no great preparation strategy as such. One should be honest about his or her profile during the selection process and beyond. I felt this opportunity to be a real honour for me, being a flag bearer, conveying the cultural richness of our diverse country. I wished to advocate the uniqueness of our culture and its spectacular pace of development in the recent years. I also wanted to extol the altruistic temperament and the principle of secularism that is deeply ingrained in me as a proud citizen of the nation.
6.     South Korea is one of the most technologically advanced countries in the world with a rich cultural heritage. Tell us about your experiences (including something unique about the place, some moments of fun) in South Korea.
There were both official meetings as well as fun activities planned in a balanced manner. We had the opportunity to meet the Ministry of Gender Equality and Family (MOGEF) and discuss about the plans and initiatives that the Government has taken towards education and women welfare.
They are similar to Indians in terms of culture and family life. We then visited the Indian Embassy and discussed on how cross-cultural exchange could be improved between both the countries.
There was a wonderful programme designed by the Korean Government for us called the Homestay which helped us realize the socio-cultural aspect better. We got to stay with a Korean family for 24 hours as one of their family members, got to know their culture by staying close to them, cooking food along with them and visiting places together as a family.
We also got an experience dressing up ourselves in traditional Korean attire. We also had a day outing with the Korean youth when they took us to the Lotte world, an adventurous theme park in South Korea and one of the world's largest indoor theme park.
After the official hours of visits, the evenings were allocated for shopping. We were able to visit different places such as Myeongdong, Dondaemun and Namdaemun market to experience the local authenticity. Some of the other prominent places that we visited include Gyeongbokgung Palace, National Museum of Korean contemporary history, Changdeokgung Palace, beach in Busan and Siheung Lotus theme park. Seoul busses and subway were very clean. We were given an opportunity to use and experience the public transport facility as well.
I would define South Korea to be a combination of both old and new culture. On one side there were skyscrapers and on the other side their old heritage sites and palaces. Overall, the experience in South Korea is one of its kind to cherish for lifelong.
7. Any advice you would like to give to our readers?
If provided an opportunity to be a Youth delegate, I would definitely advise my fellow IIM students to grab the opportunity. In your life, you might go abroad visiting multiple locations many a times, but representing the country in a global arena is the quite uncommon and a matter of pride. Moreover, it actually helps in our own self-realization.
(As told to Apurva Sharma)
Apurva Sharma
Apurva is currently pursuing an MBA at IIM Trichy. She is a Core Member of Infrastructure and IT Committee of IIM Trichy. She is an avid reader and loves to explore serene places. Apurva is a marketing and research analytics enthusiast. She is a part of InsideIIM Student Team 4. She has 3 years of work experience in product based software companies such as Practo Technologies and Naukri.com as an Android Application Developer. She holds a B.Tech degree in Information Technology from Indian Institute of Information Technology (IIIT) - Allahabad.