And there is your first-mover advantage… Of course, if you get a PPO, you have practically got your RoI of the b-school within half the time!
So, how do you make the most of this opportunity? How do you score a home run at summer placements?
Meet MBA Bootcamp's Expert Instructors
| | |
| --- | --- |
| Amit Mehta | HR Head - Home Care and Talent & Organization Director | South Asia- Unilever | XLRI Jamshedpur Alumnus |
| Antara Chatterjee | Strategic Workforce Planning Specialist - UNICEF | Ex-HRBP at Unilever |
| Akshaykumar Sirsalewala- | Management Consultant - BCG | Ex-Deloitte | IIM Kozhikode Alumnus |
| Zaid Merchan | Sr. PM - Citrix | IIM Kozhikode Alumnus |
| Manavdeep Singh | Category Head - Meesho | Ex- Amazon | IIM Kozhikode Alumnus |
| Pratik Ranjan | Project Lead - BCG | Unilever (PPO) | IIM Lucknow Alumnus |
| Moinack Shaikh | TAS | FMS Delhi Alumnus |
| Anik Ganguly | Consultant - Bain & Co.| IIM Ahmedabad Alumnus |
| Avichal Agrawal | Deutsche Bank | IIM Lucknow Alumnus |
| Yash Rathi | Bain & Co. | IIM Lucknow Alumnus |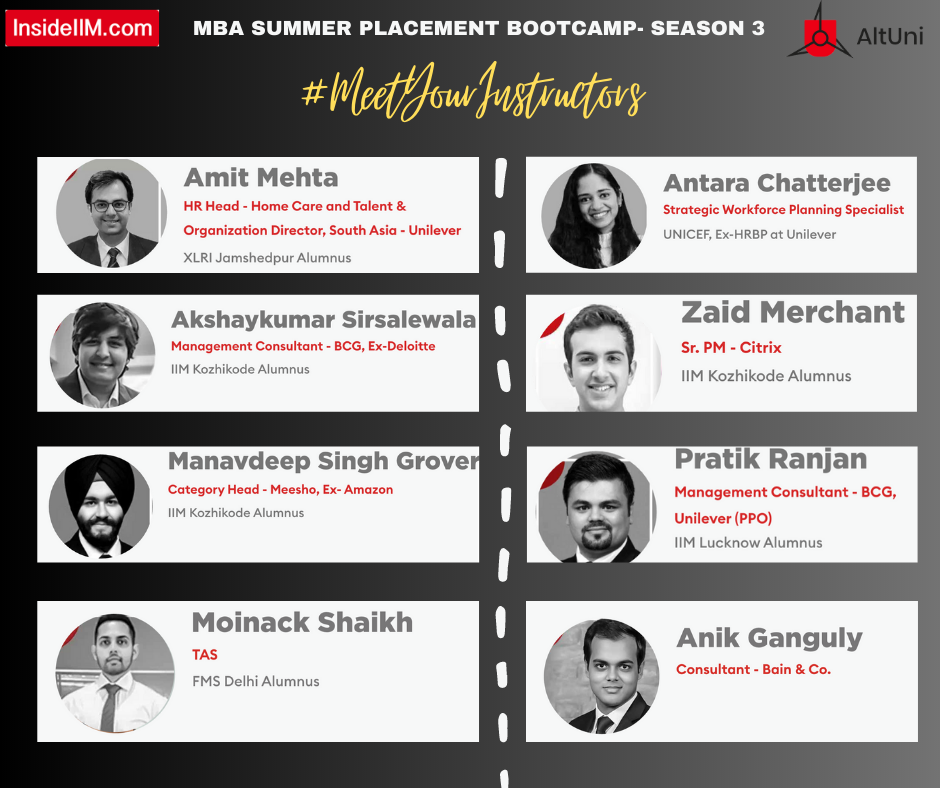 ---
This 40-day Bootcamp will help you crack your dream companies for the 2023-24 Summer Placement Season! By registering for the Summer Placement Bootcamp, you will:
Get Five personalized training sessions by Amit Mehta and Antara Chatterjee -Together, they have hired 1000+ candidates across candidates in the last decade from India's best campuses
Get 1-on-1 career coaching from campus recruiters, as well as experts who have worked with BCG, Goldman Sachs, TAS, HUL, and other top companies.
Get multiple Live Project opportunities with our top partner companies
Master domain-specific knowledge and participate in mock GDs & PIs to ace summer placements.
Learn from successful students at top B-schools on how they cracked their summer placement process.
Improve your resume & SoPs with the help of experts currently working at your dream companies.