NEW GIRL IN A CITY
"More than elsewhere, everyone here wants to be somebody". Yes, that was the kind of presentiment I had for Mumbai before landing up in the 'city that never sleeps' on a hot Thursday afternoon on 31st March 2016; post which all my apprehensions, curiosities and anxieties, started to dwindle slowly but steadily with due time. With no friend, no companion and all its hustle and bustle, I couldn't really comprehend the instance I fell in love with Mumbai and how!
A NEW BEGINNING
Recalling the juncture during the mid of the end term exam, I got a call from the company I love, regarding my joining date and there has been no looking back ever since. The moment I stepped into the beautiful Saregama India office (decorated with musical instruments and portraits of the legends of the yesteryear), I felt a sudden kick, a certain sense of belonging that no matter what, I belong here. Coming from a traditional and culturally embedded Bengali family, I was exposed to all different forms of Art, especially Music from a very young age that has alleviated my appreciation for Arts, in general and passion for music, in particular. Therefore getting an opportunity to encounter my first corporate experience in the field where my passion lies and with a company that is the most influential and largest music repository in India, was indeed a dream come true moment for me and I, wanted to make the most of every single second of my time out there because somewhere, somewhat I had this notion that the two months over here, they are certainly never going to come back and honestly, it proved to be the best two months of my life.
I was welcomed with open arms and since I was the youngest to join the Saregama family, I was always greeted with a huge smile and pampered with immense care and affection by my colleagues and seniors. I never felt that I am out of my home (for the very first time) and in no less time, my workplace became my second home.
According to me, an organization is all about its people and Saregama India heartily justifies that. Here, everyone is there for everyone; from having breakfast with the Vice President (Product) on the very first day to having the most encouraging boss (My Project Manager) who was always a support system and all the way more, colleagues turning into best friends for a lifetime. Who could have asked for more?
WORK HARD, HAVE FUN AND MAKE HISTORY
I worked in the Market Research Department, my project title being "RESEARCH ON TRENDS IN THE MUSIC CONSUMPTION OF INDIA AND ON SAREGAMA'S PRODUCTS: CLASSICAL APPLICATION, SHAKTI APPLICATION AND MUSIC CARDS". My deliverables included Product Recommendations, finding probable need-gaps, instances, avenues, categories, customer's behavior, current consumption practices, customer's reactions, identifying perceptions around 'paid' options for acquiring and consuming music and identifying response to the concept of 'Reinterpreted Songs'.
I definitely had a fun time working in the Market Research Department where my work was appreciated by my boss and seniors. Apart from this, I got featured in one of the YouTube videos and even did some content writing for their website's videos.
I tell you, if work is this fun, I would never ask for a break time.
THE CLIMAX SCENE
Well the two months away from home at a new city have definitely helped me to grow as a person; I didn't only learn about work, I learnt the importance of life too. The news of my grandmother's demise during that tenure shattered me in a colossal thoroughfare but eventually it helped me to be stronger and an able human being.
Learnings :
· It's all about people.
· Networking is the KEY.
· Working Hard and Working Smart-Both is important.
· Think rationally and speak your mind.
· There is no second time.
THE FAREWELL
After my final presentation, I remember how my seniors especially the VICE PRESIDENT (PRODUCT) appreciated my work and even acknowledged the fact that he would like to have me in the company in the long run. Yes, I am going to keep that mail with me, forever.
Apart from this, I got 3 farewell parties, loads of gifts, goodies and best wishes from everyone at Saregama Family. The memories and the friendships made, the times spent, the warmth and compassion that I received at Saregama is something I cannot explain in words.
Last but not the least, "I'LL COME BACK WHEN YOU CALL ME, NO NEED to SAY GOODBYE".
About the Author: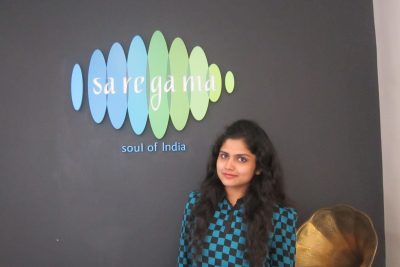 Rajashree Sahoo, PGDM 2015-2017, Marketing specialization, IMI Kolkata