Saaz – The Music Club Of SIBM-B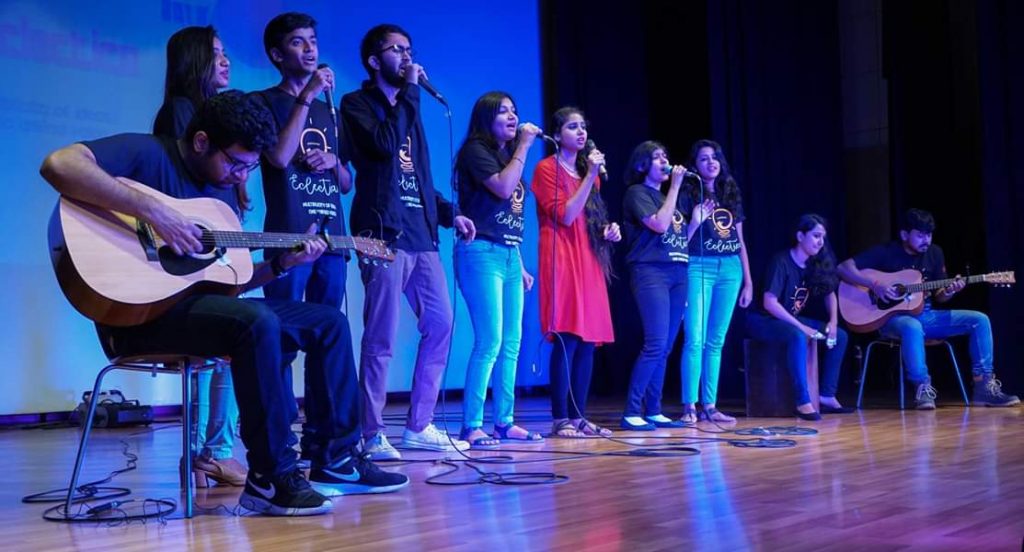 The best music transcends your playlist or your CD and it moves into a difference in your life where it just becomes your companion. It does something more than just makes you sing along. It hopefully places somewhere in your life in a time that you always remember.
The music club at SIBM-Bengaluru aims to provide a platform for students to showcase their musical talent on a continual basis. The club believes that it's essential to nurture the innate musical talent in everyone. This not only acts as a diversion from the busy professional schedules but also inspires one to perform well in all aspects of life by serving as a morale booster.
In the cacophony of the everyday hustle between classes, committees and placement, how can one find harmony? It's easy, just step inside the music room, a place where melodies are conjured, and if you are skeptical about the relevance of music in a business school, all your doubts will be put at ease now.
Here's how music plays its role in augmenting the understanding of various disciplines of Business
1)      Marketing: know your audience, the club performs at various events throughout the year, and to keep the audience engaged is an uphill task, what song to start with? How to transition from one song to other? And it's never just the product, it's the entire experience and with music its about the performance and stage presence.
2)      Human resources: Melody, Harmony, Rhythm make up a song, if these aren't in synch, dissonance sets in, similarly if the employees of an organization don't work in unison business falters. With hectic schedules and varying preferences, students learn the importance of adjusting and accommodating with fellow members.
3)      Finance: Fiscal discipline is preached to be the fulcrum of corporate success, in a B-school where time is a currency, making the most of limited resources in essential, with events happening at short notice, students understand the virtue of discipline. With limited time to practice, it's about to get the most bang for the buck.
4)      Operations: Turning input into output with a minimum defect is the name of the game, if one member doesn't play in time the entire ensemble suffers, whilst learning to play in rhythm the concept of operations is reinforced.
The club gives the students a confidence to perform in front of a crowd and express themselves, for a lot of members, it's the first time performing in front of an audience, it's a gateway to allay one's fears and apprehensions and do what they always wanted to do. This confidence transcends into the professional and personal life of the performers.
SIBM Bengaluru
Ever since its inception in 1978, SYMBIOSIS has been synonymous with progress. The trend of progress has been continued by setting up of SIU's first campus outside Maharashtra at Bengaluru in 2008. SIBM Bengaluru is now one of the leading B-Schools of the country. The focus, now, is on matching global standards of management education. SIBMB instills a work culture which is unparalleled among various institutions. It provides a holistic approach to management which goes a long way in creating a dynamic identity. Vibrant student associations and committees complement the program with a number of activities involving institute-industry interaction.