One year down the memory line when I stepped at IIM Rohtak - It was like a dream come true with stepping into an IIM. However, I had never imagined how fast the clock ticks in a b-school. I guess it's even faster than the speed of light (Just kidding).
One month completed with a blink of an eye. First midterms came to an end, and there came a nuke with a mail that Arcesium is going to visit our campus in next week for the summer internship hiring. Never heard of Arcesium? Well, Arcesium spun-off from 'The D.E.Shaw Group' as an independent company in 2015, is a leading post-trade services firm. I feel that Management institutions work this way where everything is revealed at the last moment and how one emerges as the winner is tested to the core.
I had mastered the art of coping with the stress and waiting for the last day (After all I'm an engineer and not to forget engineers are known for the last night preparations). Getting into the final list was a daunting task as the success rate was only 1%. I had come to an IIM so I took this challenge with utmost enthusiasm and being a finance enthusiast I could not have let this golden opportunity slip out of my hands.
The best thing about the selection process was that the process gave equal opportunity to everyone unlike profile based shortlisting. The process started with the first round being an online test which aimed at evaluating basic finance knowledge and analytical ability of the candidates. The second round was a group discussion, and the final round consisted of personal interviews. The interview revolved around my previous work experience and some incidents that happened in the business world in the recent past. By the end of the process, the recruiters announced the names of those lucky three candidates and I was thrilled to see my name among those. And to our delight, they gifted us customised goodies.
Fast forward a few months
The HR sent us emails every month, briefing us about the company culture. We felt as if we were already a part of Arcesium family. On 1st April 2018, we arrived at the hotel in Hyderabad where our accommodation was arranged for the next two months. The hotel welcomed us with a greeting card and a pack of cookies. I was a bit nervous at first as I was new to this city with a bunch of people whom I didn't know much, but within no time we all became close friends.
The internship began with the induction process for the first two days followed by some video tutorials related to the functioning of various divisions at Arcesium. At the end of the second day, all the interns were given files containing details of their projects and their mentors. Unsure about what was planned for my next two months, I opened the file to know that I was assigned projects in the Treasury team. The next eight weeks in the Treasury team were the most challenging time of my MBA life till date as I was exposed to a plethora of new terms and concepts in the hedge funds industry. There was limited time in my hands to learn, perform and prove myself.
Life at Arcesium is full of zeal. They believe in 'work hard, party harder' attitude. Apart from work, the two months at Arcesium were filled with parties, awesome food, movies, team outings, sports, road trips and lots of celebrations.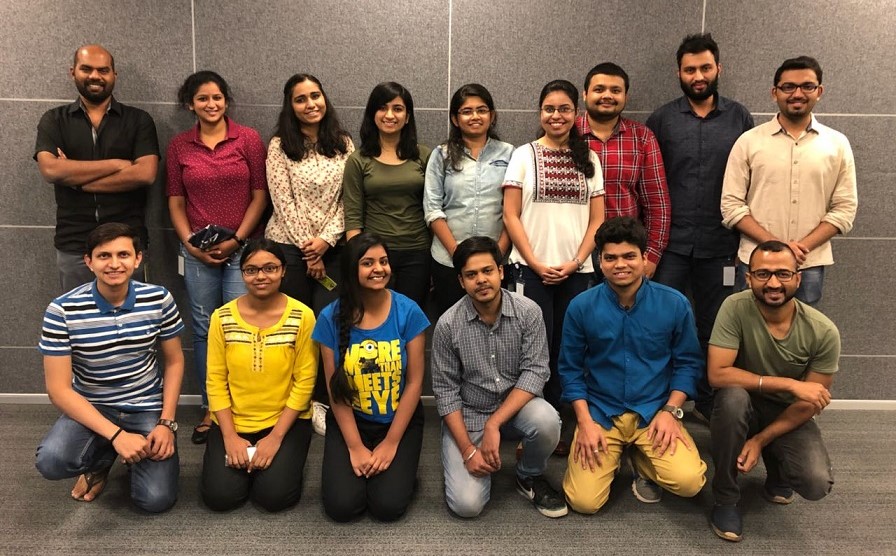 Here are some of my suggestions for future interns
#1. Ask Questions: Internship is the time when you will be exposed to a new world. It is most likely that you will know very little about it before you join the firm. In the initial days, I struggled to understand the work-related discussions going around me. So, I made a point to jot down all the questions that came up in my mind and clarified my doubts whenever my mentor had some time. Within a couple of weeks, I was in a position to make sense out of work-related discussions in my office and sometimes even contribute in the discussions. Remember, everyone knows that you are new to that world so they would be happy to answer your questions.
#2. Get to know people around you: During your internship, you will definitely be surrounded by people who know more about the industry than you do. Take out some time from your schedule and interact with them and learn. Most of them would be happy to give you career advice which you otherwise would not get at your school. I usually joined my team members for lunch or other activities such as sports so that I can get to know them more.
#3. When you are in Rome, be a Roman: Try your best to fit in the office culture. Before joining the organization, you should be aware of the office culture so that you can easily fit in the new team. Take out some time to socialize with other team members so that you are more accepted in the team.
#4. Build relations: You may be fortunate enough to work/interact with multiple teams. Walk that extra mile to build relations with others. In the two projects which I worked, I made sure to interact with all the stakeholders in the process. Even if you do not work with multiple teams, build relations with whoever you work with. These are the same people who may help you at some point of time when you need help.
#5. Understand the bigger picture: In my first project, I was supposed to use Python language to implement a solution. As I was new to Python, I spent significant amount of time to learn and implement. I was too focused on the problem at hand and missed out on the bigger picture. I learnt a very important lesson. While you work on your project or a small task, do not ignore its effect on the client or the organization as a whole. You need to understand the bigger picture so that you can improve the existing process and provide the best possible solutions. Be aware of what your other team members are doing and its impact. This is also a part of understanding the bigger picture.
#6. Be proactive: You may not be lucky to get mentors who take interest in assigning work to you. The onus will be on you to ask for work and prove yourself. The assigned work may be small or big, but if you complete the work with diligence, you can expect yourself to get noticed by your seniors. This way you will get the opportunity to contribute more towards your team.
#7. Communicate with your mentor: Your mentor is the best person who can guide you during your internship so do not hesitate to communicate with your mentors. They have their own work to be done and deadlines to be met. Unless you tell them about the difficulties you face, there is no way for them to understand them. So inform your mentors about the hurdles that you face while working. Also, take advice from them which would be very fruitful for your successful career ahead. Do not forget to thank them for the valuable time that they spend to train you.
That's is all from my side. Make the most out of your internship. Good luck fellas!