In no particular order we shall now announce the names of those candidates who got through the final process, Ram (name changed) and Komal.
What? Really! Did you just say my name? Am I selected? Oh yes, I am selected!
Finally, it all sunk in and I was on my way to ecstasy!
As we shook hands, the recruiter said, 'Don't sit back now that you are selected. Instead, focus all your energy and do well in your academics. Be well versed with all your subjects. They are all important'. And this is how my journey to Deloitte started!
As the D-day approached, I was nervous yet excited. I still remember having pre-booked an ola the night before just to make sure I don't get late on my first day. Naturally, I arrived at the location before time. As soon as I entered I saw a lot of new faces, all decked up in formals waiting for our next instruction. Finally, we proceeded to the security check and before our induction could even start we were handed our office laptops. Seriously wow!
The first day of induction consisted of talks from leaders across business units. We also had a chance to have lunch with them. And it was no common affair! From mock tails to desserts they pampered us like anything. This was followed by induction on the second day where we were not only briefed about our projects but also got a chance to know our sponsor, mentor and buddy; people we were going to closely work with for the next 2 months. Such organised and well-structured was our internship programme!
Finally, we started off with our respective projects. There were highs and there were lows but one thing that was consistent throughout was the help that people offered to give us. I have had the privilege to discuss my business ideas with senior leaders who were humble and patient enough to listen through and offer me guidance. Apart from this Deloitte made sure that they engaged us in various other things besides just our projects. We had knowledge sharing sessions, leadership talks, coffee sessions and team lunches that made our journey only so much more fun!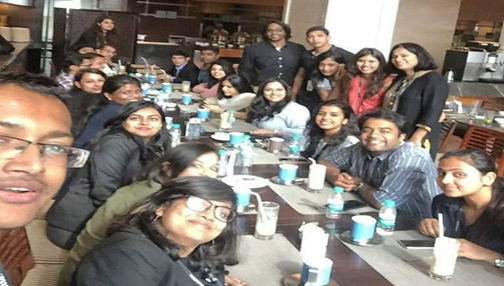 From one of our coffee sessions at Westin
Before I joined Deloitte one of my seniors told that no other firm can offer you a better internship experience than Deloitte and she couldn't be more right! The entire experience was not just about completing a project but so much more. I learned so many things from storyboarding to making an effective presentation. I got a 7 question survey reviewed by different people over a week's time before floating it to the professionals. Every single word was scrutinised as it had to tightly tied to the final outcome. Such was the level of perfection that people had there. Before leaving we had a grand dinner where we got one last chance to meet everyone before we were to leave for our respective colleges. Overall I had an amazing 2 months and I couldn't have traded this experience for anything else in the world!