The T In Terrific Is From IIM T!

Why and how you chose IIM Trichy?
Ever since I started mulling over my future and career, I knew I had to pick up my MBA to pursue my dreams and get to where I want to. When I eventually hit a point in time when I had in hand multiple admission offers from premier institutes across India, I had to choose one and the choice was not clear until I got to know better about IIM Trichy.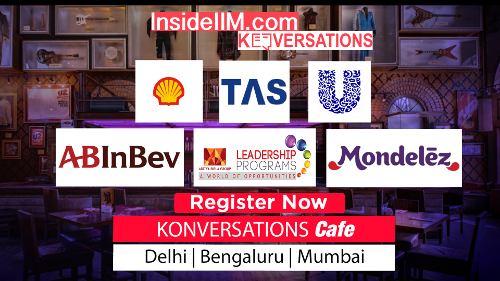 "My vision is to make IIM Trichy, a top five IIM in five years" – says Dr. Bhimaraya Metri, The Director of the Institute. What more does a clueless aspirant need as assurance from an Institute if not for a clear vision and promise from the leader of the institute itself. I took a call with clarity as the choice was clearly prancing around in front of me.
It's been a little over a week for me here at the Institute and what is truly astounding is the infrastructure and the quality of people – be it faculty, peers or staff – in the campus. The campus is a sprawling 170 acre arena of knowledge and diversity that hosts everything from a world class hostel infrastructure through a reviving sports complex and a formidable learning centre to the state of the art lecture halls. The campus is to have an artificial water body – the first of its kind for an IIM (probably for any Institute in India!). I remember Mr. Rajeev Dubey, the Head of HR and board member of Mahindra & Mahindra, who recently
while addressing the new batch of PGP 2018-20 at IIM Trichy, profusely appreciating the infrastructure of IIM Trichy for it's imposing world class standards. He added that in his experience of being at many elite international institutes, IIM Trichy's campus was unmatchable with even the Ivy Leagues.
The institute is located at Tiruchirappalli – The academic hub of Tamil Nadu. Tiruchirappalli is a place for quality education and is a hub of very many reputable educational institutes and transforming minds like Dr. APJ Abdul Kalam, Srinivasa Ramanujan, and India's Defence Minister Nirmala Sitaraman among others.
The knowledge is in the air.
Not sure if its the vision of the Director, or the sheer amount of thought put into everything in the campus, but something tells me that I am about to graduate from an Institute that is going to be one of the most reputed and revered in the near future.
My choice is just the first step in the right direction towards achieving my goals and dreams. More to toil and more to achieve at this terrific place to be!
Which ABG company would you want to work for and why?
I would like to work with Aditya Birla Fashion & Retail Ltd in the domain of portfolio management and strategy. Back in 2012, when Aditya Birla group acquired Pantaloons from the Future Group, it had a strategy in place and we all know how far the group has moved forward the brand from where it started. It's in-house brands such as Louis Philippe, Allen Solly, Peter England and People have gained international exposure and are products of quality and self image. I would like to work with the group in efforts to stretch the brand wide and far, and down and deep that brands of Aditya Birla become a household name
synonymous with pervasiveness, style and personal identity.
This article is written by S P Kavya Shree- Class of 2020