The Senate is the flagship event of the Corporate Interface Team, SIBM Pune which invites industry stalwarts from myriad sectors to come at one table to discuss and deliberate upon the burning topics of the day. In this year's edition, the Senate invited some big names from the corporate world in order to give exposure to the students of life and trials that surround one as they step into that world.
The event commenced with the lighting of the lamp by the honourable guests, Dr. R. Raman, Director, SIBM Pune and Mr. Varun Rao, President, Students' Council, SIBM Pune. The first panel discussion was on the topic "Co-Opetition : The New Strategy in Dynamically Networked Markets". The panelists were Mr. Damodar Mall – CEO, Reliance Retail; Mr. Rajiv Dube – Director, Aditya Birla Group; Mr. Khazat A. Kotwal – Partner, Deloitte and Mr. Ram Gopal – COO, Barclays. The panel was moderated by Dr. Suruchi Mittar - Director - Learning, Development & Culture, Appster. The discussion began with the definition of "Co-Opetition" which is the portmanteau of two words "competition" and "cooperation". With the businesses rapidly changing and transcending dimensions, no longer is any business identified by the boundaries set by definition. The need of the hour is to embrace the change and work out the plans accordingly. If needed, one has to evolve in order to match and surpass the increasingly high standards set by the markets.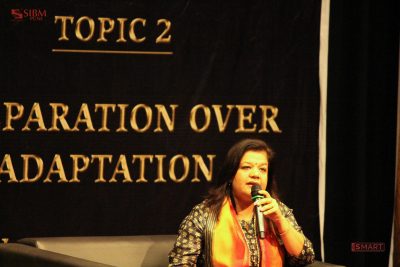 The second panel discussion was on the topic "Evolution of Successful Companies: Preparation Over Adaptation". The panelists were Mr. Ketan Kulkarni - Senior VP/ CMO, Blue Dart; Mr. Ravinder Reddy – Partner, Grant Thornton; Mr. Shreyash Sigtia - Industry Head: Media and Entertainment, Google India and Mr. Siju Narayan - Retail & Consumer Industry Business & Technology Practitioner, IBM. This panel too was moderated by Dr. Suruchi Mittar. The discussion reiterated the fact that successful companies tend to think many steps ahead instead of taking decisions at the moment. They map out the possible reactions and prepare themselves for them. Thus, they are rarely caught unprepared. Instead of preparation over adaptation, one should let these processes occur in a parallel manner as they both are equally important for any company or business to succeed. Adaptation means to look at a problem in a way different than the others; this will enable one to come up with a different solution to the problem which might end up becoming the most optimal one. And with technology changing on almost a daily basis, adapting quickly is an asset all companies should have in their repository.
The session concluded with a special address by Mr. Bhaskar Pramanik - Chairman, Microsoft India and a vote of thanks by Dr. R. Raman. It was indeed an informative Saturday for the students of SIBM Pune as they had this rare opportunity to discuss and ask questions on such burning issues and took back a wealth of knowledge with them.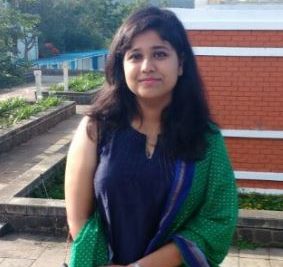 Srijita Sarkar is a first year student at SIBM Pune and is majoring in Marketing. She has done her B.Tech in Civil Engineering from Institute of Technology, Nirma University, Ahmedabad. She likes writing poems and short stories, reading novels and is a huge fan of Korean Drama and Japanese Anime. She is a junior member of Information Systems and Media Relations Team, SIBM Pune.