Mr Sudeep Nair, Global Head for the Strategic Business Transformation Unit at Jardine Lloyd Thompson(JLT) India addressed the participants of IIM Indore PGP at Mumbai on 23rd February 2014. He shared his thoughts on the topic "Consulting in the IT Industry". The interaction was very informative with a lot of insights being shared about the consulting domain.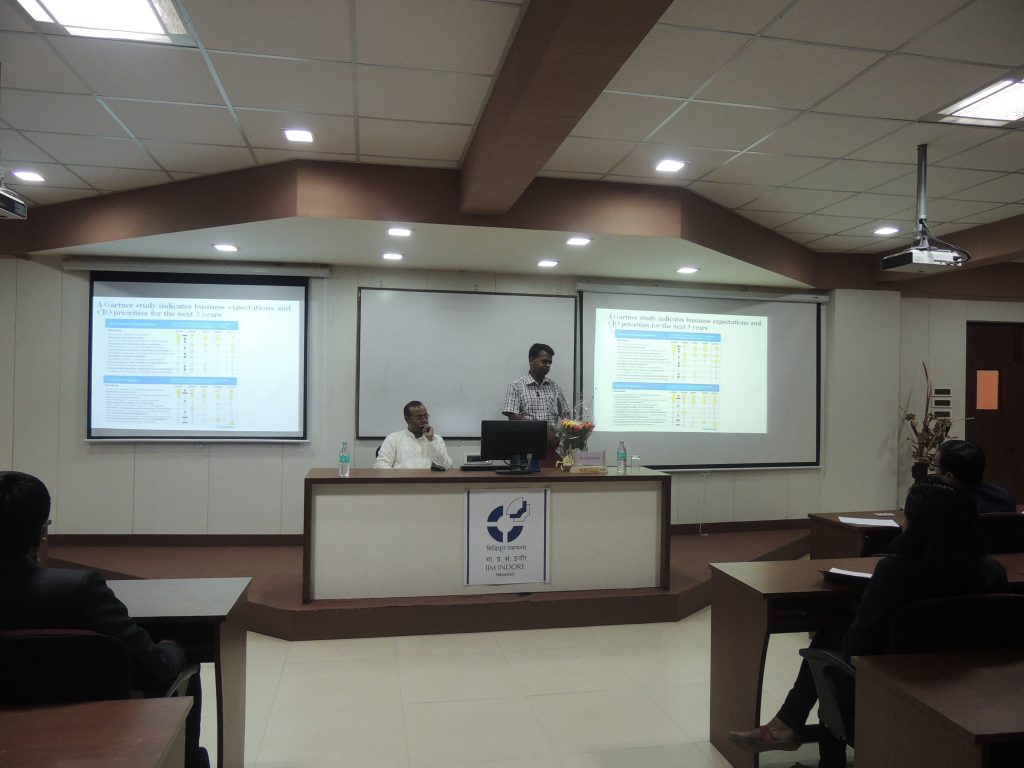 Mr Sudeep Nair graduated from BITS, Pilani in the year 1999. Later, he went on to pursue Management studies from IIM Ahmedabad. Mr. Sudeep started his professional careeras a deputy manager in Times Group, wherein he was responsible for conceptualizing innovative solutions in B2C and B2B Media. Later he worked for ICICI Bank Lmtd Mumbai and played a very significant role in improving the trade finance operations.Mr. Sudeep, was also associated with Cognizant Business Consulting for 8 years. He worked as an engagement manager at CBC New Jersey and was also the head of CBC, Switzerland. He was the lead Change Management Consultant for a strategic alliance with Cognizant to optimize the Clinical Data Management processes.
Developing a proprietary methodology called Process Offshorability Investigation Tool (PROFIT) , designing a 3-year Business-IT Strategy for the Trade Finance division of the bank and prioritizing the key programs in alignment with business strategy are few of the many achievements of Mr Sudeep during his tenure at CBC. Currently he is employed with JLT India.
Mr Nair commenced his address by identifying the duties and priorities of a CIO in an organisation, and how they are changing in this fast paced technological environment. He emphasized that a CIO's duty was to ensure that business strategy was aligned with the latest technological trends in the market. According to Mr Nair, the duty of the CIO was three-pronged, consisting of Strategy and Innovation, Transformation of existing processes and optimization. He further stressed the importance of the analytics domain in today's world by quoting specific examples of how CIO's were exclusively concentrating on the Social, Media, Analytics and Cloud(SMAC) platform to develop their future applications.
Take Your Career To The Next Level. Ask Our Experts Anything. We Will Respond Within 48 Hours.
Acknowledging that the future lay in investing heavily in IT, he continued by outlining the importance given to IT by various sectors, in terms of parameters like percentage of revenue spent etc. Specifically quoting different sectors like banking, retail etc he proceeded with explaining the role of IT in each of these sectors. The use of IT in data analytics was identified by him as a niche area which was fast expanding and had scope for huge growth.
Mr Nair talked about various important concepts like Role of the consultant to a CIO, IT portfolio optimization, balanced score card of a CIO etc. He elucidated his points with apt examples which the students found relevant to the subjects they were presently studying. He finally gave advice to the students to complete various certification trainings like PMP, ITIL etc to differentiate themselves in the fast paced, changing world of Information Technology.