NITIE Mumbai - The Most Trending B-School Of The Month (February - March) - B-School Premier League 2018
It's been a month since the launch of InsideIIM's B-School Premier League 2018, and the competition is already fierce between b-schools across India. Considering the quality of stories that have been coming in, it seems we have discovered a plethora of writing talent just lurking in the halls of Management Institutes, waiting to spill over onto InsideIIM and the screens of thousands of Aspirants, Students and Alumni.
The competition was very close, with one B-school edging over the runner-up by a margin of just a few points.
So this month's Most Trending B-School is: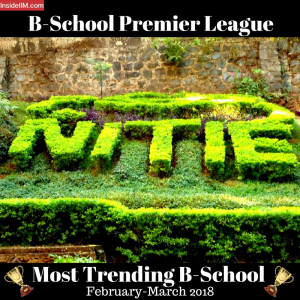 NITIE Mumbai! With 11,000 points in a month, NITIE Mumbai is way ahead of the curve.
We congratulate the Media Cell and students of NITIE for contributing to make their b-schools trending for the month of Feb-March 2018.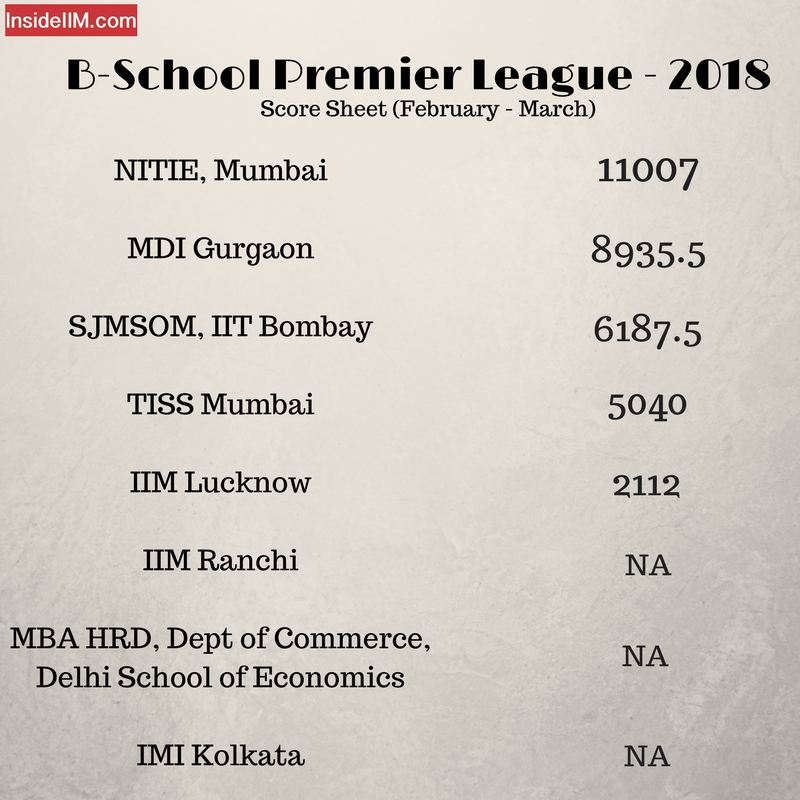 The runners-up for this month were MDI Gurgaon, missing out by a small margin of points (Over 8,000 points). Excellent performance by both these b-Schools.
Also, SJMSOM Mumbai (Over 7,000 points) gave a tough fight by publishing 7 stories in just one month!
We would also like to take this opportunity to award the title of The Most Trending Author Of The Month.
Player Of The Month:
The best writer for February-March 2018 was: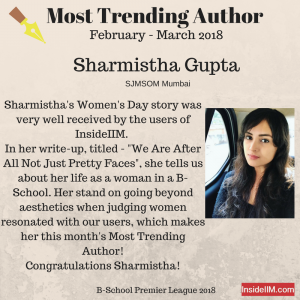 You can read her story here.
Once again, we extend our heartiest congratulations to all our winners for this month!
Want to get featured as the b-school of the month? Want your campus stories to be read by thousands of users? B-School students and media committee need to buck up now! Your b-school could be the b-school of the month next. All you need to do is make your stories heard. It's your time to shine!
To get your b-school registered for this competition, click here.
To check the details of the competition, please click here.