Hindustan Unilever Limited (HUL) has consistently emerged as the No. 1 employer of choice for B-School students - as per InsideIIM's Dream Recruiters B School Survey. In addition, Forbes rated HUL as the #1 most innovative company in India and #8 globally. Most famously, nobody gives more CEOs to corporate India than HUL. With nearly 90 years of heritage in India, It is hard to find another large company that has delivered 15 % earnings growth over sixty years anywhere in the world. It is nearly impossible to find one company that has stayed in the top five of a large country for over sixty years like it. So how HUL is managing to stay miles ahead of its competitors for years? Let's check out the report for Unilever Salaries.
Which Are The Top Hindustan Unilever Products? What Makes It Stand Out?
As of 2022- "
90% of households in India use one or more HUL brands"
Even if you don't know much about Hindustan Unilever, you have grown up with it, and you are touching it every single day of your life.
Nine of every ten households in India use an HUL product every month
. Forget Google and Facebook, more Indians use HUL products than those who own a television, those who vote or even those who have running water or electricity. So, To name a few of The CEO Factory's brands: Lifebuoy, Dove, Clinic Plus, Ponds, Lakmé, Closeup, Surf Excel, Vim, Brooke Bond, Bru, Kwality Wall's, Kissan and, as of 2020, Horlicks. With 44+ brands across 14 distinct categories, HUL dominates the FMCG market in India.
There are very few businesses in India that are run successfully for a long period with integrity and rigour. Hindustan Unilever is one of them. The HUL growth story is intertwined with the India story and our philosophy is 'what is good for India is good for Hindustan Unilever'. Our business has always been driven by a sense of purpose and the belief that businesses must have a purpose beyond profit. One of the biggest changes in HUL is its organizational culture. In simple words, HUL has cut down its hierarchical approach to creating a more open and inclusive culture.
And nothing but this makes HUL employees and consumers the no.1 choice!
---
---
Why Are Hindustan Unilever Employees Referred As "The Industry Leaders"?
HUL is referred to as
'The CEO Factory'
because that's how HUL is referred to in corporate circles
. 400 HUL alumni are CEOs/CXOs across corporate India - from Nestle to Diageo, to Hindalco and Raymond.
HUL is well-known for its talent pool and as a source of leadership talent.
They focus on building great leaders and not just making great marketers!
Not only does HUL have formal processes for inculcating leadership, but it also provides a culture of coaching and mentoring at every level in the organization. Over 200 managers of HUL currently serve Unilever globally, which is about 13% of HUL's managerial strength. The number of managers expatriated has been increasing steadily over the last few years.
HUL's philosophy of building leaders within has enabled it to establish strong systems and processes that help to identify talent early, invest in them and build their skills.
---
Now let's get down to the brass tacks of this article and why you decided to read it, by answering the question…
How Much Salary Does One Make In Hindustan Unilever | Unilever Salaries
To put it simply - a lot! It's A Dream Destination for every FMCG aspirant for a reason!
Depending upon the positions and department you end up working with, Hindustan Unilever is the highest-paying job in the Indian FMCG world. An Indian MBA graduate can earn a median base salary of ₹30 lakhs per annum, excluding other salary components like bonuses. But this is just an overview. How much does HUL pay to each department? Which Positions are paid the best in those departments? What are the highest paying HUL's competitor's salaries?
Given below is data, obtained from various sources and compiled by Team AltUni, which in 4 graphs answers all the aforementioned questions to provide a crystalline picture of Unilever Salaries.
Please note that the salary data provided below is not filtered by educational qualifications. You can conduct your independent research on salaries for these job roles using LinkedIn, Glassdoor, PayScale, and Indeed.com data.

---
Unilever Salaries Facts: How much you earn at Unilever depends on your role and the organisational function that you work in. For example, workers in the marketing & finance function earn the highest salaries at Unilever, with average earnings of 35 lakhs and 33.5 lakhs per annum respectively. Employees working in the IT organisational function also get paid well, with average yearly pay. On the lower end of the pay scale, the HR and R&D functions are paid the lowest.
---
Corporate Finance And Marketing Salaries | Unilever Salaries
The graphs below show the Average, Highest, and Lowest Incentives of Top paid domains i.e. marketing & Finance.

It's common knowledge - Fast Moving Consumer Good Companies pays Marketing domain most aggressively and as is clear from the data above, They're also the crucial arm of the company. The journey of any marketing management hire in HUL starts with 6-9 months of training, and with adequate training and environment, one gets promoted to lead the golden Brands of HUL as a Sr. Brand manager with a median base salary of ₹ 52.00 lakhs a year, which can go up to ₹ 80.00 lakhs a year, as per ambitionbox.com.

At the entry-level, Finance domain employees earn a median-base salary of
₹20 lakhs a year approximately, going up to ₹ 27.00 lakhs a year. The latter salary figure, we suspect, is for top-tier MBA grads. As expected, as you gain more work experience, you can expect higher salaries due to increments. At this stage, it's also important to note that by the way of lateral hiring or internal promotions, you can become a Financial Reporting Manager (or higher) and earn an even greater base salary.
---
Entry Level Sales & Marketing Salaries Offered By Top HUL Competitors To MBA Graduates | Salaries At Consumer Goods Companies
The following are some of the most sought-after Consumer Goods companies and the entry-level roles they offer to MBA graduates. Please note that before joining these roles, MBA graduates usually undergo a cross-functional management training program, the duration of which is usually upward of 12 months.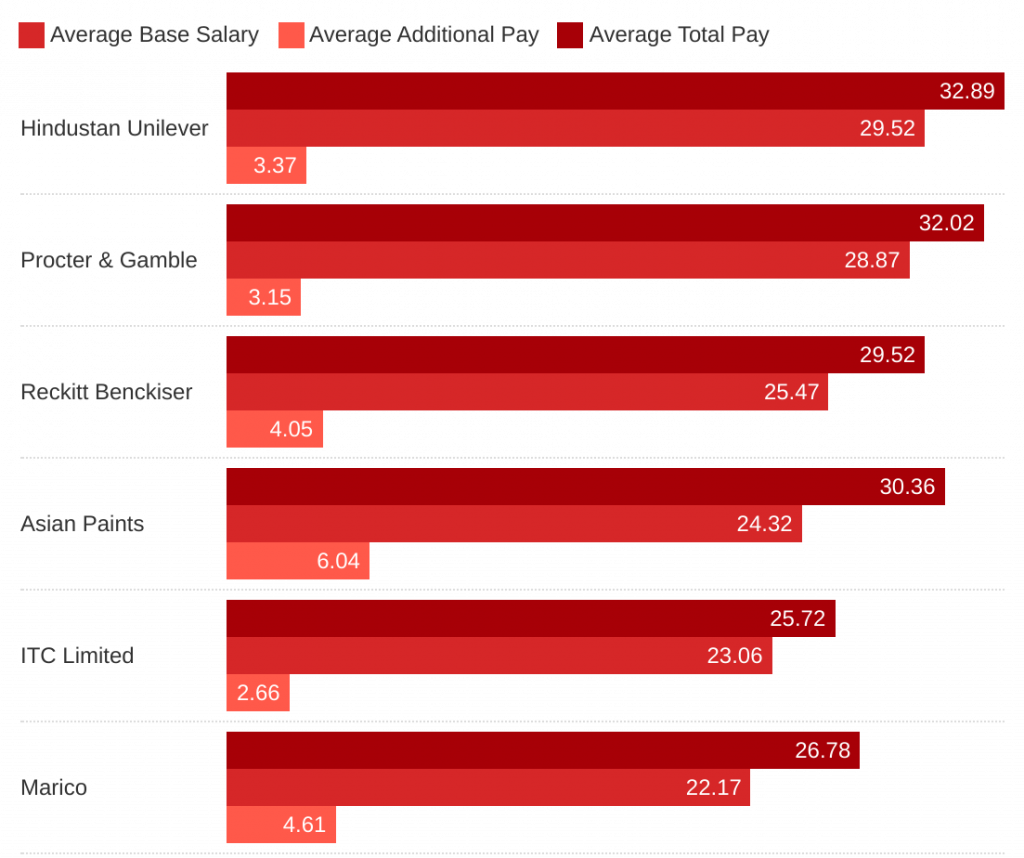 Please Note: The figures mentioned are in Lacs (INR). The data above has been taken from publicly available domains such as Glassdoor, AmbitionBox, etc., and there's a possibility that the data may be outdated.
The data states a reason why so many MBA graduates wish to enter Sales & Marketing roles. The highest salary offered is close to ₹33.00 lakhs, by the CEO factory - Hindustan Unilever. And as an MBA graduate from a top-ranked business school, to make a top-notch FMCG career if you choose to pick these 7 highly sought-after industry giants as a Sales & Marketing management trainee, you can expect to earn an annual base income of ₹ 24 lakhs to ₹33 lakhs. Unilever, RB and P&G emerge as the top paymasters for Sales & Marketing roles in the Consumer Goods industry.
Also, as per the survey, Fast Moving Consumer Goods (FMCG) sector has emerged as the industry of choice for this year's management graduates. It is perceived by most of the students of the Batch of 2021 as the 'Industry of the Future.'- Well, this data shouldn't shock you anymore after reading the above report.
---
Read Next ->