Vantage 2014- Interim Final Placement Report-VGSoM, IIT Kharagpur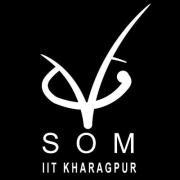 Vinod Gupta School of Management, IIT Kharagpur takes pride in publishing its interim placement report. With a status of more than 90% placed in first round and 100% PPI/PPO conversion rate VGSoM is one of the best B-Schools in the country.
Out of the 70 students participated in the placement process, 65 have been placed with a mean compensation of 11.78 LPA. The students were offered challenging roles across sectors like FMCG, Consulting, BFSI, Manufacturing, Analytics and e-Commerce. The highest accepted compensation is 20.03 LPA and the lowest accepted compensation is 7 LPA.
A total of 28 companies have recruited till now. These include regular recruiters and several new recruiters. VGSOM's prominent recruiters include Reckitt Benckiser, Tata Motors, Deloitte, ICICI Bank, HP, Citi Bank, Virtusa, CRISIL, Infosys, HCL, Bosch, Frost & Sullivan, Wipro and Titan.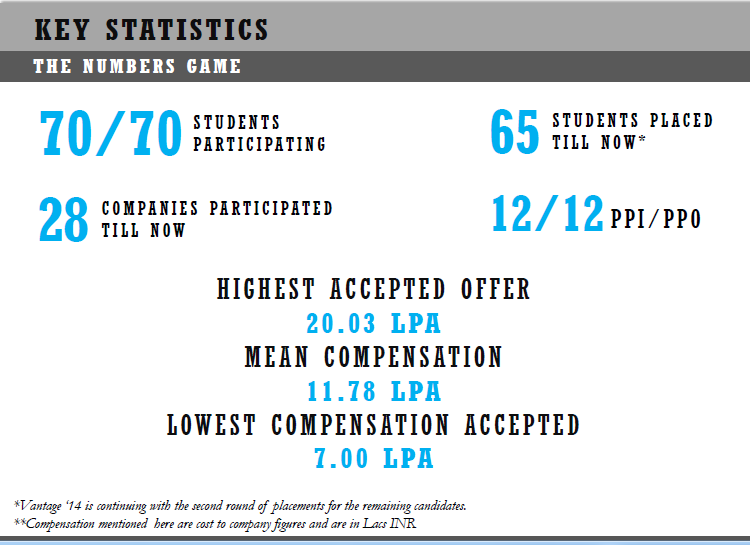 This is a status report as on 01.01.2014.
VGSoM Kharagpur
The Vinod Gupta School of Management is a business school in India. It was established in 1993 at IIT Kharagpur and was the first management school to be set up within the IIT system. It was initiated by a distinguished alumnus and a Life Time Fellow of the Institute, Mr. Vinod Gupta. In the year 2018, VGSoM completed 25 glorious years of its existence as a premier B-School of India. Today it is consistently ranked as one of the top 15 Institutes for business management in the country and boasts of a list of illustrious alumni holding prestigious positions in companies across the world.