XIMB: My Kingdom Of Dreams – Susmita Ojha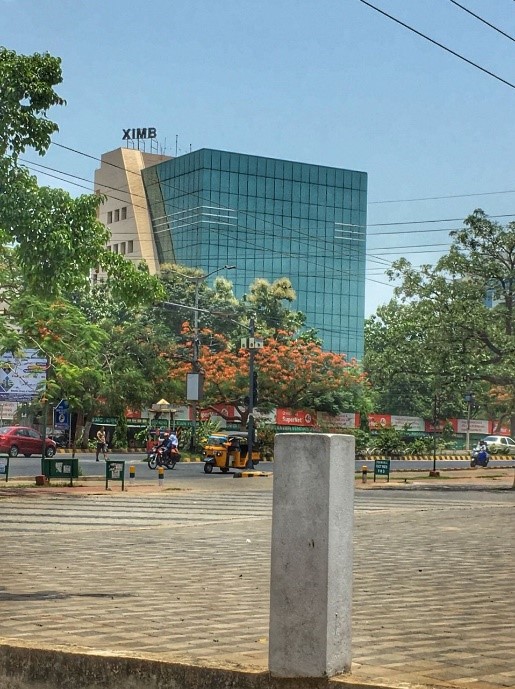 MBA had always been my dream career even before I had a fair idea of what this course was about and what were its future prospects. I guess it was just the vision of being all dressed up in business formals sitting in a glass skyscraper, breaking through the glass ceiling to become a successful woman in the corporate world, that enticed me towards pursuing this course.
When it eventually boiled down to the decision of choosing the perfect campus for my dream career, I had no two ways about the decision to join XIMB. I had heard and researched a lot about this campus. I also had many seniors from my grad school who were students here and I had heard nothing but wonderful things about this campus from them. The only thing that bothered me was that two sections of the junior batch had to live in a new campus which is quite far from the old campus dedicated to the Business Management program. But to my relief, from the current year, the whole BM batch was accommodated in a single campus.
When I finally joined XIMB I wasn't disappointed at all. The first day here made us realize that now we have become part of a rich legacy and the responsibilities that come with it. Be it the assignments or the ice breaking sessions or the highly informative talks during induction, all of it contributed to the realization that we are in for the most amazing time of our lives. The
In the first few days of my time here, I have witnessed the following things that I had only heard about before, which made me choose XIMB. This campus offers the perfect blend of academics, co-curricular and extra-curricular activities. When it comes to the faculty, there is no compromise in quality. All of them are exceptionally qualified with boundless ordeal of the corporate world. The pedagogy and the rigorous course curriculum here demands utmost hard work, effort, talent, and creativity from the students. Besides this, there are a number of core, functional and interest committees here which focus on the all-round development of the students. They are the grounding on which the brand name of XIMB stands tall. The students have to constantly juggle between academics, case study competitions, quizzes and other cultural events which always keeps them occupied and indoctrinates them with all the qualities that will eventually forge them into efficient managers. The annual fest "Xpressions" is one of the best B-school events in India. Moreover, the campus is well equipped with useful technological and digital resources, databases and industry exposure that justifies its status of being a premier B-school in India.
To say at the least this campus has a unique charm about itself. The cultural mix of people, the ideally compact campus, the infrastructure, the senior-junior bonding, the relations with the alums and the legacy it carries all are highly worth associating with. Though located at the heart of the city it manages to strike a perfect balance between solitude and socializing. I wouldn't have had it any other way. This is definitely my Kingdom of Dreams.
WHICH ABG COMPANY WOULD I WANT TO WORK FOR AND WHY?
I would like to work for Aditya Birla Fashion and Retail Limited (ABFRL). Fashion and apparel industry has always fascinated me. ABFRL is India's No 1. Fashion Lifestyle entity with a combined revenue of INR 7,181 crore for FY 2018. I think this sector is ideal for tenacious people who love challenges and taking risks. I am personally interested in a marketing job profile in this company as I think it would allow me to associate and be around creative minds. This sector is dynamic and multi-faceted and offers enough room for creativity and innovation in terms of its marketing strategies. Managing advertising campaigns, evaluating the brand quality, monitoring the reactions of customers and retail outlets to new products and brand initiatives, this is the kind of job profile that interests me. It would be an icing on the cake if I get to travel extensively too while working in this sector.
– Susmita Ojha
BM 1st year, XIMB