10 Things That Make FORE School Of Management Special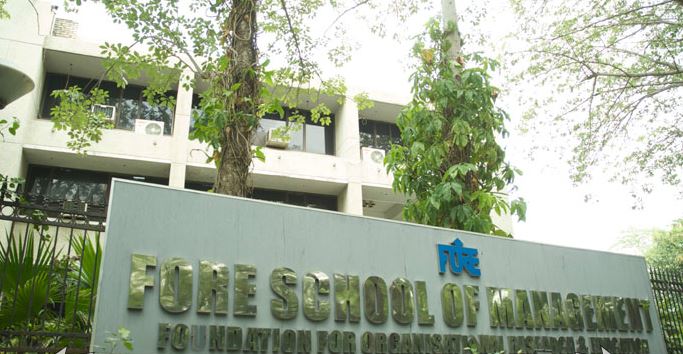 Since its inception in 1981, FORE School of Management, New Delhi has grown from strength to strength. Today FORE is considered among the top b-schools in the country. Set up with the aim to advance management education, FORE has consistently pursued that objective with its focus on holistic learning. Here's how the institute towers over other b-schools in India.
1. Location Advantage – FORE's location in the heart of the corporate hub in South Delhi gives an obvious edge to its students. They get valuable industry exposure through talks, visits, and live projects throughout the course of the program. The advantage is evident when it comes to SIPs and placements as well.
2. Faculty Strength – With 92% faculty members holding PhDs, over 60% have corporate exposure. They blend their experience with new-age teaching techniques including case studies, role plays, and simulation games to ensure maximum classroom engagement. The b-school does its part by organising International FDPs to bring out the best in its teaching community.
3. Merit-cum-Means Scholarships – FORE believes meritorious students with financial needs should be able to pursue their program with the focus firmly on their studies. With INR 1 crore worth scholarships for first and second-year students, many talented managers have benefited from the scheme in the recent past.
4. Seminar Courses – Learning by doing remains one of the powerful mantras at the b-school as students gain exposure through organising events and seminars. The Students Affairs Committee oversees the proceedings while second-year students organise seminars from the scratch. Handling responsibilities like getting sponsorship give them a taste of what's to come in their professional journeys.
5. Sterling Placement Record – If a b-school is gauged by its placement show, then FORE's performance has been stunning year after year. The placement season for 2015–17 saw top recruiters (from across industries) including Maruti, Asian Paints, ITC, HUL, ICICI, and Café Coffee Day. While the average salary package was INR 9.4 LPA, the highest salary reached a whopping INR 18 LPA.
6. Global Exposure – FORE has developed and fostered relationships with renowned foreign institutions including Northampton University, UK, ESC Rennes School of Business, Paris, and University of California, Riverside (IEP), US. Every year the entire batch, along with faculty members, participate in the International Immersion Program alongside other initiatives. Offering global perspectives, these programs prepare students for international roles.
7. Alumni Achievers – FORE alumni have carved a niche for themselves in their chosen fields. Sharing a close bond with the b-school, they have become ambassadors for the institute across the world. For the record, FORE has a 5000+ strong alumni pool that includes more than 200 CEOS, 1200+ senior managers, and over 700 professionals in Europe and North America.
8. Campus Diversity – The richness of the FORE campus is reflected in its student diversity. Every year the b-school has applicants from around 25 states. With 32.5% women students, the number is higher than IIM A, IIM C, XLRI and other management institutes. As a student you come across contemporaries from different backgrounds, thereby ensuring a dynamic perspective to learning.
9. Industry-oriented Curriculum – At FORE, the curriculum is reviewed every year with inputs from top executives from the corporate world and the media. Students are kept abreast with the latest in the industry through several initiatives. Pedagogies are technology driven and it's reflected in marketing strategy based courses through simulation like Markstrat built by INSEAD from France, Capstone, B2B marketing through Industrat, and softwares like SAP and SAS.
10. Buzzing Student Life – Lively, vibrant, and equipped with modern facilities for extracurricular activities, the campus adds a big dollop of fun to student life. Different student clubs create exciting platforms for management aspirants to showcase their talents. Areas in the neighbourhood enable students to explore the true essence of the National Capital. 'The campus has a corporate feel and we have become a close-knit family,' says Nikita from PGDM Batch 2016–18.
Application Deadline for admissions to PGDM and PGDM-International Business (IB) Batch 2018-20 at FORE School is 22 December 2017. To apply, click here.
*This a promoted feature