10 Things That Make IIM Trichy Special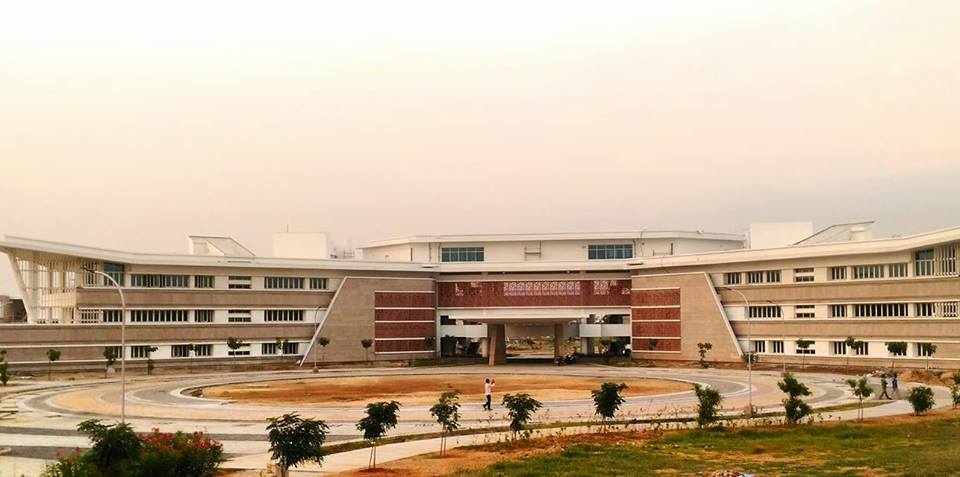 "Live the Life of Your Dreams.
When you start living the life of your dreams, there will always be obstacles, doubters, mistakes and setbacks along the way. But with hard work, perseverance and self-belief there is no limit to what you can achieve."
― Roy T. Bennett, The Light in the Heart
It takes a long journey to call this iconic façade home, for on every inch of it lay dreams and hopes that only the allure of business can arouse. IIM T's story is recent enough that it will be put through the test of time to prove its mettle, but it has already come such a long way and we bring to you 10 reasons why.
1. Leading the Pack at No. 1
The National Institutional Ranking Framework (NIRF) which falls under the purview of the Ministry of Human Resource Development under the Government of India ranked IIM Trichy at 13 among b-schools in 2017, under the parameters: Teaching, Learning and Resources (TLR), Research & Practises (RPC), Graduation Outcomes (GO), Outreach and Inclusivity (OI), and Perception (PR) which makes IIM Trichy stand ahead of all the 14 New IIMs that were set up as a result of the Eleventh Five Year Plan. You can find more details on the same here.
With the "personal connect"
At the crux of it, the legacy of a b-school rests on the shoulders of the faculty. IIM Trichy has maintained a thriving student to faculty ratio at 10.28 (35 permanent in-house faculties for 360 students, including both years of PGP students) to reaffirm its belief in how much a role a professor plays in those perspectives altering two years of b-school life. These insights are often a deciding factor for most aspirants, as the faculty are from a rich experience and their background is a healthy mix of the three oldest IIMs and International b-schools. This contributes to their evident diversity in approach, which is a large part of the elusive IIM experience.  It is a young family, but one that brims with potential.
2. Eyes on the Prize – Placements
There is immense pride associated with pushing boundaries despite constraints, and a 100% placement record stands as a testimony of the sheer will of students and the trust of recruiters on brand IIM Trichy even as the batch size increased to 180. Summer Placements 2016 saw the institute reach new heights as there was a 56% increase in the highest domestic stipend as a result of 106 companies expressing interest in participating in the placement process.  The Summer Placement Report of 2016 can be found here.
Trichy happens to have the advantages of being the Fabrication Capital and having close proximity to two industrial hubs- Chennai and Bangalore which is another contributor to the YoY increase in the average domestic package offered as well as a surge in the number of recruiters. The Final Placements of 2017 saw the same trend as the institute saw the rise in the highest domestic CTC by 39% over the previous year.  The Final Placement Report of 2017 batch can be found here.
3. We're Home.. A "State-of-the-Art" Home
For, home is where the heart is. The permanent state-of-the-art  campus which is spread over 175 acres is envisioned to be one of the most modern campuses ever built, and with that ambition comes the mantle of responsibility; it will be the first among all the IIMs to have a 2MW solar power plant to manage all its energy requirements. Its academic block houses the classrooms that are inspired by Harvard Business School, incorporating the Harvard Style Horseshoe seating format which is intended to bring out the motto, "Knowledge is Limitless" through discussions. With classrooms designed for the convenience of millennial students in mind, the campus boasts of classrooms that have seat allocations such as 250, 100, 80, 50, and multipurpose rooms to facilitate mutual learning. The Learning Resource Centre, or Library, like the rest of the campus is an architectural wonder, designed to look every bit the beating heart of the Institute. A Finance Lab, a Behavioral Lab and a Center for Management Science and Analytics (CMSA) are a few more of the jewels that will adorn IIM T's crown.
Waking up in an A/C single occupancy room that is furnished with an eye for elegance and utility, and (after a glance at your schedule on your whiteboard) walking over to your private balcony that overlooks the horizon on the artificial canal is a great way to start the day at IIM T. Every detail is meant to act as an impetus to inspire aspirations. To find more information on IIM Trichy moving to its permanent abode, read here.
Pictures: (clockwise from top) 1) A section of the intricate design in the corridor of the Academic block, 2) View of interior of the Academic Block, 3) Front view of one of the six Hostel Blocks 4) The Learning Resource Centre
Credits: 2) Manju Meena- PGP 2017-19 (Rest) Abirbhav Mukherjee- PGP 2016-18
4. Vantage Point
Trichy is sometimes referred to as a prominent "Educational Hub" of India, since it houses some of the key institutes of National and Global repute like NIT Trichy, IIM Trichy, IIIT Trichy. Naturally, such an educational hub has strategic advantage associated to it for scholars, researchers, students and the corporates to visit from near and far. Trichy Airport is well connected internationally to important locations in Asia like Singapore, Kuala Lumpur, Colombo and Dubai. Not just that, Trichy is within just 350 Km radius from both Bangalore and Chennai – the two major IT and Manufacturing hubs of India. Such a distinct strategic advantage is offered by a very few b-schools in India. When it comes down to making comparisons between b-schools, the need of having a locational advantage of the place where your Institute is situated, be it for organising seminars, workshops, placements (or even parties) cannot be discounted.
5. Impact and Insanity- "Make A Difference"
"The greatest use of a human was to be useful. Not to consume, not to watch, but to do something for someone else that improved their life, even for a few minutes."
― Dave Eggers
In an age where all we do is grapple with the unquenchable thirst to prove our worth, this is an initiative to remind b-school students of their responsibility to the society.  This, by organising themselves in groups, going on the lookout for an area in which they recognise a dire need for improvement, and going ahead to become catalysts for the change they wish to see. The "MAD" Project kicks off with a series of talks by distinguished persons in the field of social responsibility to give the students an insight on the diverse problems that plague our society and the magnitude of difference their efforts can make, which is followed by 8 months of on-field activity and mentoring by a faculty guide.
6. Distinguished Guest Lecture series
IIM Trichy organizes the Distinguished Guest Lectures by eminent personalities to provide the students with holistic view of society, the corporate world and business environment. The guest speaker, for 2017 was Amb (Retd). V.S. Seshadri, former Indian Ambassador to Slovenia and Myanmar he addressed the students on the topic "Trends and Perspectives on International Trade". Previously, eminent personalities such as Dr. C. Rangarajan, (Chairman of the Economic Advisory Board to the Prime Minister of India), Ambassador (Retd.) Ashok Sajjanhar (Former Ambassador to Kazhaksthan and Sweden), Ambassador (Retd.) Skand Tayal, (Former Ambassador to Korea), have graced the lecture series by providing their thought-provoking perspectives.
7. When the World comes over to IIM Trichy- International Week
This is the first of its kind event being conducted by any IIM. IIM Trichy is hosting the first ever International Week in December 2017, where globally reputed faculty from global institutes in US, Singapore, Europe will be coming to IIM Trichy to teach students about subjects as per their specialization and areas of interest. The students will get a tremendous opportunity to see things from a global perspective from none other than the set of people who have been there, done that in the industry or global academic circles. Hence, come to IIM Trichy and witness the unique opportunity to get an in-depth understanding of Global Business – because that is quite sacrosanct.
8. And.. Go the World from IIM Trichy
As per the old Chinese saying (Anonymous), "I hear and I forget, I see and I remember, I do and I understand", it is equally important for the students to get their hands dirty to gain knowledge which will help them understand things and make a permanent impression in their minds.
To that effect, IIM Trichy has introduced a new course on International Business Practices (IBP) to help students gain real-world knowledge of global business by giving them a chance to work closely with corporates in projects akin to working for a company post the completion of their studies. The cohort of MBA students, who will soon be joining the global workforce get to work on international projects and know the intricacies of international business beforehand, not only from a placement point of view but also to gain a holistic view of the world of global trade and business.
With the addition of International Business Practices as an elective course, IIM Trichy joins the league of IIMs offering its students a chance to delve into the realm of International Business. As is now evident, IBP is not a mere study tour of something abstract, it is so much more than that, it is an application based full-fledged course. Want to know more? Explore it here (virtually) and in IIM Trichy, practically.
9. Witness the incredibility of India
"Twenty years from now you will be more disappointed by the things that you didn't do than by the ones you did do. So throw off the bowlines. Sail away from the safe harbour. Catch the trade winds in your sails. Explore. Dream. Discover." – H. Jackson Brown Jr.
Traveling is an important leisure activity and can be a great stress buster to thereby help you keep up with the sacrosanct deadlines and navigate your way through the demanding conditions of an MBA course.
For the people who want to explore the temples of India and seek divine blessings (you will, once you land up in an MBA course), you can explore the famous historic temples like Meenakshi Amman temple in Madurai, Ramanathaswamy Temple in Rameshwaram, and even the Rockfort temple in Trichy. See the brilliant application of science and artistic mettle of the architects of Ancient India. Did we tell you that many of these temples are UNESCO World Heritage Sites? It's time to discover the Archaeologist in you.
Too boring for party people?
Pay a visit to the beautiful French enclave called Pondicherry located just within 300 km from Trichy. Explore the Mediterranean styles villas and streets and indulge in the choicest varieties of French cuisines, beaches and road trips over there. And yes, party hard.
What about the outdoor adventure seekers?
Visit the pristine valleys and hill stations of Munnar, Kodaikanal and Ooty – all located on the renowned Nilgiri Hills. Get wowed by nature and enjoy the spectacular and breath-taking scenes as you trek and see the clouds caressing the hills. Enjoy a cup of Nilgiri tea from the lush green tea gardens on a chilly morning.
Tempted to visit? Come, be a part of IIM Trichy and live the experience.
Pictures (Clockwise from Top LHS): (1) Brihadeeshwar Temple, Thanjavur (UNESCO World Heritage), (2) Rue de Busy, Pondicherry (3) Rue de la Marine, Pondicherry (4) Sunrise at Vivekananda Rock overlooking the Indian Ocean, Kanyakumari (5) Panoramic view of Tea Gardens at Munnar (Centre) Frescoes at Brihadeeshwar Temple, Thanjavur
Credits: (5) Vartul Katiyar – PGP 2016-2018 batch. (Rest) Abirbhav Mukherjee – PGP 2016-2018 batch
10. A resounding Global footprint
Barely 6 years since its inception in 2011, IIM Trichy scaled new heights not only in India, but also on a global level, thanks to the dedicated efforts and hard work put forth by the students and the faculty alike.
IIM Trichy is the first IIM to be a part of the globally renowned CFA Institute University Recognition Programme. As a part of this programme, scholarships are offered to a fixed number of students every year to take up the CFA Programme, which adds an edge to the profile of the students interested in pursuing a career in the Finance domain.
IIM Trichy students have also won the second position in Global Supply Chain Management Initiative (2016-17), a Global inter University case study competition held in Purdue University, USA and it is such feats that bear testimony to the ever-increasing reputation of IIM Trichy in the global arena.
And finally, a global network is a two-way traffic involving exchange of people, thoughts and collaboration for a common goal. Keeping this in mind, IIM Trichy is also pleased to have students from its partner Universities visit and study at IIM Trichy as a part of its Student Exchange Programmes. The students not only get the learning experience at the IIM Trichy campus, but also experience incredible India itself within a span of three months.
There are more than ten things that make IIM Trichy special, like the diversity in the batches of students in terms of experience, profiles, and regions – acting as a very real representation of all of India in itself. That brings about vibrancy in the campus, through the celebrations of festivals, parties, fun, frolic and a lot more by various Clubs and Committees.
So make the wish and place it in your heart. Let the magnetic energy of beating odds bring you to your destiny through your hard work, faith and beyond the heartbreak and the fear of what lies ahead.
Come, get the experience of a lifetime at IIM Trichy.
Co-Authored by Abirbhav Mukherjee
Abirbhav is currently studying in the second year in IIM Trichy and is a member of the International Relations Committee of IIM Trichy. Passionate about the world of automobiles, Abirbhav has worked in various roles in Cummins, Keihin and Mitsubishi Electric prior to joining IIM Trichy. Abirbhav is also a member of the InsideIIM Student Team 3.0.
Riddhi Kalra
Tends to be obstinate about pondering on the other side of things- the "what ifs", that have the potential to change the end of a story. Likes to appreciate the brilliance in mediocrity and the beauty in humility. Enjoys reading novels and is an amateur guitar player. Currently pursuing the Post Graduate Programme (Class of 2019) at IIM Trichy, she is a member of the External Relations Committee, Persona (the HR&OB Club) and the Student Team of InsideIIM 3.1