12 Things You Should Do Before CAT
This is that time of the year, the season of festivals, food, fashion…and CAT! *screeching brakes sound* 
Yeah, cruel as it might sound, this is what we all have lived, or are living through. The exam you had been thinking about for a long time, your next career make-or-break move, the key to get into your dream B-School, is just around the corner. While it is still a while when it starts knocking at your doors, this is the phase when it is at the bend around the street. So, it is time we prep ourselves to welcome the guest head-on!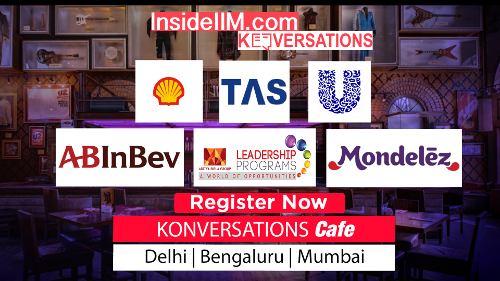 Well, to begin with, we need to recall a few facts right away.
CAT is not merely a test of brute intelligence. This is an exam which chooses future business and social managers. It tests how smart the candidate it, and with what attitude do you approach a question.
So, this leads to the fact that mere spending really long hours pouring over textbooks won't be of much use.
Sometimes, specially in an exam like CAT, information overload may cause tunnel vision. The question in front of you won't be solved, no much how much information you might have.
A relaxed, open mind would bring out creativity and out-of-the-box thinking. This would lead to better problem-solving.
With these pointers in place, we can now talk about how to implement these in your strategy in the last few weeks.
Remember, "CAT ko sirf 3 cheezein chahiye: practice, practice, practice". Yep, the test series that you had joined long ago, is your real friend, my friend. While textbooks/class notes/mind maps give you an idea of the concepts, it is the mock test which tells you how are those formulae applied in an exam scenario. One mock test every 2-3 day should be the mantra now.
Merely buying a test series and blasting through the mocks is also not the correct way. It is the time by when you should have analysed your answers, figured out which areas are your strengths and which are the weaknesses, which type of questions take more time than usual, which questions can never be solved by you, etc. Use the time in between mocks to figure out all these for yourself. You should know these facts about yourself, and be honest with yourself.
When you have your strengths and weaknesses areas before you, in these last few weeks, it is desirable to let go of the weak points. Now is not really the time to begin concept-building from scratch. With a heavy heart, you have to learn to let go of those questions. Yes, if the chapter seems small, or it is only a couple of formulae holding you back, go ahead by all means. But it is advisable not to begin something new in these last few weeks.
While you let go of the weak areas, it should free up your mind space for the parts which you are good at. Contrary as it might sound, you should practice those key chapters more and more. Trust me, nothing would be more heart-breaking than missing a question in the exam, from what you had thought was your strong point. So, rely on your strengths, and exercise your grey cells around them.
Give yourself time to introspect and figure out how much time you can afford to spend per question, per section. This data would vary person to person. For me, the verbal section was the strong point. So I used to take time out of that, and give it to the quant section. On the actual exam day, some questions would certainly take more time than what you would have planned.  But on the other hand, some would definitely take less, and that would give you much-needed boost during the paper. Your mock tests should have prepared you for this.
You can write down these things in a personal notebook. This would be for your eyes only, and should present to yourself a correct and holistic picture of your preparation.
Flip through basic formulae and the most fundamental concepts every day. It keeps the memory fresh. You do not want to skip a question only because you forgot the formula! It is better to keep a notebook of fundamental concepts in your own handwriting, no matter how many ready-reckoners are available in the market. If you haven't made one such notebook, now is a good time to start. Even writing the formulae down in your hand, helps you revise them.
It is very important to maintain good health in the last few weeks. All that you might have studied, practised or analysed, would be of no use if you are not in the best of your health on the D-Day. Avoid irregular schedules and unhealthy food these days. You do not want even a common cold to hit you before the day!
Try adjusting your body clock to remain at its best during the time slot of the exam. 3 weeks are enough to build/break a habit. If you have been sleeping during the hours the actual exam is to be held, your body would tend to be in sleep mode even on that day. It is advisable to take your mock test at that particular hour every day. Your brain should be in question-solving mode, with the correct posture of your body, as if you are sitting in the actual exam hall.
There might be times when your score in mocks seems erratic. Some days, you would be scoring high, while nothing seems to be working for you on the other days. This should not reflect on your approach. There would be glitches, there would be good and bad days, and one has to learn to take them in one's stride. Remember, nobody can motivate you as well as you can.
Give yourself a little break every now and then; your brain, as well as your body, needs it. Staying at the study table for 10 hours at a stretch is less productive than shorter spells, with productive, relaxing breaks in between. Music is a great de-stressor, while TV and internet would only add to unnecessary information overload and strain on the eyes and the brain.
All said and done, relax. Believe in what you have studied so far; it all comes back on the day of the real test. This is the time when one gets anxious, apprehensive and tends to think of the worst 'what-if' scenario. Remember, what happens AFTER the exam is not in your control right now. What is under your control, is maintaining your practice levels and confidence. Your mind is your best friend right now, and no matter what advice everyone has to give, you should know what works the best for you.
Aastha Sneha Pathak
Aastha Sneha Pathak is an alumnus of IIM Lucknow, Batch of 2017. While living the hel(L)ish life, she was a part of the Literary and Debating Society, and the committee of Placement Mentors. She is in the Indian Railway Service currently, and pursues her live for writing and sharing knowledge in her free time.