(Edit: This is the last post after 23 weeks of intense travel across India. To know how it all began, read this! It is an achievement to have actually completed this adventure. We all wait for the book now!)
On the first morning I reached Shillong, after a 24 hour long journey, I had to go look at more than 10 guest houses in my endeavor to find a room. None of them had rooms available. Having travelled all over the country by now, I can tell you that this was the first time that I had encountered this kind of problem – where the constraint wasn't my budget or the hygiene of the rooms, but the sheer availability. That was my first clue that things work a little differently here than the rest of the country. For the next 6 days, I was reminded time and again that just because I have seen the rest of India, it doesn't mean that I can predict what Shillong has up its sleeve.
Shillong is the very embodiment of a happy hill station. It is not past its prime, like Mussoorie, nor is it one of those unexplored little gems, like Tawang. It is the most current, modern hill station with all the trappings of a wonderful holiday get away. It has beautiful panoramic views from across the city, hugely popular cafés serving all types of wonderful fare, a throbbing music scene with country, rock and hip-hop blaring from radio stations, church yards and weekend cafés. It has a wonderful young crowd thanks to the many universities in the vicinity, which dresses so well that the average Shillongese would be more stylishly turned out than, say, a Mumbaite or a Delhite. The markets and high streets are always swarming with tourists and locals alike and there is a generous availability of all major brands as well as their cheaper Korean and Thai duplicates.
The thing with Shillong is that everybody knows how to play the guitar. There might be exactly 5 people in Shillong, including me, who wouldn't know how to play the guitar. They all love their music here. Sit next to someone who is surely a Marwari trader picking his nose in a local bus, and he will be tapping his feet to Pentagram playing on the loudspeaker radio. Maruti cars are the rage here thanks to good availability of spare parts and good handling on the winding roads. Little Maruti Altos lugging massive piano sets and drum kits in their boot can be found all over the hill station, quietly indicating what dream a family is taking home. The property rates in upmarket Shillong can go as high as Rs 7000 per square foot – so high that it is enough to buy property in some obscure corner of a far-flung suburb of Mumbai. But the homes here are invariably huge with multiple levels and a separate music room.
(Read : The entire Baazigar Series - Kunj's chronicles on Kashmir, Amritsar, Mcleodgunj, Mussoorie, Delhi-Gurgaon, Mughal Sarai – Varanasi, Bangalore,Pondicherry, Hyderabad, Puri, Dantewada, Kanha, Goa, Gujarat, Rajasthan,Kolkata Ranchi,Patna, Gangtok and Guwahati and Tawang)
It is no wonder then, that Bob Dylan is a deity in this neck of the woods. For 35 years now, Lou Majaw and his band of merry men have been organizing the Bob Dylan concert here on his birthday on the 24th of May. It is one of the landmark events in the music calendar and, just like a lot of other things, is followed and appreciated more by foreign tourists than Indians. It is fascinating how in the West, rock and the church don't mix too well and how here in Shillong, some of the best rock talent would have invariably first performed in the church choir and then moved to giving rock concerts at church grounds. Lou Majaw is a fascinating personality. The hallmark of a celebrity in our world is often the fact that he acts like one. But here is Lou, who performs at the 20 seater Shillong Café, in the midst of kids who are at times more distracted by the food and the drink than by Dylan, but not for one moment do you feel that he isn't having the best time of his life. There is a smile fixed on his face as he sings 'The times, they are a-changing' and the like as he benevolently looks around at the audience. There is an ease of manner and a calm about him which touches every man he looks at and sings to. When after the show, you talk to him and raise a toast to the Dylan of Shillong, he tells you in a smiling voice that he has been called the Dylan of the East and the Dylan of India but never the Dylan of Shillong and he was thankful that I did – making it sound as if I had given him a bigger compliment. Ask him when he might come to perform in Mumbai next and he says he might come during the monsoon but his voice tells you he isn't so keen to come there. He has no property, no investments, no ambitions – just a guitar, a magical voice and a song – and they seem to be enough for him to smile in a way that would make you jealous.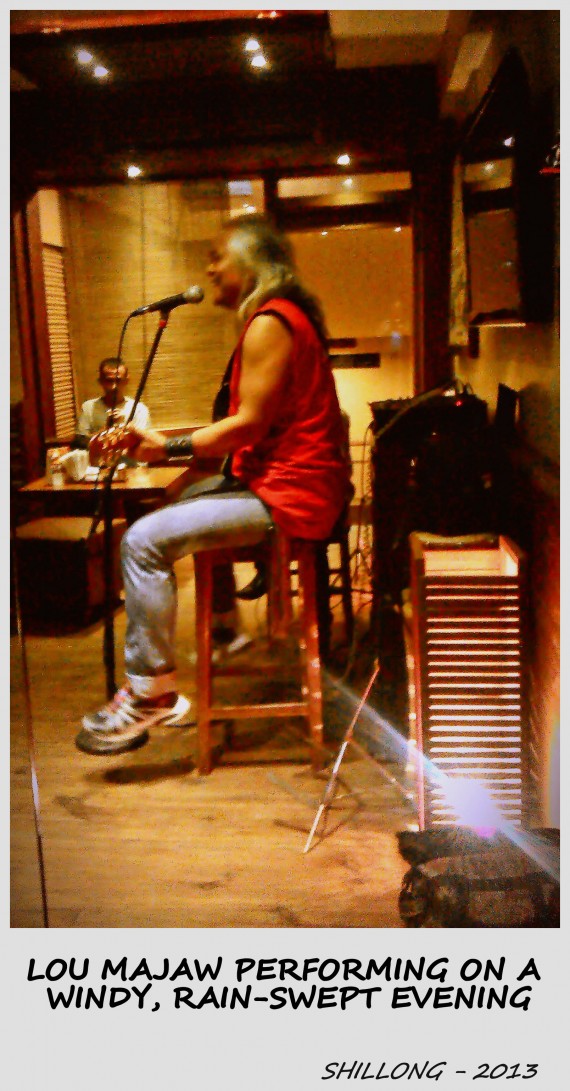 When you travel, you hope that you will run into people you know out of the blue, like it happens in the films. The thing is, whatever you really are, you attract those kinds of things. I am a filmy person and so filmy things happen to me. Right there at the far end of this country, in Shillong, I ran into an old neighbor from the Catholic colony I grew up in as a kid. He was an engineer earning 2 lakhs a month in TCS Mumbai who fell in love with a Garo girl and decided to throw it all away to come and settle in Shillong – a place where a matrilineal system will ensure that he will never own property. He knows everybody in the little town now and everybody knows him thanks to his line of business. He runs one of the most popular cafés in Shillong – Munchies. It is a quirky little wooden cabin with wonderful yellow lighting and an elaborate continental fare which is quite delicious. The small matter of getting to watch some of the rarest music performances on the big LCD TV – music that the owner has collected over several diligent years - is the proverbial icing on the cake. The café is set up in a car park and hence it has a wonderful vibe to it with youngsters flocking in their cars, drinking and smoking and having the wonderful food.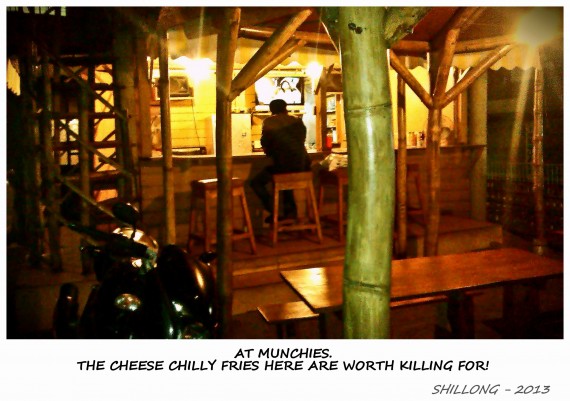 Now when you know a local, it opens up a whole range of possibilities. I went with him for his morning shopping, to buy supplies for his cafés. It meant that I got to see the biggest market of the Northeast – the Lewduh. It is a massive market with elaborate sections for vegetables, groceries, meat, poultry, fruits, seafood, etc. It is set on a hill, as are most things here. The mixture of bad drainage, fresh vegetables, colorful fish, bright yellow lights, cheery traders and wrinkled farmers make it a vivid bazaar with a riot of colors. It is fascinating how the vegetable and grocery bazaars are dominated by vegetarian Marwari and Bihari communities while the sea-food and meat and poultry sections have mostly tribals like the Garo, Khasi and Jaintia. There are coolies who lug massive supplies from the car park below into the markets and back. They carry as much as 130 kgs. at a time while lugging mounts of fresh beef or pork into the market – the pork and beef here is considered to be the best you will get anywhere in India. The problem of counterfeits has long plagued the commerce in the Northeast and it is apparent here as well as every 1000 Rupee note is examined carefully. There are enough people who still end up with counterfeits and they don't go to the police – they wait patiently to slip it away to the next unsuspecting soul.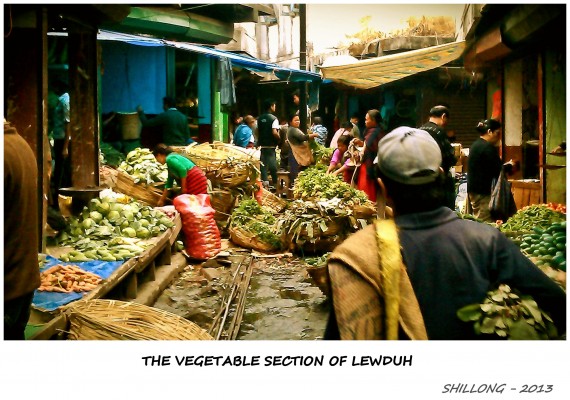 And then there was a night of drunken merry-making right in the middle of the Golf Course and on a winding dirt track on top of the city which hosts races – right under the stars. And there were the surreal waterfalls in and around Cherrapunji. There was a football match between Arunachal and Meghalaya at JLN Stadium. And there were the sights of swirling mist and cozy couples Ward Lake. 'Neck of the woods' is a term which Tony Greig used extensively in his cricket commentary and he was a Scotsman. The fact that it is such an apt way to describe Shillong is perhaps also why Shillong has been termed 'The Scotland of the East'. You will often see 4 different faces of the weather in a single day here – a misty morning which gives way to a sweltering afternoon which transforms into a rainy evening and culminates into a chilly night.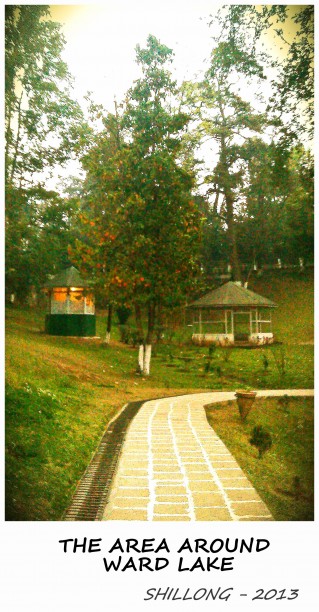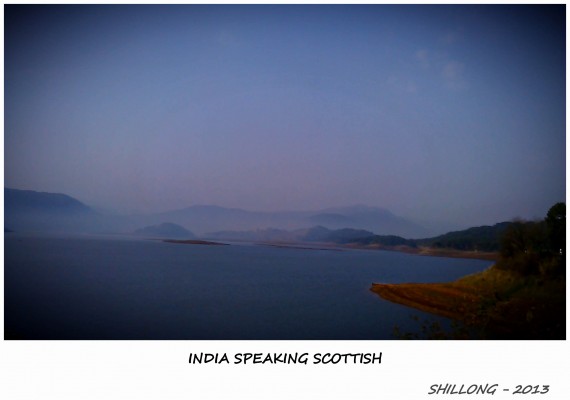 Eventually, everything is gentle here – the first sign of that is the slope of the roads which is mild and friendly compared to what I encountered at Tawang and Gangtok. There is an easy way to things here and I can understand why my neighbor settled in the hills. His Bambaiya abuses to his staff stick out like a sore thumb in the midst of the gentle manner of the people here – forever stoned on music and swaying gently as if on a happy boat.
I now return to Bombay with elaborate plans and a happy heart. Next Friday, there will be a post summing up my journey. That will be the last you hear from me until the book comes out!
( Read : The entire Baazigar Series - Kunj's chronicles on Kashmir, Amritsar, Mcleodgunj, Mussoorie, Delhi-Gurgaon, Mughal Sarai – Varanasi, Bangalore,Pondicherry, Hyderabad, Puri, Dantewada, Kanha, Goa, Gujarat, Rajasthan,Kolkata Ranchi, Patna, Gangtok, Guwahati and Tawang)
(Kunj Sanghvi will be writing about his experiences in each new city every week on InsideIIM.com. At various junctures on this trip, he'll be found working over cups of coffee in coffee shops across the country. He'd love to meet, talk, discuss with anyone who'd care to meet him; just to know the city and its people better. Follow him on Twitter here – @kunjsanghvi. He blogs here.
About Kunj – Kunj Sanghvi is a B.Com graduate from Narsee Monjee College of Commerce and Economics and MBA from Mudra Institute of Communications, Ahmedabad (MICA). Prior to plunging into this adventure he was a Senior Manager at Hindustan Times. He has also worked with whatsonIndia.com in the past. )