Behind The Stone Walls Of The 'B' Jungle
It was April 10, 2017, and the time was 8:34 pm to be precise. A mail flashed in the inbox which showed me –
"Congratulations! Indian Institute of Management, Bangalore is pleased to offer you admission to PGP in Management (2017-19)."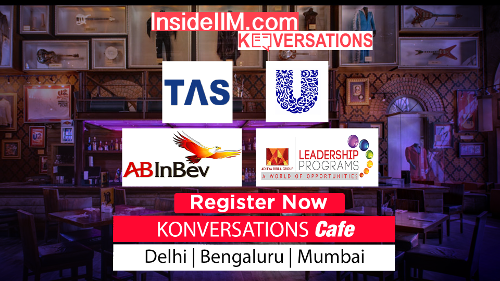 This is the best letter I have received till date which made me jump on cloud nine. I became a child in front of my near and dear ones and danced as if a child got his/her favourite toy to play with. After so many admirations, congratulations I felt like I have become a small time celebrity in my town.
Then begins the admission process, after completion of the process, IIM Bangalore invited me with warm morning sun lights, chirpings of birds, greenery. The freshness, calmness and the peacefulness made me feel like I came to the place to "B".
Orientation week starts and even though it is a little bit hectic it showed the trailer of what is waiting for the next two years. The orientation week ends with an L square party and then the classes started. The first week of the IIM B is awesome and very much free and I didn't really understand why seniors said about the hectic days waiting for us. I felt it is pretty much manageable. Then came the schedule for Quizzes…with academics a side and with club selections, GBMs (General Body Meetings), Intra IIM sports for PGP1s, the war of sections, Eximius, workshops, seminar talks life is moving so fast that I didn't understand what is happening around me and what am I  doing in the maze that was there around me. While all these activities are in full swing there we have resume preparation in which our whole life should be summed up to a single page and market us for the coming internships which may offer us PPO or may be a post of C.E.O in the coming 5 years (who knows). In the midst of all these, we get caught up in existential crisis to be in the group of the top 1% cream of the country. You will be humbled and will learn from them the different kinds of perspectives. But then we have our dudes who are equally afraid, equally happy, equally anxious like us and we find solace in the company of such lights in the dark phases. At the end of the day, you sit and sip your coffee thinking that –
"This too shall pass"
These are the various stages of an IIMBian who appears as a confident management student but there is a human inside with a lot of aspirations, motivations, and insecurities. The journey has its share of crests and troughs but at the end of the day, it is worth it…..who doesn't like a roller coaster ride! You will only realise it when you look back and see your past saying to you "You are way stronger than me! (with a grin)"
Nukala Vijayalakshmi
Hello, everyone.I am Vijaya Lakshmi, a PGP1 student from Indian Institute of Management, Bangalore. I like playing chess, badminton and are you ready to dance then I am there to sing a song for you. I like to spend my time in reading books, travelling. I aspire to improve myself and become a strong person. My friends in IIM B call me vijji, I am a fresher and am one of the younger persons of my batch.This is a brief introduction about it. Hope to reach you all through my articles. Thanks for reading.....