Sundar Pichai is in India. That got me reflecting about the business lessons I have learnt by observing Google
1. Crisp 'Mission' statement: A Mission defines the reason why a company exists. Google's Mission statement is 'To organize the world's information & make it universally accessible & useful.'
The mission statement guides Google in making decisions so that it is able to achieve it - an example - Project Loon's, whose objective is to provide Internet access to rural & remote areas of the world. Why? Because if these areas do not have Internet access how will they access world's information?
By the way, most companies, around the world have a mission statement, which is eruditely crafted & hung on a prominent place in the office. But it was crafted, not with the intention of pursuing them, but because it was a cool thing to do. Hence the Mission Statement, much like a trophy partner, hangs proudly in the reception, mostly ignored.
2. Invest resources: Invest your resources, including money, not on advertising & sales promotion (A&SP) but on creating an 'insanely great product' which delivers an 'insanely great experience' to your customers.
Even in the early stages of its inception, Google received a prodigious response for its search product. The initial success got its inventors to dream of making 'Google the Coca-Cola of Search' – making the trademark 'Google' globally synonymous with search, as Coca-Cola is with 'thirst'. This led them to the doorsteps of an external Marketing Consultant – an ex-Coke person to seek his counsel in drawing up a Marketing plan so that their dream could be realized. This person, in due course, presented an elaborate plan along with the an elaborate investment plan, which if implemented – he assured them – can make Google the Coke of 'Search'. The young Google owners, reviewed the proposed plan, thanked him, but thankfully took a decision of not investing in Advertising & Sales Promotion, but invested the same money and more in perfecting an already perfect product – which would consistently deliver an awesome experience so that the users become Brand Advocates of Google – always use Google whenever they needed to do a 'search', scream & shout at every opportunity and form a platform to broadcast their views to everyone who would care to listen to them that Google is an awesome 'search' product. The result – Google's customers became it's Brand Advocate & vicariously its sales person!
3. Monetizing Strategy: Google offered its 'search' product for free. Then how did it make money? Its search product delivered an awesome experience to its users. Over time, its platform was densely populated. Then an invisible digital ring was erected around its large 'user' community. Any advertisers who wished to speak to Google's community had to pay Google for that privilege - they made money, not from the actual users but the advertisers who desired to speak to their users!
1. Craft a Mission statement. It should be simply worded, easy to understand and have the power of inspiring your stakeholders over an extended period of time. It should also place your company on a higher moral ground.
2. Do not invest money in Traditional Advertising media vehicles – TV, Press, Cinema, Radio & Outdoor - to build your brand. Instead, invest that same money in creating an 'awesome product that delivers an awesome experience'. This will get your customers to become your Brand Advocate & do the selling & marketing for you.
3. Change the Rules of the game of your industry – but on relevant dimensions.
If you wish to get an insight how to convert your customers into your Brand Advocates, then I would invite you to view my video titled 'Turn Your Customers Into Brand Advocates'. This video will cogently share with you ease to implement steps to transform your customers into Brand Advocates!
Disclosure: There are many more lessons Goggle has taught me ... due to constraints I am limiting this post to these 3 lessons. I would request you to share lessons you may have learnt from Google.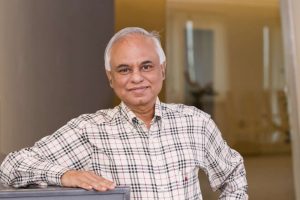 In this series, Rajesh Srivastava, Business Strategist and Visiting Faculty at IIM Indore gives you a regular dose of strategy case studies to help you think and keep you one step ahead as a professional as compared to your peers. Rajesh is an alumnus of IIM Bangalore and IIT Kanpur and has over 2 decades of experience in the FMCG industry. All previous Strategy with RS posts can be found here