It was time to wrap up, stuff things and head back home. A forty minute ordeal through the 'local', fighting to get in, fighting to get out and then finally home. Tired I would be, but never enough to relish Mummy's Kitchen and finally the day would end. And then looking for another day, another week in Mumbai - my home. Family, friends and a city that literally breathes, a place which does not have time to pause and opportunities that no one wants to miss.
Well this would be enough to sum up my average internship experience. But on second thoughts would it? This would be quite boring, nothing new, nothing different and well now I believe I got a little more out of it.
As the companies came in during placements, I was quite sure of what I wanted to achieve in the coming 3 months of my internship. An experience in an agency, to travel and an opportunity live on my own away from home, away from hostel. As nerve racking as the placement season is, it is just how late do you succumb to it. Soon enough, came in my firm, got hired and landed in the capital, DELHI!
11:45 pm; Finally it is time to bid adieu Delhi, settling in Rajdhani heading back to MICA. From sweltering heat to unprecedented rains Delhi gave me all. Delhi - City of Cities. A city that has its own enchantment, something very likable and something that makes me feel good about the city. As each city / civilization has its own merits, they also have some limitations. Delhi has its own and unfortunately the limitations are all that one speaks off. But for me it was a time where I experienced those limitations first hand, do all that I came here 1500 kilometers away from home to stitch a journey and build a memory which will stay with me for quite a long time. Sitting here now, returning home, seeing things going past, I have a sense of accomplishment of a journey which I had anticipated. The best part about it is, it was as beautiful as I wanted it to be.
As rigorous my 1st year was and all that I had learnt during it, now was the time to see if I could put it to use. With the course unwinding, I developed an inclination towards Account Planning, one of the coveted specializations at MICA. To me it is interesting to see how a brand becomes a personality and moreover, talks to millions across the globe. It requires a great deal of knowledge to give shape and an identity to just a name or logo. Making the conscious decision to explore my recently acquired interest, I landed up at a digital agency called Wunderman.
A 3 month stint at one of the leading digital agencies worldwide! Corporate park, plush offices and horrible PG food is what awaited me at NCR. Flying to Delhi on the last day of March, the view from the sky looked quite promising. The climate was welcoming and the fact I would be living with eleven MICAns seemed exciting. Getting a PG for accommodation is not difficult in Delhi with so many MNC-s coming up there. Landing up at pre- booked PG saved some hassle, courtesy our seniors. Offices being as close as they could be, gave us some really needed leisure mornings.
Now that I was at Wunderman it was time to make most of it. In the words of our Managing Director, "Make this moment count, not because you can evaluate it the next moment but so that you can make them all better than one another." With this school of thought I could see how I would want my next 3 months to unfold. Our M.D is a person whom you can just walk to and have a conversation about almost everything. And with such a welcoming M.D. the work culture of the place is definitely productive. As we settled in, the first few introductory days were real slow but as we began to interact with fellow colleagues we got familiar of the place and its people. As we would hop into our cubicles, our days were full off anticipation and exploration. Exploring the work culture and awaiting some induction or orientation program. And before we knew, me and a fellow MICAn were already involved in Cricket Match representing our agency in an agency tournament.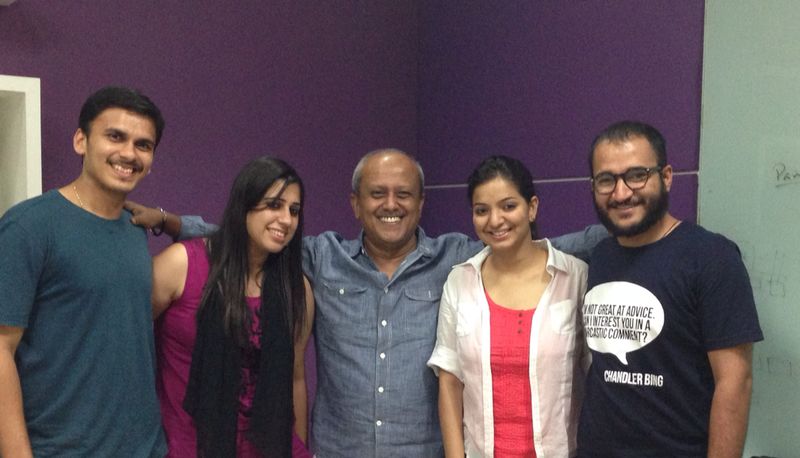 Working in an agency is an experience of one of its kind. To some it may be a place which they always would have been looking for and to some it would be one hell of experience. To me it was just a glimpse of a world which I just knew existed but never lived within it. The ecosystem of an agency is very dynamic. As at markets there are highs and lows over a period of time similarly an agency experiences the same throughout a day. There are small moments of glory, when a piece of campaign is well received by client / audience, there are battles won, when an agency wins a pitch for a client and similarly there are times when the team is unable to convince clients for a campaign putting all those hard working hours in a fix.
An ad agency calls in for a lot of passion towards your job. It is all about being productive for which time cannot be constraint. People and creativity often come in surprising packages. During the stint, my project was on a brand that was old and needed some reviving. And that is where I realized, it would not happen that one would get to work on brands that one loves or aspires for but also on some which can be actually be boring. But no matter what, people enjoy working and it is perfectly alright to have creative disagreements. To my fortune, I had a mentor who supported and facilitated my learning exponentially. Working in a digital firm one requires hands on experience on tools available to have a proper exposure. My mentor gave it all. Reflecting back my greatest learning throughout the period was to keep myself open to each and everything and absorb whatever came along my way.
Early evenings to late nights, my average week would have it all. But what we all looked forward to, was the highly awaited weekend. As a weekend would arrive, we bunch of MICAns had a pact of making the most of it. We travelled, travelled wide and travelled more. Though working, we did not want to let these 3 months just pass by. And with travelling comes photography; it is something that I really hold very close to myself. Now by the end of 3 months we have done a lot, we have done it all. Amritsar, McLeod, Agra and Delhi itself. Walking onto the streets of Delhi was a delight in itself. People, culture, food and monuments of Delhi is an experience of its kind.
It is a perception that Mumbaikars would not like Delhi, moreover they would not enjoy and have a tough time settling in. Well for me, it was not true, both cities are unique in their own perspective. There is a difference in culture of both the cities and it will not be fair to compare them. A year at MICA has definitely taught me to admire and appreciate differences in Culture which forms an integral part of the soul of a civilization. Now that my 3 months of internship are over, there is a sense of achievement and accomplishment of extracting maximum from those 3 months.