Discussion Of The PGEMP Team With The Author R Gopalakrishnan About His Book In SPJIMR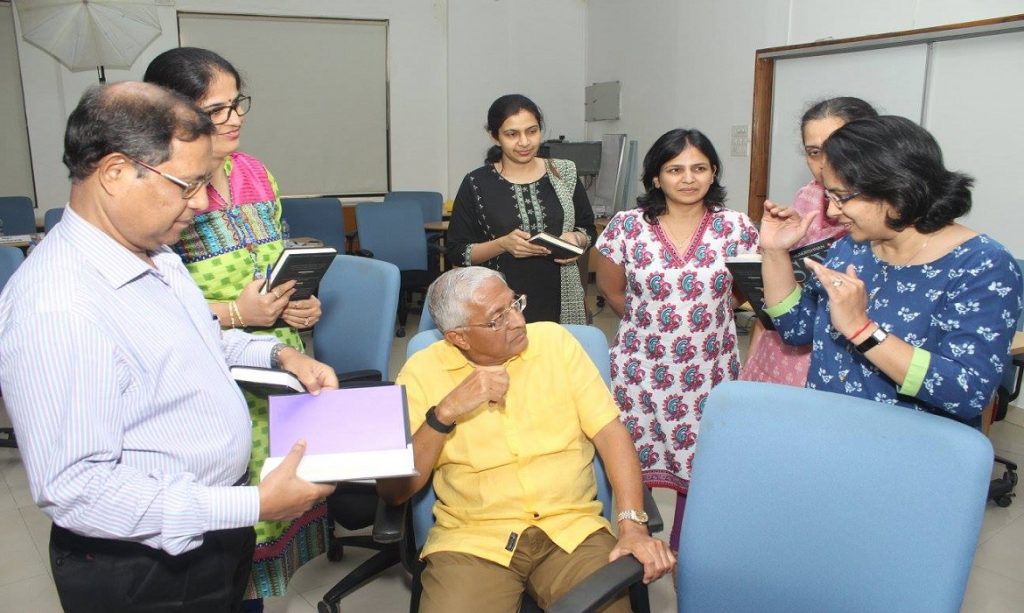 In the first ever exercise of its kind, the entire staff and leadership team at SPJIMR's PGEMP programme sat down with Mr. R Gopalakrishnan, author of the book, 'Six Lenses – Vignettes of Success, Career and Relationships', and Dean Dr. Ranjan Banerjee for what turned out to be an interesting conversation based on the book.
The 90-minute discussion followed a Question & Answer format and brought together the PGEMP team to debate, discuss and listen in to various perspectives on a range of issues. The discussions were around what the book says are the six lenses through which we see the world: purpose, authenticity, courage, trust, luck and fulfilment.
Each of the PGEMP team members, who help design, deliver and administer the programme and cater to as many as nine batches running concurrently, had read the book and participated in discussions on specific chapters. They organised themselves into ten groups to ask questions of Mr. Gopalakrishnan, who is also SPJIMR's Executive-in-Residence. The Dean, Dr. Banerjee, offered his perspective on the questions.
Dr. Renuka Kamath, Chairperson, PGEMP and member of SPJIMR's Governing Council said, "It isn't very often that one gets a chance to question an author on his book. The entire PGEMP department grabbed this opportunity to interact with Mr. R Gopalakrishnan on his book 'Six Lenses'. Having read the book, my team moved from a sense of awe to ease in talking with him on the various themes."
"It was intellectually stirring and philosophically enriching for my entire team. And that was the purpose of this event," Dr. Kamath said.
Mr. Gopalakrishan later autographed copies of his book, writing personalised messages and good wishes for each of the PGEMP team members.