Football Club Finances – on InsideIIM's Knowledge Cafe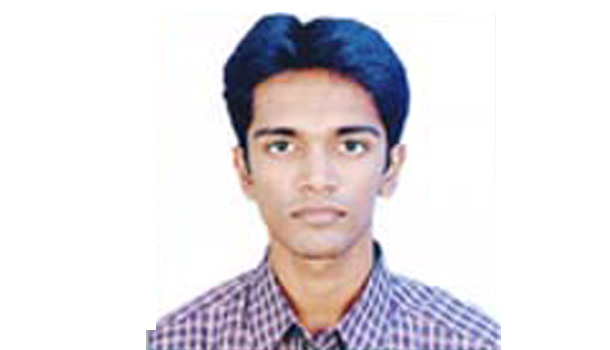 This article is under our special section – 'Knowledge Cafe'.
(This series takes a look at the business side of club football.)
Unlike businesses which meet organizational or individual needs, football appeals directly to the raw animal spirits of its supporters. This makes it that much more difficult to reconcile the two goals of a football club – performance on the pitch and financial performance. Intense heartburn caused by victory of a hated cross-town rival, several years of ritual humiliation, all these can spark a disastrous spending spree that plays havoc with your finances for years to come. In the end, at least financial doom is always averted Bollywood-style, by the club's emotional fans. Alas, there is only so much the supporters can do to help the club win trophies.
Some basics before we dive into a football club's Profit n Loss account. Most company PnL's have an entry for 'extraordinary items' – derivative losses, for example. Accounting fundas aside, the sale of Wayne Rooney would definitely be an extraordinary item for Manchester United. As it turns out, all transfer activity is reported under 'Extraordinary Items'. Football clubs report two profit/loss numbers – one that includes only their day-to-day operations and another that includes all of that, plus their shenanigans on the European transfer market. Further, the cost of buying a player is amortized (i.e. distributed evenly across the duration of the contract). For e.g. if Man United decide to buy Tevez now for £21 mn on a 4 year contract, there would be an annual extraordinary expense of £5.25 mn on Man U's PnL.
Let's take a look at a sample PnL of a top 7 BPL club.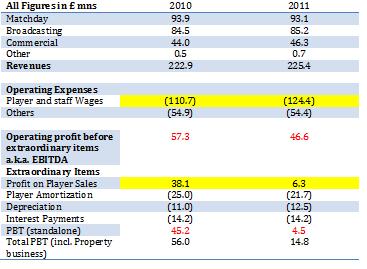 Revenues
Matchday – sale of tickets in the stadium, season passes etc.
Broadcast – share of TV rights distributed by central body (UEFA/ FA etc)
Commercial – sales of merchandise, corporate sponsorships etc.
Can you guess which club this is? Look closely. Most of the numbers have remained the same over 2010 and 2011. EBITDA numbers are lower in 2011 due to increased wages, while PBT (standalone) is 90% lower in 2011 due to much lower profits on sale of players.
In other words, this is a club that is desperately trying to hold on to its best players by offering new wage contracts, and is turning into a feeder club for the big clubs of Europe. Yup, this is Arsenal. The £38 mn came from Adebayor and Kolo Toure to the spendthrift Man City. The £ 6.3 mn figure is because the sales of Fabregas and Nasri were not included in the statements.
Comparison of the top football clubs
(I have cherry-picked 11 important European clubs and compared them on various parameters)
By Revenue – Total(data obtained from– Deloitte football Money League, BPL site)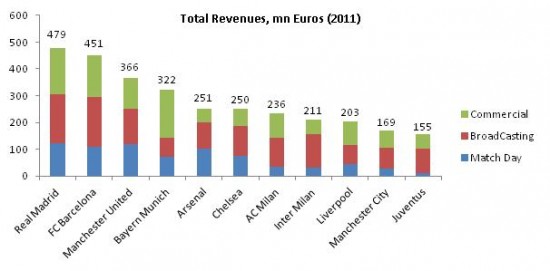 Observations:- (Notice the differences in the revenue models)
There is a wide gap between the Spanish duo and everyone else, because of the very disproportionate allocation of La Liga's broadcasting rights (deals are negotiated individually).

Barca and Real Madrid each received 140 mn euros from La Liga's broadcasting pool (i.e. 21% each and 12.5 times that of the lowest club.)
In the BPL, broadcasting deals are negotiated collectively and Man United received only 66 mn Euros out of the pool (i.e 6.3% and only 1.54 times that of the lowest club). These ratios are 10:1 and 2:1 for Italy and Germany respectively.

Bayern has the highest commercial revenues (even more than Real and Barca) due to its kick-ass sponsorship deals with Adidas, Audi etc.
Gate receipts are high at Arsenal because of the new stadium with higher capacity, and some cunning use of price discrimination. If only their defenders paid such attention to detail, they would have won some trophies.
The Italian clubs aren't in the top five for the following reasons

Stadium attendances are down.

People have lost faith after the Calciopoli scandal
Italian football has always been boring

Neither AC Milan nor Inter own the San Siro. It is owned by the city council. They have to pay rent like any other tenants. How they would love to have their own stadium.
Revenues: Section 2 (Champions League  Earnings –Data for 2011 – source: Uefa.com disclosure and Wikipedia)
Champions League earnings fall into two categories – Prize Money and 'Market Pool'. Market pool accounted for about 45% of the €754 mn disbursed in 2011. The allocation is based on the size of the TV market in the country where the club is located. Allocation for English clubs was the highest.
Now we know why Tottenham will be sweating over the results of tonight's Champions League final. There are urgent financial reasons. Their 2011 adventure in the CL ended in the Quarter-Finals, and brought them a cool € 30 mn. Even the worst performer, MSK Zilina earned € 7.5 mn just for turning up and losing all their matches.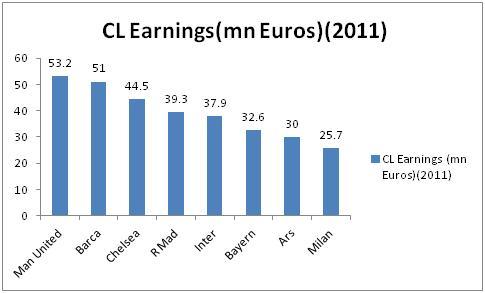 Manchester United (Runner-up) earned more than Barcelona (Winner) because of the market pool. Barcelona's prize money was €30.1 mn, while Man United earned € 27 mn in prize money. A similar explanation holds for Chelsea (QF) earning more than Real Madrid (SF).
The other three clubs – Liverpool, Man City and Juventus haven't been included in this graph because they didn't qualify for the 2011 UEFA champions league (ouch that hurts).
Revenues Section 3– Putting football revenues in perspective
To put football in perspective, I have compared the Real Madrid's revenues with those of a few corporate behemoths.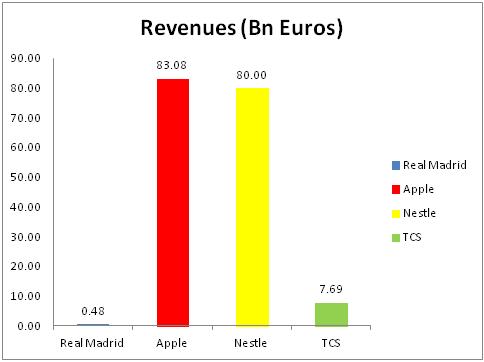 This gives a completely different perspective. The royals of Madrid look positively puny next to the buccaneers of Silicon Valley. This explains why football clubs are safe from bankruptcy. They are, to quote Simon Kuper, too small to fail. Why, even India's army of software engineers dwarfs the earnings of the richest club in the world. (As I wrote the previous sentence, I realised that revenue per employee would paint a totally different picture yet again. Real Madrid and other top football clubs would do brilliantly. The data is not available as of now.).
Comparison of the top football clubs
By Profits (PBT, inclusive of extraordinary items like player transfer) (data: the Swiss Ramble blog– a wonderful resource for football and finance enthusiasts)
This is where the big bullies in the transfer market should get their comeuppance. And boy, do they. Look at the numbers below. Man City's numbers look ridiculous. This is the price of success.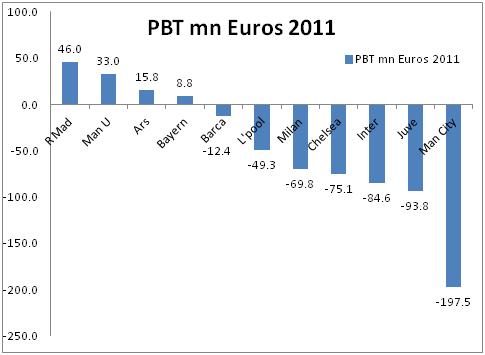 Real Madrid and Man United have big debt payments but manage to be consistently profitable because of their wide fan base and consequently high commercial revenues.
Arsenal are generally in the green, by selling their top players.
Bayern are run like a sound business. Too sound for my liking. It almost looks as if their decisions are guided by the profit motive and not silverware, i.e. they had operating losses in FY 08, 09 and 10 which they recouped by selling off players. Anyway, they seem to have done well on the pitch as well, as we'll know tonight.
Despite excellent revenues (which are next only to Real Madrid) Barcelona have been just marginally PBIT positive (0.8 mn euros) and PBT negative this year, due to high debt, transfer spending and a high wage bill (at $7.9 mn, they have the highest player salary per annum among all the major sports leagues in the world.)
We'll look at wages, transfer spending, debts etc in the next post.
– (Shyam Sunder Ramakrishnan)
The author is an alumnus of IIM Indore, batch of 2011 and currently works for Institutional Investor Advisory Services – a startup in the financial services industry.
Also Read:
Insights@InsideIIM :  A must read section for any management education aspirants, current students or recruiters
Knowledge Cafe: Understanding the Sports Broadcasting business in India

The Most definitive Student Exchange Programme Report – 2011 (One of its kind report for top business schools in India)
New ! – Industry Series : Interview with Rishiraj Singh Pruthi – Head, Customer Marketing at Abbot Nutrition
 Interview with Ravishankar Iyer: Building vocational skills for India Tomorrow
Our facebook page : InsideIIM
Follow us on twitter here : @InsideIIM