Vinaytosh Mishra has wide-ranging interests in Web Analytics, Market Research and Business Analytics and some of his research papers have been published in International publications of Springer, Science Direct, IEEE-Xplore, ICTIM, ISTD, NICOM and AIMA. He has been a guest lecturer at IMT-Ghaziabad and IMI-New Delhi and delivered lectures on topics such as Product Development and Digital Marketing. He is an MBA in Marketing and Operations and holds a B.Tech degree from IIT-BHU. He can be contacted at vinaytosh@gmail.com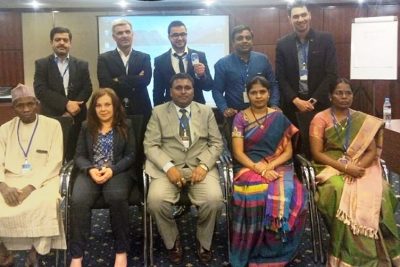 Vinaytosh Mishra (standing; second from right)
Tell us something about yourself and your academic qualification.
I have done my B.Tech in Electronics Engineering from IIT (BHU) way back in the year 2002. After working in industry, I decided to do my MBA in Marketing & Operation. My interest in optimisation, decision science and analytics was instrumental in joining two other post programs in Statistics & Computing and Advance System Dynamics.
What fascinates you about Digital Marketing?
I was one of the first few professionals who took interest in digital marketing in mid of last decade. In those days, digital marketing was not a big buzz. Marketers were trying it but were not yet convinced about its efficacy. Digital marketing solves the perennial problem of targeting and attribution associated with marketing communication. It is customised and measurable and this very nature of Digital Marketing fascinates me. I have given consultancy to various international clients like Plexistor (US) and Perfect Cloud (Canada).
Why did you choose to become a professor in this subject?
I told you I was one of the few first movers in this area. In those days, there was a scarcity of faculties for this subject. Incidentally, Prof. S.R. Singhvi (Marketing Professor) asked me to design a digital marketing course for International Institute of Management-Delhi and I happily said yes. In the year 2010, it was probably the first full credit course offered in an MBA program. Since then I have taught this course in many reputed institutes including IITs.
In the past few years, more and more students chose Digital Marketing mainly for their Master but also for bachelor studies. What do you think makes students do so and what is your recommendation for them concerning the quality of studies in Digital Marketing?
Digital marketing is better suited for master's program because till then students have basic understanding of marketing principles and theories. Look in India students select the course in which they find scope of a job opportunity. Digital Marketing in a buzz word these days so are the decision science and big data. You will see more students opting for these courses in B-School in coming days and B-Schools also float the courses which they can sell well. Students look for tricks and formula for success in Digital Marketing but alas Digital Marketing is more about creating and managing customized content. The platforms will come and go but culture of digital marketing will be there always. Social Media, Blogging or managing a forum is a challenging task and any reputed company is not going to keep a new recruit at helm of these things. You need to be patient and good listener to achieve success in digital marketing.
What are the differences between traditional marketing mix and the new-aged Digital marketing?
Traditional marketing is not dead by any means but being digital has certain advantages. Like digitised product has less holding cost, price comparison websites has forced a business to offer competitive price and promotion has become more targeted and measurable. If I say same things in a class then I will not be able to sell myself as a digital marketing faculty but believe me, digital marketing is the only way of doing marketing in the digital age and it is an extension of traditional marketing.
What are the key elements of Digital marketing?
In the digital word, you are as good as your story is. The digital strategy is of four prongs: think, create, execute and optimise. You need to create exemplary content to attract already occupied customer because the content is the currency of the attention economy. The good story tellers are going to be in great demand in coming future.
What is your take on the 'cashless drive' by the government and what will be the role of Digital Marketing in it?
Cash in circulation in an economy has little correlation with corruption, a comparative analysis of World Bank and Transparency International data suggests, deepening suspicion that those with black money prefer to keep their ill-gotten wealth in other forms of assets. But yes, the cashless drive will result in more deposit in banks and hence reduced interest rate for loans. Secondly, it will be instrumental in abating corruption rampant in day to day functioning of business. While various merchants and consumers are showing trends of picking up digital transactions, the bigger question is if it is going to be a trend or just a way to fight the cash crunch? Digital Marketing will be instrumental in this change and the companies like PayTM or PayUmoney have a great future ahead.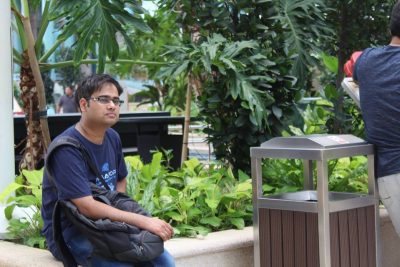 Pranjal Joshi at Singapore
Pranjal Joshi is a student of PGDM (Executive)/PGPX at IMT Ghaziabad, which is a 15 months full-time residential programme.He is a Bachelor of Engineering in Computer Science and hails from Jaipur, Rajasthan. He has been passionately writing articles, blogs, essays etc. for different magazines, websites, newspapers and portals for more than a decade. His areas of interest include politics, social causes, sports, current affairs, spirituality and general issues etc. He loves to express himself as a public speaker and a prolific writer. He substantiates his writings by means of constructive criticism and satire, he is well-known for his ability to express the truth seamlessly, his thought provoking ways of judging and explaining characters and situations enlightens the audience.Pranjal loves to travel and socialize and is an avid art lover.