28th July 2016 was the day I joined NIT Warangal, my alma mater. It was also the day I had decided that I would do an MBA. Despite joining a premier engineering school, I always believed it wasn't out of passion but only because of efforts that I had to put in as there was no other option. But it turned out to be an amazing experience; experiences that ultimately introduced things that would help shape my MBA dream.
There are many things we do on a daily basis that add value to our overall development in the longer run. It is these small things that silently help you improve your personality. Here are a few things that helped me silently.
So, my group of friends had the habit of appearing for trivial competitions conducted by clubs in college. And to appear for the final round of these competitions, it was mandatory to clear an aptitude round. This was my first major practice of a wide variety of questions. So, this newfound motivation of winning cash prizes in these trivial competitions, made me solve many aptitude questions found anywhere on the internet. This would help later in my Quantitative aptitude preparation for CAT.
I happened to be part of a vehicle racing team during my second year. In the runup to the final days of the competition, we had put in many sleepless nights and hard work into the vehicle. Probably my first tryst with sleepless nights and that was the most amount of work I had put in my entire life. In what we expected to be a fairytale ending, our vehicle crashed during the acceleration test. Having come across many articles and noted leaders mentioning the importance of teamwork, this was the first instance where I experienced it first hand. In a matter of three hours, we brought it back on track and completed 14 laps of a 3 km track in the final endurance run. It is this experience that I was able to share in my B-School interviews for a number of behavioral questions.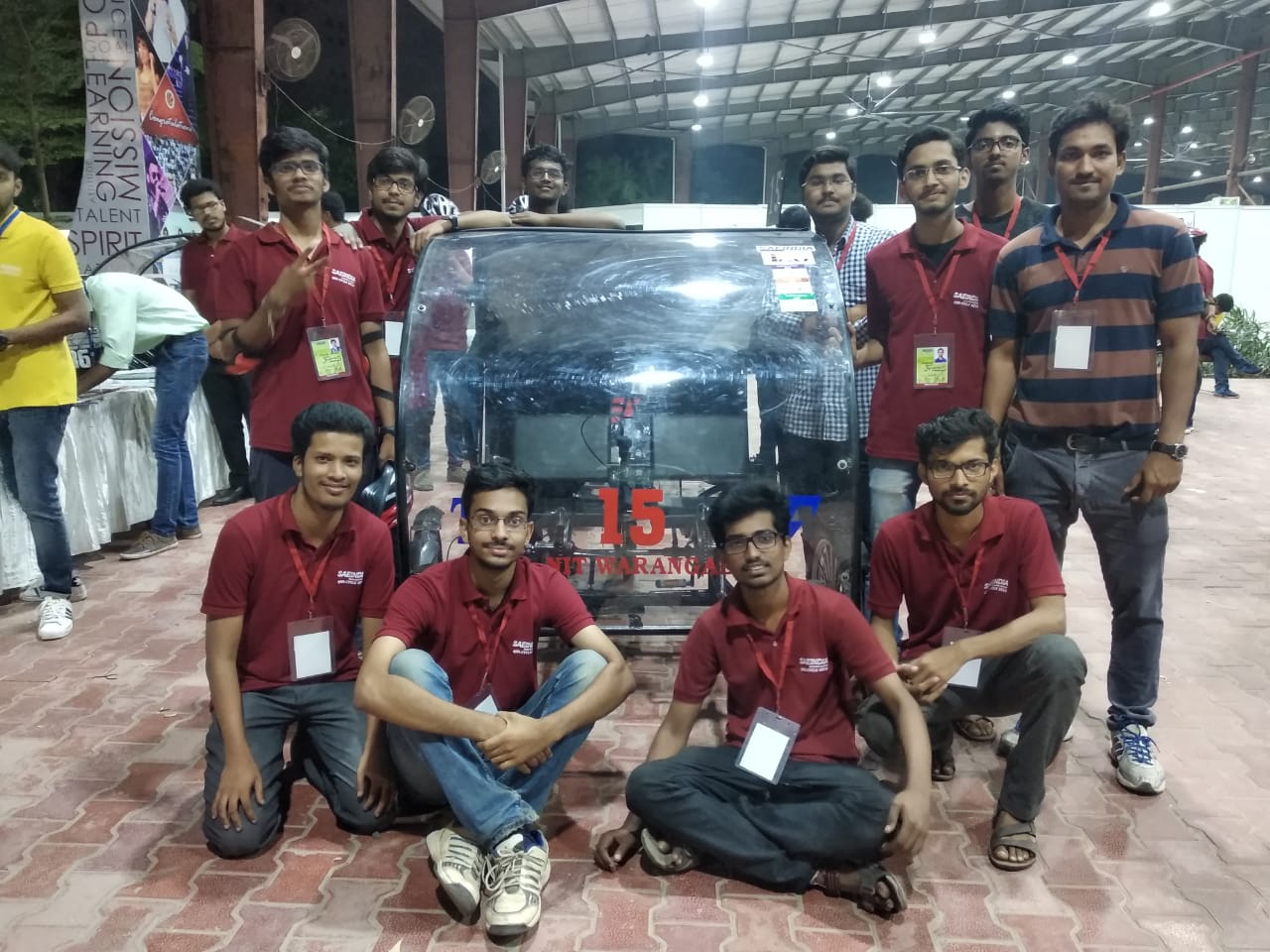 Being in Mechanical Engineering, I always knew that getting an internship through campus was going to be tough considering the bunch of talented individuals in my batch. And I was happy to have been selected for an internship at Bajaj Auto Ltd. My project was based on the assembly line of the new electric vehicle that was to be launched. An internship is said to be a very short term exposure to the industry. But the numerous things I have understood and learned from my experience were gold for my group discussions in B School selections. Despite the fact that I was a fresher, I was able to put out a few good points into a discussion of whether hierarchy was necessary for an organization. The preparation I had put into preparing for the internship would help me answer questions related to subjects in mechanical engineering.

I was fortunate enough to be heading the placements for my branch in my final year. Listening to numerous candidates sharing their GD/PI experiences was very enriching. There were many critical points that I learned on what an interviewer expects out of the GD/PI processes. This helped me prepare for my GD/PI processes for B-School selection.
While involving in these activities, I was always worried about how these would shape my course to a B-School. But in the end, it all mattered, silently. Every person is unique and is exposed to a whole new and different set of circumstances and responsibilities. But what I have realized through all these experiences is that whatever responsibility or task you take up, it is upon you to fulfill it with your entire effort. There will always be scope for improvement, but you should make sure that you don't have any regrets about the amount of effort you have put in. When you put in the required effort, you will get experiences that will surely help you somewhere down the line.
I am a believer in the concept of managing your B-School selection process along with your academics and extracurriculars. Prioritizing your tasks and responsibilities according to the value they add in the long term is crucial. At the same time, it is important to do things you like rather than things you feel you should be doing. Don't try to get into activities you don't like thinking that they would help in the long run because a person can not give his 100% to an activity he doesn't like. It is sometimes possible that you may not find opportunities in the field you like but you must be able to create opportunities for yourself. For eg., a person is interested in data analytics but no one in the entire college is ready to pursue it. It is in such times that you take it upon yourself to educate like-minded people and take them along with you on the journey.
Coming to CAT preparation, I have three tips from my side to all the aspirants:
Make CAT preparation a way of life rather than having a mindset of preparing for it separately. If you're reading an article, blog, or news clipping read it in such a way that it would be useful for your VARC section. Write down words that could improve your vocabulary. Have a habit of forming a one-line summary of every paragraph you read. And try to build a habit of reading long passages. If reading isn't something that comes naturally to you, try to start with reading about things you like. For me, it was about Cricket. I have been used to reading long blogs on Cricinfo.com. So, when you are not used to something, start with things you like.
Enjoy doing DI-LR and Quant questions! As an engineer, it should come naturally to you. If you still aren't able to cope with the difficulty level of the section, try solving questions with toppers for which videos are available on YouTube. This should considerably increase your efficiency as they mold your thinking ability.
And start taking mock exams starting 2 months before the D-Day. You can space these exams weekly. And take the week's time for analyzing areas where you could have improved and put in efforts in those fields. It is important to create a D-Day strategy for each section through these mock exams. So, the battle is won in the mocks rather than on the D-Day.
All in all, the most important thing is going to be your D-Day performance on the exam day and the interview day. So, it is important you do not get fatigued and maintain the same level of enthusiasm throughout the entire journey. Sustaining motivation is key to success. So, start serious preparation at a suitable time which would be based on the individual.
I had applied to the top 6 IIMs and converted IIM Indore. I also appeared for the XAT exam and have converted the coveted PGDHRM from XLRI.
I believe the CAT battle can be won with good strategy rather than long hours of preparation. Make CAT a way of life that would help you a lot without increasing the stress on you because, in the end, you must realize that CAT is just an aptitude test.
While preparing for this entire journey, you must always believe that you are putting in this effort because you like it and not because you have to do it. Because at the end of the day, you will only succeed in anything if you like it otherwise the efforts you put in would not be 100%.