"Manzil Milegi, Bhatak ke hi sahi
Gumrah toh voh hain, Jo ghar se nikle hi nahi"
I had read this couplet (shayari) while going through a newspaper article, and somehow it managed to stay with me. What it means is that 'It is better to fail than not try at all'. It was somewhere in mid-April that KBC released its promos for season 9. I had tried for the past few years to get through but my efforts had all been in vain. Dejected, first at not being able to crack any B-School entrance exam and cursing my luck, I had also almost given up on registering for KBC this time. The thought of failing one more time stopped me as it felt like I had hit rock bottom.
But then these very lines came to my rescue. Persistence is the most challenging yet treasure quality. Cutting the long story short; after many stages and processes, 3 months later, I had finally gotten a call from the KBC team to come to Mumbai for the show. On THE day, I played well but could not win much, however the silver lining was being applauded by the audience and Mr Bachchan himself, for my level of preparation and confidence.
The biggest achievement for me was to see the look of pride in my parents eyes. They were elated at the fact that their son had succeeded at doing something which most people could not dream of. Well, I was lucky to have gotten there and a bit unlucky perhaps for not winning much, despite my level of preparation.
"Kissi ko muqammal jahaan nahi milta,
Kissi ko zameen toh kissi ko aasmaan nahi milta".
Translation: Nobody is entitled to getting everything in life.
So whatever little life has taught me is to remember the good and forget the bad. On this note, I will sign off with a lovely pic of my parents with Mr Bachchan.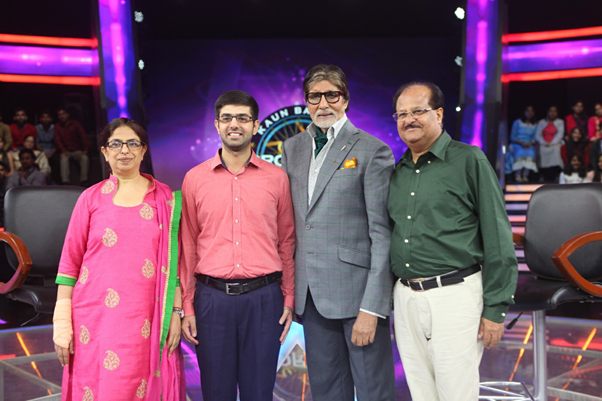 Gautam Kohli
Class of 2020
Xavier Institute of Management, Bhubaneswar