How To Successfully Pitch To A VC – Workshop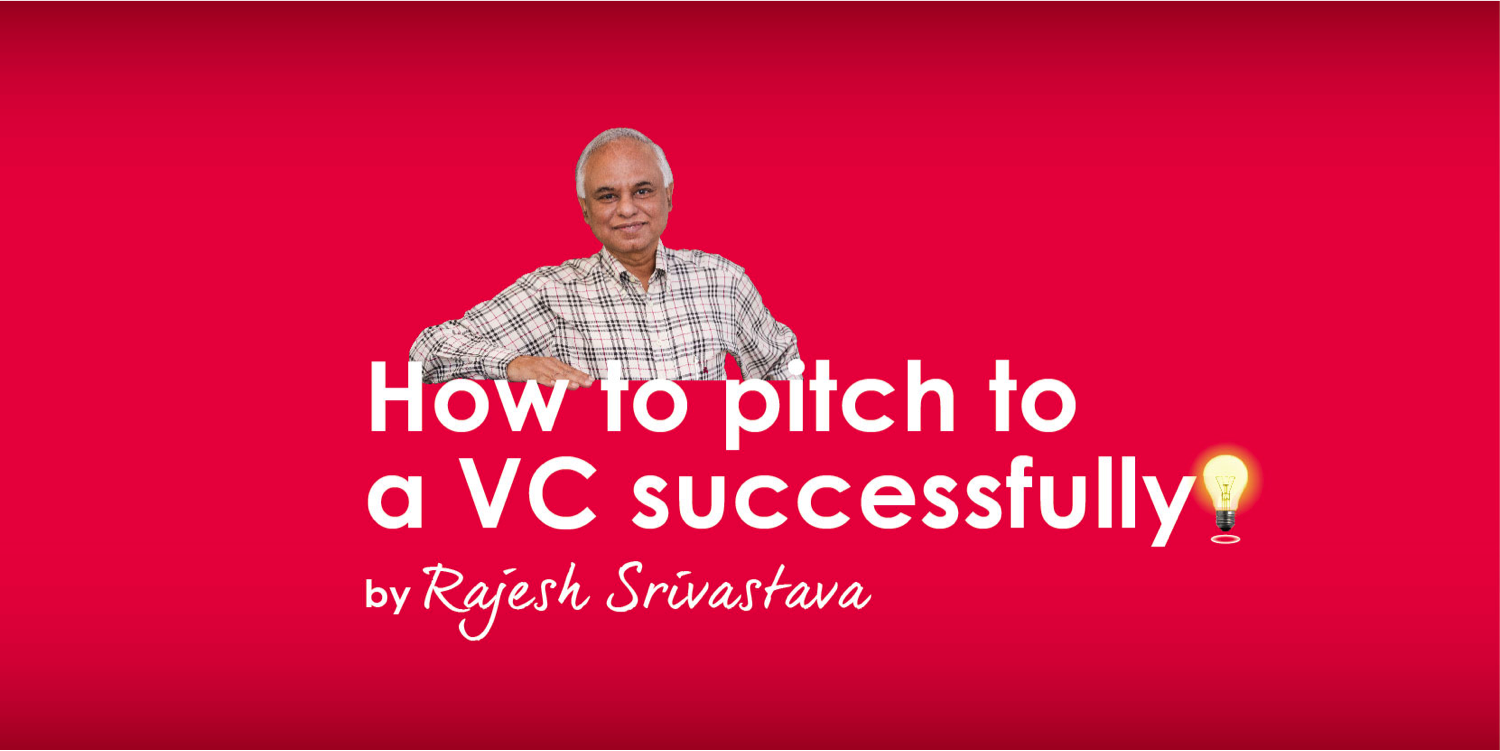 Our super star author Rajesh Srivastava is conducting an interactive workshop on 10th April 2016. We highly recommend you attend this one! You can book your seat here
1. What is the primary purpose behind this interactive workshop?
To give you an insight into how VCs think & evaluate opportunities presented to them.
2. How will the workshop provide these insights?
By introducing you to:
i. Questions they pose to people who pitch to them
ii. Toolkit used to separate 'sound' from 'noise'?
iii. The tools & techniques deployed to evaluate investment opportunities.
iv. The measurement matrix used to evaluate the viability of opportunities.
3. What will be the takeaway from the workshop?
The workshop will:
i. Provide you with a new tool kit to polish your startup idea
ii. Provide you with contemporary business insights & concepts to make your startup future-ready
iii. Get you to focus on critical issue that matter to today's stakeholder.
iv. Help you conceptualize strategies to attract & retain customers
v. Create a dashboard for measuring & monitoring performance & getting feedback in real time.
vi. Introduce you to an algorithm, which you can leverage to pitch successfully to VCs.
4. What is unique about this workshop?
The workshop is unique in 4 ways:
i. It will be conducted in a 'story telling' format so that you can easily understand, remember, retell & apply the concepts to your business
ii. It will introduce you to contemporary business concepts using present-day real world examples so that you can instantly relate with them
iii. It will deeply 'immerse' you in a dialogue so that you can candidly share your thoughts / apprehensions & depart with clarity.
iv. It will encourage discussion amongst participants so that you are able to gain & learn from each other's experiences.
5. Who is this workshop meant for?
It is for anybody who has started or harbors a dream of starting a startup. It is equally relevant for people who have an entrepreneurial mindset, imbued with ambition, passion to learn and keen to become a high-performance entrepreneur. If that sounds like you, we invite you to participate in the workshop.
6. Who will conduct the workshop?
It will be conducted by leading industry practitioner, business strategist, consultant and academic Rajesh Srivastava. He has 30 years of business leadership experience across the UB Group (now Daigio); COO, S P Jain School of Global Management, Dubai Singapore & Sydney, and Raymond Group as president of J. K. Helene Curtis. He is a much sought-after professor of marketing at IIM-Indore and an advisor to several entrepreneurial ventures.
He has conceptualized, launched & nurtured over 50 products, which enrich the lives of Indian consumers every day. Brands he has promoted include Bagpiper, McDowell Signature, Royal Challenge, Blue Riband, Blue Riband Duet, Captain Cook, Park Avenue range of personal care products.
He writes columns and anchors a video series, for Founding Fuel platform, titled The New Rules of Business. His columns and videos are archived here. He regularly shares his views, opinions & incisive analysis of contemporary business events on Facebook, LinkedIn & Mint
7. Does the instructor have real world experience in pitching to VC, investing in companies & conducting workshops?
Rajesh Srivastava has successfully pitched to eminent VCs & Board of Directors in India & abroad; he has himself invested in startups & is currently mentoring startup projects, based in India & abroad.
He has conducted customized workshops for Credit Suisse, ICICI Bank, Citibank, Tata Telecom, Indian Oil Corporation, Crompton Greave, Valmont Corporation, Godrej & Boyce, AGC Networks Limited.
8. How have the many workshop / mentorships by Rajesh Srivastava been received so far?
They have been consistently well received by both current and aspiring entrepreneurs. Here are a couple of participant comments:
i. Workshop: How to pitch to a VC successfully?, Godrej & Boyce, Mumbai
*Workshop will really be helpful for newly starting business to systematically forecast success of business.
*The real life examples that were taken to explain the concepts!
*The content & the examples
*Interactive (nature) & ready to discuss questions asked!
*Every concept was related to real world applications
*Examples & frameworks
*Passion with which the workshop was delivered
*Simplicity in expressions clubbed with relatable examples
*Involving everybody (all participants)
*The instructor's passion & absolute clarity in facilitations… also reinforcing the lessons by repeating them intermittently.
ii. Workshop: Igniting Profitable Growth, AGC Networks Limited
'This program conducted by Rajesh really ignited our thoughts and provoked positive action in line with the program title and objectives. It went beyond theory with the most contextually appropriate examples, many from Rajesh's own experience and many others from his vast exposure and in-depth reading. Examples taken from the company's own successes made the program both relevant and inclusive and struck just the right chord with the participants. Most importantly, the follow through workbook and plan made sure that self monitored implementation happens on the ground.'
– Anil Nair, former MD & CEO, AGC Networks Ltd.
iii. Workshop: The New Rules of Business
"The workshop on The New Rules of Business, by Rajesh Srivastava was an insightful experience, which compelled me to re-imagine our business and had several strategic takeaways, which have helped us look at some key parts of our business in a new light."
~ Swarup Nanda, CEO, Leadstart Publishing
"In a business environment obsessed with e-commerce, the Founding Fuel team has sufficient breadth to contextualise different types of issues faced by entrepreneurs in both the Economies–Old and New. The session was participative, broad in its outlook and very focused on sharing- experiences knowledge. One wishes it were a longer session, simply due to the compelling nature of the interaction. I strongly recommend the website and the sessions to every entrepreneur-even if someone's experienced–this is a great capsule, and to a fresher, this is a pre-flight checklist.'~ Kapil Chandni, founder, Saber Machinery and Tools
9. How long will this workshop last and where will they be held?
It is a 1-day workshop divided into four sessions of 90 minutes each, interspersed with two 15-minute breaks for refreshment & one 45-minute break for lunch. The session will be conducted at the Awfis, Lower Parel, Mumbai.
It will start at 10.00 a.m. sharp. Participants would be requested to arrive at least 20 minutes earlier to complete the registration formalities.
10. What is the fee for the workshop & how can you register?
The fee is only Rs. 4900.00 (all inclusive). You can register by clicking here: http://bit.ly/1RBluvn
Seats will be limited to ensure deep personal engagement with each participant. Please reserve your seat now to avoid disappointment.
11. Is there any prior preparation required?
No, this workshop requires no prior preparation. All we ask for is your intellectual curiosity, an open mind and a deep desire to learn and lead change. After you've registered, we'd like you to take five minutes to fill out an online form that tells us a bit more about you—and what you're looking for. At the end of the workshop, we'd appreciate if you could share your feedback by filling out a separate online form. It'll help us improve the program for future participants—and also help you gain from our future programs.
—–
Read all posts by Rajesh Srivastava on InsideIIM.com here.
'This is a Promoted Feature.'