As educational institutions face an unprecedented challenge in the form of the COVID-19 outbreak, particularly one that presents considerable obstacles to classroom learning, the IIM Nagpur Board of Governors proactively offered to convert this situation into a unique learning opportunity. With the kind support of Mr. CP Gurnani – MD & CEO, Tech Mahindra and Chairman, IIMN BoG and the esteemed Board members, IIM Nagpur hosted a series of online interactive sessions featuring a number of eminent personalities and area experts who shared their insights on a number of topics of contemporary interest.
Responding to the rapid developments associated with CoViD-19, IIM Nagpur completed the classes of the last week of the academic year 2019-20 and end-term examinations thereafter in online mode. In order to leverage the time available with the students between the conclusion of the academic term and commencement of the summer internships, the Institute has provided the students with an opportunity to interact with various guest speakers.
The virtual sessions, delivered by eminent speakers and facilitated by the IIM Nagpur team, were conducted over the course of the month of April. The series featured speakers who shared their insights on topics as diverse as ethics in current times, to the impact of artificial intelligence on businesses. A number of these sessions also focused on how businesses- such as those in the FMCG sector - are reinventing themselves to tackle the effects that the CoViD-19 pandemic has had on all sectors globally. Several sessions were devoted to discussing the elements of leadership that help managers to navigate through crises in the organization and convert them into opportunities. Mr. CP Gurnani (MD & CEO, Tech Mahindra) and Mr. Nimish Joshi (VP, Head of Strategy, OLA), for instance, emphasized on developing entrepreneurial vision with managerial skills and assuming ownership of one's work. Ms. Padma Parthasarathy (SVP & Global Head, Consulting & Digital Services, Tech Mahindra), Mr. Parthasarathy R (Director, Varna Agro), and Mr. Chandra Kant (Professor, IBA) spoke about informed decision-making and the virtues of being agile informed and observant during the moment of crises. Learnings from his time as a recent graduate handling new responsibilities were shared by Mr. Amit Ambekar (VP & CMO, Spencer's), while Ms. Neelam Dhawan (Head, India Advisory Board, IBM) shared valuable insights on coping with uncertainty and practicing behavioral changes to emerge successfully out of the prevailing situation, as well as similar crises in the future.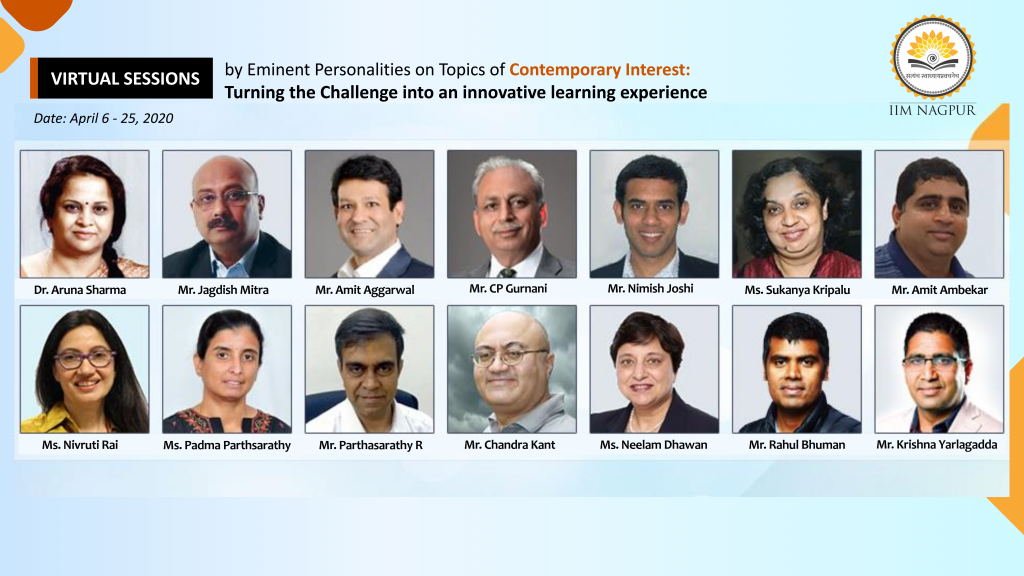 The following is the complete list of speakers along with the topics they conducted the sessions on -
 Dr. Aruna Sharma, Practitioner Development Economist, and Ex-Secretary, GoI:
Current Issues in Banking
How relevant is ethics in current times
Relevance of theory and practice to managers
 Mr. Jagdish Mitra (Chief Strategy Officer, Tech Mahindra), Mr. Amit Aggarwal (CEO IT-ITES SSC NASSCOM): Skill Development - How to prepare for the VUCA world - What skills are needed to become better Global Managers?
 Mr. CP Gurnani (MD & CEO, Tech Mahindra), Mr. Amit Ambekar (VP & CMO, Spencer's), Mr. Nimish Joshi (VP Head of Strategy, Ola): Many want to become corporate entrepreneurs. How that works and what is its general trajectory, favorable industries/companies?
 Mr. Amit Ambekar (VP & CMO, Spencer's): Two years after MBA
 Ms. Padma Parthasarathy (SVP & Global Head, Consulting & Digital Services, Tech Mahindra), Mr. Parthasarathy R (Director, Varna Agro), Mr. Chandra Kant (Professor, IBA): Decision-making during a crisis
 Ms. Nivruti Rai (Country Head & VP, Intel): Impact of AI on businesses: Is it real or artificial?
 Ms. Neelam Dhawan (Head, India Advisory Board, IBM): Mantra for Successful /Effective careers
 Ms. Sukanya Kripalu (Independent director, Colgate-Palmolive, Independent Marketing Consultant): Coping with COVID-19: FMCG perspective
 Mr. Shakti Ghosal (MD, Empathinko): Leadership in a Post Pandemic World
 Mr. Rahul Bhuman (Mentor, AIC & Head AI Business & Strategy, Tech Mahindra) & Mr. Krishna Yarlagadda (Co-founder & CEO, Huddl): Entrepreneurship: A global perspective
 Mr. Puneet Pushkarna (General Partner - Solmark, Chairman - Servion Global Solutions): Factors determining growth trajectories for new recruits in organizations.
The speakers observed that the students enlivened the sessions with their inquisitive nature and willingness to learn. Students from IIMN's flagship Post Graduate Programme (PGP) in Management, who were the primary audience of these sessions, acknowledged that learning from the experience of the speakers has been a definite value addition. Skills such as maintaining composure during a crisis, soliciting inputs from your team, and tapping into tacit knowledge that is essential in the corporate world were highlighted and provided students with new perspectives on contemporary issues.
The efforts of the IIMN faculty and administration enabled the students to offset the impact of the lockdown on their learning, with the innovative use of technology as a learning aid. The sessions proved to be an effective learning opportunity for the attendees, who benefitted immensely from the expertise and experience of the industry leaders.