IIM Shillong inaugurated the 8th batch of PGDM students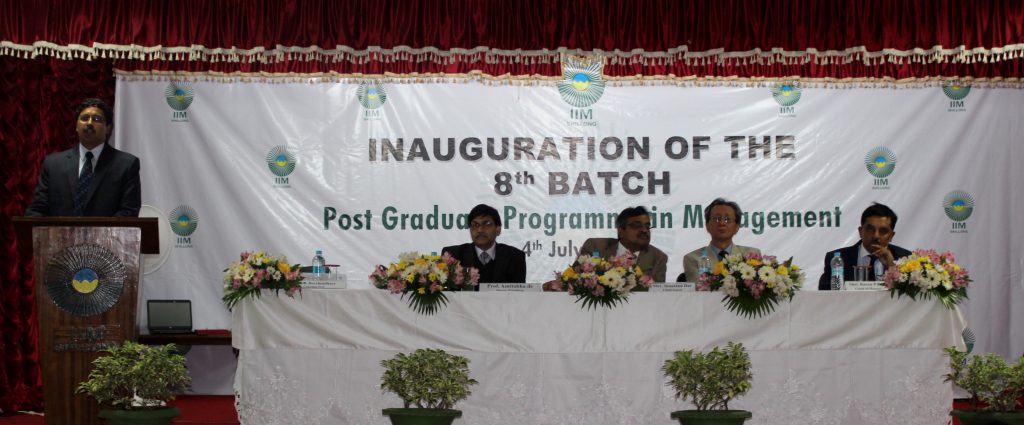 The Indian Institute of Management, Shillong welcomed its eight batch of students on Saturday, 4th July, 2015. Holding on to an incremental consistency in admissions, the inducted batch has an intake of 164 students. The induction program for the new batch was adorned by the presence of eminent dignitaries. The Chief Guest for the event was Mr. Shantanu Das, VP – HR, Emami Limited. Mr. Das, busted a few myths about doing an MBA, stressing on the essence of success over and above survival. The event was also marked by the presence of Mr. Barun Prasad Lala, HP India Director (Storage), Guest of Honour for the event, Mr. Falguni Rajkumar, Chairman – Board of Governors, IIM Shillong, and Dr. Amitabha De, the Director of IIM Shillong.

Mr. Lala, an industry doyen, enlightened the new batch about the potential for management graduates in the technology space and also provided some pointers on personal growth. Mr. Rajkumar, who retired from the Indian Administrative Services in 2009, was enthusiastic about the mutual benefits that both the institute and participants could offer, highlighting the need to go the extra mile in a fast urbanising world. Dr. Amitabha De talked about the IIM Shillong's unique pedagogy, further pointing out the positive behavioural change that the Institute inculcates in its students through the power of education. He said "Students fuel the growth of an inclusive society and IIM Shillong nurtures them at the roots." IIM Shillong has been constantly proving its mettle in the field of management education and has seen a tremendous rise in its performance among all the B-Schools. This year, the increase in batch size stands as testimony of the growth pattern of IIM Shillong as an eminent Indian B-School. The induction program proved a memorable occasion for the new participants who took the pledge, becoming a part of the IIM Shillong fraternity.